Rainfall in Mauritius
Mauritius Rainfall - Rainfall in Mauritius
It is important to know that in Mauritius it can rain in one area while only a few kilometers away the sun is shining and no cloud is in sight.
If you wake up in the morning with gray sky, don't worry. Go for a shower, have a breakfast and probably by then, the sky will be clear blue.
Rain occurs in all months but the wettest period in Mauritius is from December to April. During these months tropical cyclones occasionally strike the island or pass near enough to give very heavy rainfall and strong winds.

Rainfall in Mauritius - additional information:
Rainfall varies considerably from region to region and throughout the year.
The annual rainfall which is about 1100mm on the North coast of Mauritius increases drastically on the Central Plateau.
The distribution during the year is quite uneven with a marked wet period during the summer months and relatively dry period from June to November. This is also reflected in the number of days of rainfall which for the North varies from 7 days a month during the wettest month to around 1 day a month during October and November.
Long term mean annual rainfall (1904-2007) over the Island is 2100 mm. The wettest months are February and March. The driest month is October.
Mean summer rainfall (1904-2007) is 1409 mm, which is 67% of the annual amount over the Island. Mean winter rainfall (1904-2007) is 695 mm. Although there is no marked rainy season, most of the rainfall occurs in summer months.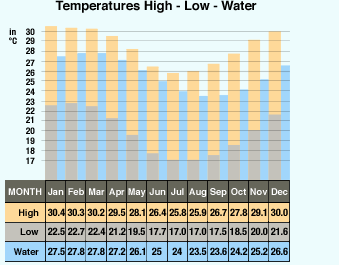 Long-term time series of rainfall amount over the past century (1905 to 2007) show a decreasing trend in annual rainfall over Mauritius.
In fact the average rate of decrease per decade is around 57 mm. The total decrease during the last ten years is about 8% when compared to the 1950s.
Annual rainfall over the outer islands indicate significant variation from year to year but long-term analysis do show decreasing rainfall trend, though lesser than the main island Mauritius.
Rainfall Records:
The rainfall is measured at about 250 stations in Mauritius and 15 stations in Rodrigues. There is one rainfall station in Agalega and one in St Brandon. These stations are maintained by Government Departments, sugar estates, other authorities and a few volunteers. Duration of bright sunshine is recorded at 21 stations in Mauritius, 1 in Agalega and 1 in Rodrigues.
Mauritius Rainfall Figures:
WEST REGION
NORTH REGION
EAST REGION
Month
Average Rainfall in mm
No. of Days with Rainfall > 5mm
Average Rainfall in mm
No. of Days with Rainfall > 5mm
Average Rainfall in mm
No. of Days with Rainfall > 5mm
January
153.2
8
206.2
8
261.3
9
February
181.8
10
239.9
9
334.1
10
March
86.2
6
158.9
7
231.2
9
April
87.6
6
157.6
6
240
9
May
42.7
3
99.2
5
167.7
8
June
29
2
68.1
4
104
7
July
15.4
1
72.9
5
102.5
6
August
14.8
1
75.1
4
104.9
6
September
12.5
1
46
2
70.1
4
October
16.5
1
47.9
2
62.2
3
November
25.7
2
49.5
2
82
4
December
115.6
6
127.5
5
201.8
7
WEST REGION
NORTH REGION
Month
Average Rainfall in mm
No. of Days with Rainfall > 5mm
Average Rainfall in mm
No. of Days with Rainfall > 5mm
January
236.6
8
291.6
9
February
266.6
10
400.2
12
March
203.1
8
246.6
9
April
211.5
8
209.9
9
May
153.4
6
120.3
6
June
95.2
5
96.1
6
July
100.2
5
114
7
August
87.9
5
119.4
7
September
59.6
3
72.7
4
October
60.1
3
62.9
4
November
76.9
4
64.7
4
December
171.8
6
197.1
6
MONTH
TEMPERATURE
HUMIDITY
AVERAGE RAINFALL
SUNSHINE
SEA TEMPERATURE
Maximum
Minimum
%
in mm
Hrs per day
degC
January
35.0
22.1
81
206
8.0
27.0
February
35.2
22.2
83
240
7.6
27.0
March
34.0
21.7
82
159
7.5
27.6
April
33.6
20.8
82
158
7.4
26.4
May
32.0
18.6
82
99
7.3
25.4
June
30.0
16.7
82
68
7.2
25.2
July
29.0
16.8
81
73
7.2
24.2
August
28.8
16.2
79
75
7.1
23.8
September
29.0
16.6
77
46
7.4
23.6
October
30.5
17.7
76
48
8.1
24.3
November
32.0
19.1
76
50
8.6
25.4
December
34.5
20.9
79
128
8.2
26.6
MONTH
TEMPERATURE
HUMIDITY
AVERAGE RAINFALL
SUNSHINE
SEA TEMPERATURE
Maximum
Minimum
%
in mm
Hrs per day
degC
January
29.9
23.0
81
237
7.7
26.7
February
29.5
23.1
83
267
7.0
27.5
March
29.1
22.7
83
203
6.9
27.6
April
28.2
21.8
83
211
6.5
26.9
May
26.8
20.2
81
153
6.5
25.9
June
25.2
18.7
78
95
6.1
24.7
July
24.2
18.1
77
100
5.5
23.8
August
24.2
17.8
78
88
5.9
23.2
September
25.5
18.0
77
60
6.7
23.2
October
26.2
19.2
78
60
7.6
23.8
November
28.5
20.4
78
77
8.8
25.0
December
29.6
21.9
80
172
8.4
26.4