Quatre Bornes (Four Boundaries)
Quatre Bornes (Four Boundaries), also known as the city of flowers, is a town in Mauritius located in the Plaines Wilhems District, the western part also lies in the Rivière Noire District.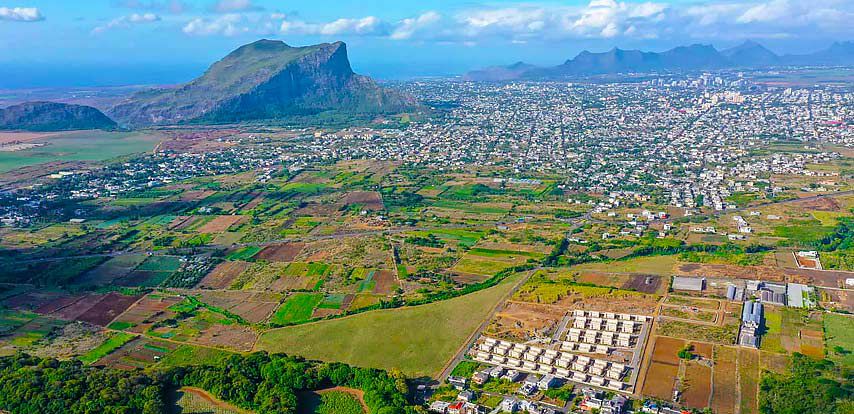 Quatre Bornes is one of the most happening places for both nightlife and shopping in Mauritius. One of the must visit sites in Quatre Bornes is the local market where you will find thousands of tiny shops providing colourful textiles, souvenirs, toys, electronics and so much more.
The city of Quatre Bornes was named for the boundary stones that marked the limits of four large sugar estates once situated there. Sugarcane is still produced in the surrounding areas as an important crop. Quatre Bornes is a fast-growing, mainly middle-class urban centre with a town council, and it has a large government hospital. A surfaced road links the town with the highway connecting the city with Port Louis and Vacoas-Phoenix.
Quatre Bornes is certainly a city, but did you know that it is also a strategic starting point to some great hiking trails off the beaten track? Be prepared to be amazed by the breath-taking views, where nature predominates in its pure state and is just a few kilometres from the bay of Tamarin, an essential place to go during your stay in Quatre Bornes.
Quatre Bornes' Location
Quatre Bornes is found in the Center of Mauritius in the district of Plaine Wilhems and is about 9 miles (14 km) south of the Capital, Port Louis and is around 35 km from the airport of Mauritius. The drive time from the airport to Quatre Bornes is approximately 35 minutes drive.
When visiting or staying at Quatre Bornes, you will also enjoy the convenience of being close to shopping centres like Bagatelle and Jumbo Phoenix, not to mention the quick access to the Ebene Cybercity (Business hub of Mauritius) and the sun-bathed western beaches and natural attractions like Casela Park and the Black River Gorges.
Quatre Bornes has a good bus route leading to key locations in Mauritius. You can easily get the direct bus to the famous beach of Flic en Flac and to other cities such as Port Louis and Curepipe and can venture further across the island.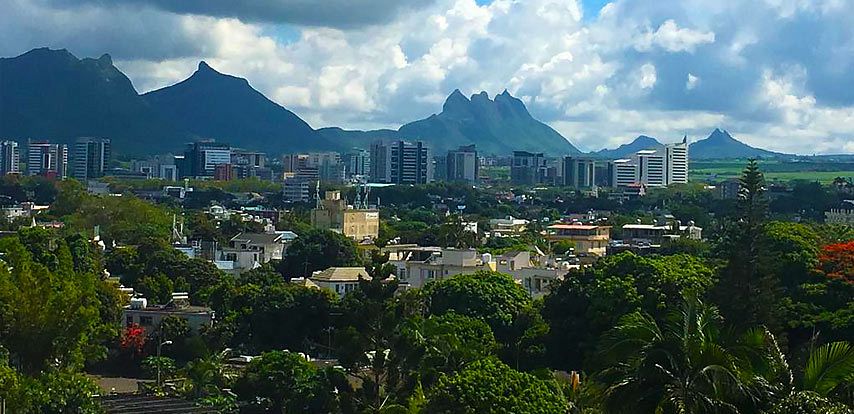 Hotels in Quatre Bornes
If you're looking for a place to get away, look no further than Quatre Bornes. Whether you're planning to stay for a night or for the week, the area around Quatre Bornes has few 3-star hotels a 4-star hotel located in Ebene that have options to fit every need
Palms Hotel - The intimacy and coziness of the rooms blend with the openness and appeal of the common areas, while the conference and boardroom set-ups and amenities make the Palms Hotel perfect for business.
Mountview Tourist Residence - On a mainly residential street, this casual hotel is 15 minutes' walk from the city center. The property with 25 freshly renovated rooms to stay in offers a warm welcome to all guests and makes its utmost for everyone's stay to be a pleasant one. Mountview Tourist Residence provides certain rooms with mountain views, and every room is fitted with a balcony.
Gold Crest Business Hotel - Set on a downtown street adjacent to shops, restaurants and the town's central market. This hotel is designed for both business and leisure travelers and they also have a spa and wellness centre. From here, guests can enjoy easy access to all that the lively city has to offer.
Hennessy Park hotel - Located in Ebene Cybercity, Hennessy Park Hotel features modern accommodations just 10 minutes drive from Quatre Bornes.
Places of Interest in Quatre Bornes
Quatre Bornes Market
Quatre-Bornes is a town with a double identity. It is one of the oldest towns in Mauritius and we can still see the "old Quatre-Bornes" and the "new Quatre-Bornes". Lots of shops and restaurants can be found along that city's main road, named St Jean Street.
There is even a shopping centre and some second category hotels along the street. But the favorite place of the Mauritians and foreigners remains the market of Quatre-Bornes. Some days of the week, you can find souvenirs and clothes there, but on Tuesdays and Fridays, this magical place gets full of fruits and vegetables to offer a marvelous trip for your senses.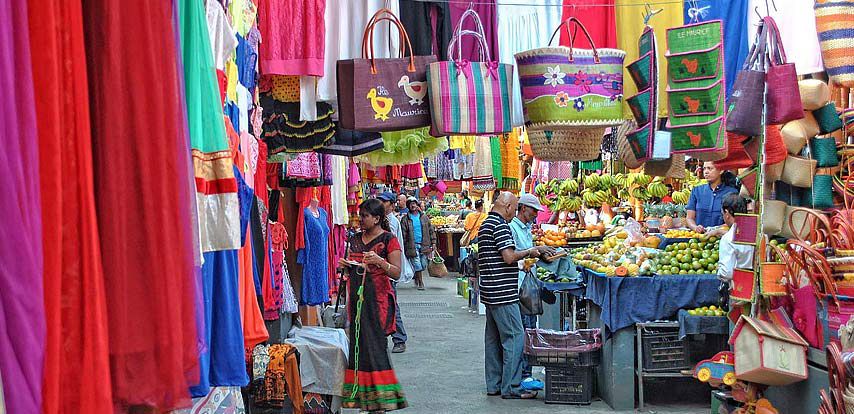 Lotus D'Or
They have been on the market since 1967, the oldest Toy shop on the Island and the widest range of quality branded toys and baby products in Mauritius boasting over 10000 models. Kids of all ages get to find what they dream and future mums can find everything for their little one.
Fun Zone
Game and tech enthusiasts will be well served. Funzone, an entertainment center with state-of-the-art attractions, opened for the first time in Africa and the only VR game place in Mauritius. This place is a great way for you to have some intense fun with your family and friends playing a unique concept of gaming that will leave you with good memories.
Mauritius Glass Gallery
The Mauritius Glass gallery is located in Phoenix, a few kilometers from Quatre Bornes and this is where skilled craftsmen create unique handmade pieces of art from glass. You can watch the traditional glass-blowing process or have a glass model made from an imprint of your hand or foot in sand. A number of interesting glass products can also be found and bought at the gallery. Beautiful lampshades, stained-glass pictures, assorted vases, and drinking vessels are on display at the glass gallery shop.
Sodnac Wellness Park
Sodnac wellness park is one of the best green parks in Mauritius and it is situated in Quatre Bornes. If you are health conscious or a scenery lover then it is a must visit place for you. Early morning or late afternoon is the right time to visit this place. Hill climbing will be awesome and after reaching the top you can see the entire Quatre Bornes and don't miss the awesome view at the hilltop.
Bernd Wilhelm
Being a gold-smith master in third generation Bernd Wilhelm settled in Mauritius seventeen years ago. The paradise island of Mauritius inspires him since then in all creations. Yellow, pink, red or white 18 carat gold, brushed or polished, with or without diamonds - from these few elements Bernd Wilhelm dares all kinds of combinations. Take a round in the showroom and maybe your new favorite is already awaiting you.
La City Trianon
La city Trianon is a beautiful, peaceful shopping centre in the heart of Mauritius. You can catch a movie with friends and you can also enjoy a quiet meal away from the hustle and bustle of Ebene - which is just a stone's throw away. Moreover, you can blow off some steam at night as you listen to live music at The Irish. If you love shopping, you'll definitely enjoy the variety of shops in this mini mall.
MCB Building
It's rather difficult to speak about Quatre Bornes, without mentioning the famous MCB Green Building in Saint Jean! The exceptional architectural, innovative and daring architecture of this building at the crossroads of the main junctions of the island leaves no one indifferent. This building gives a unique touch to the environment, although the steeple of the St Jean Church, once a landmark, is lost somewhat!
Spa in Quatre Bornes
Mauritius is home to world-class spas, give your senses the journey of a lifetime by a visit to one of them while being on the island. Many spas are located in Quatre Bornes and here are the most popular ones
Five Elements Spa - offers an exclusive range of unique experiences by way of the finest holistic therapies and natural, indigenous products.
Essential Wellness Spa - Leave your worries aside and prepare to be pampered during the lush experience of a lifetime at Essential Wellness & Spa. Enjoy an enchanting setting, warm and inviting staff and explore all the amazing treatments available. Essential Wellness & Spa is a place of true relaxation, and the entire team is devoted to calming your mind, body and soul.
Espace Beauté - Espace Beauté has an amazing menu of treatments such as anti stress massage treatment with sweet oils. A variety of beauty treatments like facials, manicures, pedicures and hair dressing are offered at affordable prices as well.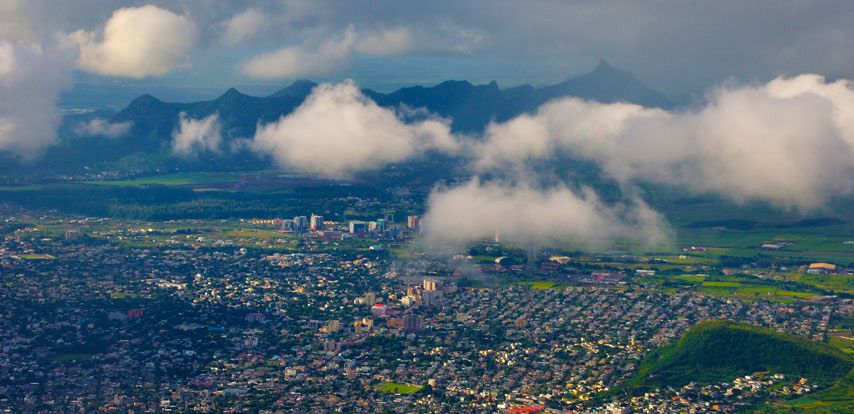 Climate in Quatre Bornes
All the inhabitants of Quatre Bornes agree that their city's climate is the best of the island. Indeed, it is neither too hot in summer nor too cold in winter.
The best time to visit Quatre Bornes in Mauritius is from early May to late November when you will have a pleasant or warm temperature and limited till mediocre rainfall. The highest average temperature in Quatre Bornes is 29°C in February and the lowest is 23°C in August. The weather and climate of Quatre Bornes is suitable for a sun holiday.
Beaches Near Quatre Bornes
It takes approximately 15 min to drive from Quatre Bornes to the nearest beach Flic en Flac and there is also a frequent direct bus which takes approximately 30 mins to reach this white sandy beach.
Quatre Bornes' Topography
Quatre Bornes has geographical coordinates are 20° 15' 52" South, 57° 28' 19" East and has a cool and enjoyable climate due to its topographic location; midway between the West coast and the high grounds.