Trou d'Eau Douce
Trou d'Eau Douce is a fishing village located on the eastern side of the island. With the beauty of its little streets, its corrugated iron huts, its beach and, of course, its inhabitants, Trou d'Eau Douce is a captivating place. Being a fishermen village, it's very common to see some of them early in the morning, unravelling their nets or fishing materials at the Débarcadère, the fish landing station.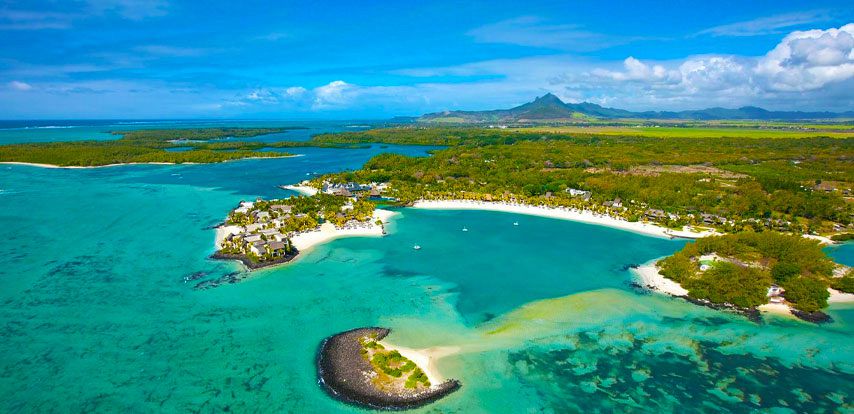 Trou d'Eau Douce is a place rich with history where settlers set up camps here as early as the 17th century. Today, one can still find some historical sights along its streets, showcasing the history of the village.
The centre of Trou d'Eau Douce is well-known for its lively atmosphere, hospitality, food, and inhabitants. Each day it welcomes many people visiting the village or heading to visit some of the surrounding islets such as Ile aux Cerfs and Ilot Mangenie.
Trou d'Eau Douce is also the starting point for most excursions to Ile aux Cerfs Island. Many of them include stops on the lagoon for snorkeling and lunch on the island.
Brief History of Trou d'Eau Douce
This a typical village name (meaning "fresh water hole") derives from a source of fresh water that comes in contact with sea water at a specific location on the coast.
The first inhabitants of Mauritius were the Dutch, but they did not stay there. Batavian ships landed on the island for water and food supplies (turtles and dodos), during their voyages to and from their colonies in the East Indies. Trou d'Eau Douce was one of the first places of their water supply, hence the name.
Trou d'Eau Douce - Location
Trou d'Eau Douce is located on the eastern coast of Mauritius in the district of Flacq and is less than one hour from the international airport and is situated about 45 km east of Port Louis the Capital of Mauritius and the drive takes around 1 hour.
Climate in Trou d'Eau Douce
Trou d'Eau Douce has a hot tropical climate with only a small variation in temperature annually. The months between May and November are comparatively drier and cooler and hence a more popular season for tourists. The average temperature during the day is 25 degrees Celsius and can drop as low as 15 degrees in the night. Even the rainfall received in these months is lesser as compared to other seasons. The hottest month of the year is February with an average daily maximum of 30°C and an average low of 25°C.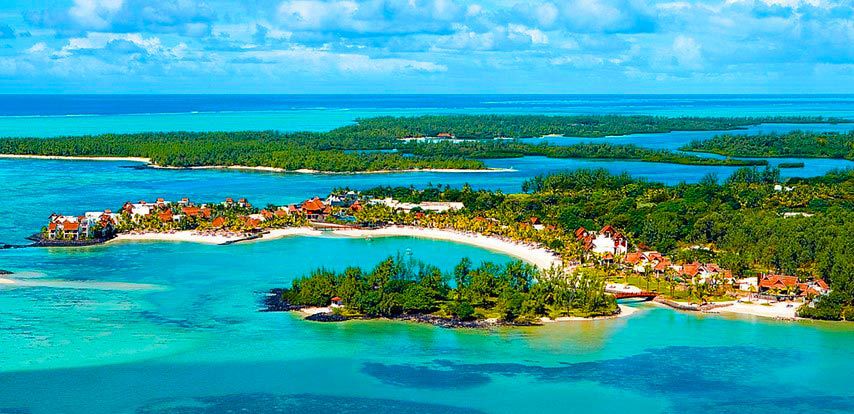 Hotels in Trou d'Eau Douce
Trou d'Eau Douce has a variety of hotels, from 3 star hotels, to luxurious 5 star deluxe villa resorts. Today, visitors to Trou d'Eau Douce can choose from a selection of exclusive top class luxury resorts and five star hotels, to small family owned bungalows, apartments and villas.
List of the main hotels found in Trou d'Eau Douce :
Friday Attitude
Friday Attitude is a 3 star hotel with direct access to a white sandy beach with thatched umbrellas. There is a lush garden with an outdoor pool surrounded by sun loungers.
Silver Beach Hotel
Silver Beach Hotel is a 3 star hotel located in a secluded position and is ideal for a quiet, relaxing and simple holiday, with an all-inclusive package of excellent value.
Tropical Attitude
Tropical Attitude is an adults-only, beachfront hotel in a garden with coconut trees. Featuring a furnished terrace, most of the spacious rooms face the Ocean, while some overlook the tropical garden
Shangri-La's Le Touessrok Resort & Spa
Shangri-La's Le Touessrok Resort & Spa is a 5 star hotel which offers a private hideaway with luxurious facilities and exemplary service at its idyllic east coast setting beside the white sand beaches and turquoise waters of Trou d'Eau Douce Bay.
Beaches around Trou d'Eau Douce
Trou d'Eau Douce Beach
Trou d'Eau Douce, while small, has soft sand and calm waters perfect for swimming in. It is also the best place to watch the catamarans and boats sail by. There are coral reefs about a kilometre offshore, so the waters are less calm to swim there. However, you can find some of the most beautiful beaches just a few kilometres north and south of Trou d'Eau Douce.
Palmar Beach
Palmar beach is a small, sleepy beach with only a few patches of sand to enjoy. It does, however, have a stunning view of the Ocean.
Ile aux Cerfs Beach
Ile aux Cerfs is an island of exception located a few meters offshore from Trou d'Eau Douce and is a small Eden for vacationers in search of exotic getaways where you can spend a day in the sun with beautiful beaches and crystal clear sea.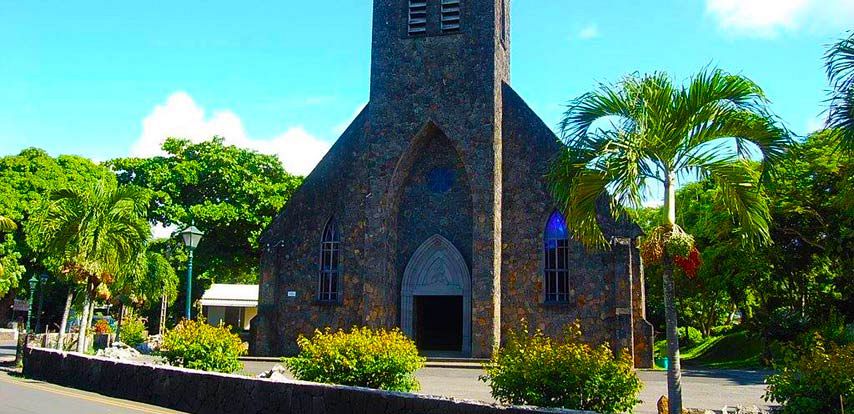 Things to do and visit in Trou d'Eau Douce
Le Café des Arts
This intriguing dining option is located within an old mill that has been transformed into Victoria 1840, an oddly charming gallery space, with canvases of wicked brushstrokes adorning the cracked brick walls. The food, an exquisite, modern nod to traditional island flavours.
Victoria 1840
Victoria 1840 is an old sugar mill that has been lovingly refurbished to house some of the works of Yvette Maniglier, a bewitching French painter who spent a year under the wing of Henri Matisse. The juxtaposition of industrial brick and splashy modern art works surprisingly well. The gallery can only be visited while dining at the in-house restaurant, Le Café des Arts.
Chez Tino
Head for the wonderful terrace on the 1st floor for great views and good food. Chez Tino keeps it simple, dishing up Mauritian cooking with an emphasis on seafood, as well as pizza and pasta. Standout dishes include traditional octopus curry with green pawpaw and grilled fish with lemon. There's live local music at 8.30pm on Saturdays.
Natural Spring
The actual trou d'eau douce for which the town is named can be found in a human-made stone hole next to the national coastguard's office. To find the natural spring, follow the fork in the main road away from the church of Trou d'Eau Douce as it slopes down the hill to the docks, the well is on the right.
Church in Trou d'Eau Douce
One of Mauritius' more handsome churches, this stone, Gothic structure only dates back to 1990. If the door is open, wander in and take a pew and the sense of calm is bewitching.
Green Island Beach Restaurant
This restaurant serves a delicious assortment of international and local favourites. Have fish curry with eggplant or prawns with Thai curry paste. There's also Aussie beef on what could be the town's most varied menu.
Diving and Snorkeling
Since there are a number of beaches around Trou d'Eau Douce, water sports are a great hit among the tourists here with diving and snorkelling being the most popular.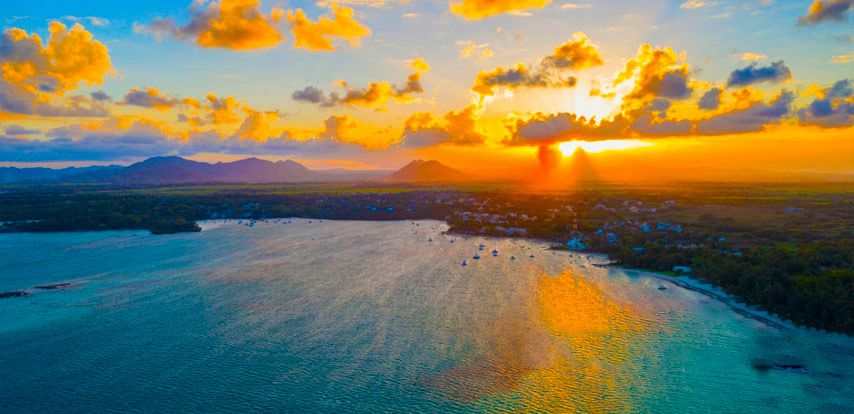 Highlights of Trou d'Eau Douce
Ile aux Cerfs
Trou D'eau Douce is known to be the meeting point for embarking on sea adventures to île aux Cerf which is a picturesque island spread over 87 hectares of untouched land off the east coast of Mauritius. It is famous for its white sandy beaches, its turquoise lagoons and for the wide range of restaurants, water sports and land activities on offer.
It is also home to one of the most beautiful golf courses in the world, the Ile aux Cerfs Golf Club, an 18-hole championship golf course designed by two-time Masters champion Bernhard Langer.
Tours to Ile aux Cerfs: Book Now
Golfing packages for the world renowned Ile aux Cerfs Golf: Book Now