Best Air Activities - Discover Mauritius from High Above
Best Air Activities in Mauritius
An aerial trip is for sure the best way to see this incredibly beautiful island from a different angle and enjoy everything that it has to offer - beautiful islets, mountain ranges, natural landscapes, and much more.
We offer many different activities that will allow you to have a bird view of the island. You may jump out of a plane into thin air and experience a freefall with a Tandem Skydive high above the Sugar Fields of Mon Loisir or book your sightseeing tourist flight in a light aircraft for a perfect getaway and indulge yourself in the beauty and simplicity of our island.
Furthermore you can book and experience a thrilling water take-off and enjoy unparalleled views of the North and South coast with the Private Seaplane Flights. Parasailing & Paragliding are other great ways to explore the panoramic views of Mauritius's blue lagoons and picturesque landscape.
These activities can be done all year round, prior booking is required and they are all weather dependent.
Discover the Best Flight Trips & Aerial Activities in Mauritius:
Helicopter Flight Trips
Our Exclusive helicopter tours offer aerial panoramic views of Mauritius which are simply amazing and fantastic. You will get to see the beauty of the island and feast your eyes with enchanting sights of picture postcard crystal clear lagoons, pristine coastline, undulating sugar cane fields and other spectacular views.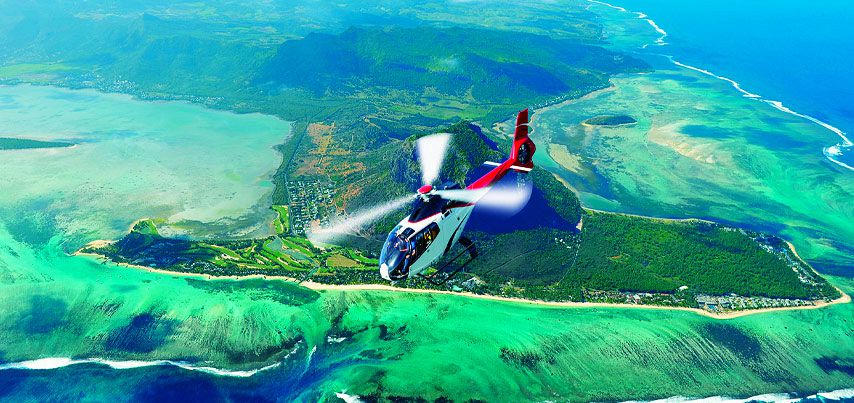 We also offer you an amazing helicopter tour taking you over the spectacular Underwater Waterfall and landmarks in the south-western part of the island.
Many of the tours available can be done on a shared or on a private basis. Some of the private tour packages like the Helicopter Sightseeing Tour from the Airport or Private Romantic Tour are great for those looking for a truly VIP and classy way to explore the island, whether it's with your partner, family or a group of friends.
For those who want to save time by avoiding traffic and transfer directly to the hotel while experiencing the beauty of Mauritius from the air can opt for an Airport transfer service by helicopter from the Mauritius SSR International Airport. Inter Hotel Helicopter transfer is also possible for families of up to 4 persons.
Additionally there are many more tours that have been designed for all around the island ranging from 30 mins to 3 hrs, with viewing of key features e.g the majestic Pieter Both mountain, Tamarin waterfalls, rainbow-coloured earths of Chamarel and many others.To make your rides even more memorable, the option of adding a top class Gourmet lunch in one of the best restaurants in Mauritius is also possible.
Book your Helicopter Flight Trips here
Microlight Scenic Flight
A sightseeing tourist flight in a light aircraft is one of the most thrilling and exciting ways to see Mauritius from up above.
This superb sightseeing flight is done in a ULM - microlight aircraft and it offers a unique bird's eye view of Mauritius Northern mountain range, coastal area, beaches, lagoons and countryside.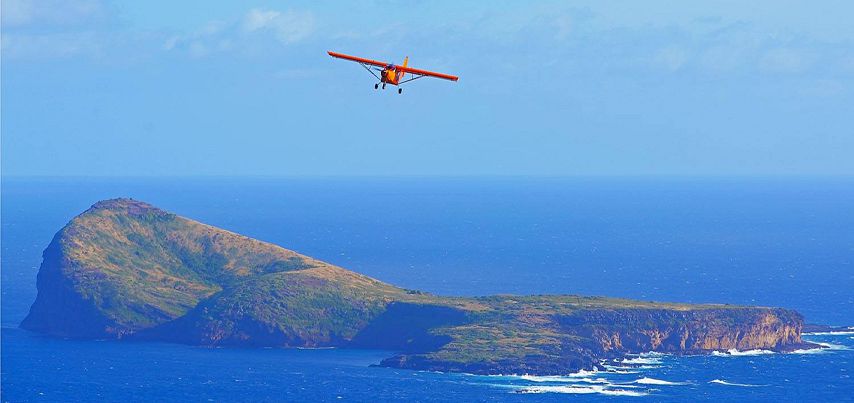 The departure point for the flight is from the airfield situated at Rivière du Rempart at the North East of Mauritius. There you will meet the pilot, be shown to the aircraft and will receive a short briefing before boarding the plane. Also, you can relax at the airfield's lounge and have drinks or a snack before the flight.
Your pilot will ensure you see the famous landmarks and points of interest as you complete one fascinating circuit around the Northern region of the island. The flight is done at a low altitude of up to 1500ft to guarantee clear and close view of all sights and landmarks and provide many picture perfect moments.
The sightseeing flight trip is done on a private basis where you will be sitting alongside the pilot who is there to answer any question you might have and to show you all the sights.
Book your Private Sightseeing Flight Trip
Seaplane Flight Tour
Experience water take-off and landing. Enjoy a once in a lifetime opportunity to go on a private seaplane flying in a low height across Mauritius with its breathtaking beaches and coral islands.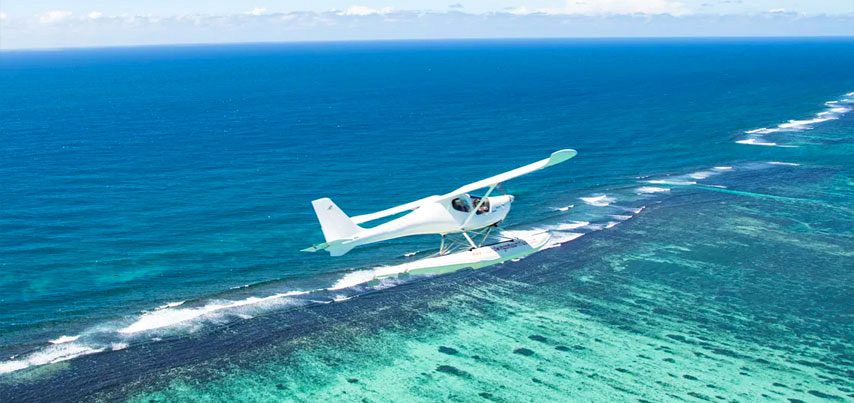 This activity is done in the Northwest and Southwest part of the island. While taking the Southwest package, you will be stunned by the marvellous bird eye views of the turquoise lagoon, sandy shoreline, geometric patches of sugar cane fields, scenic sea and landscapes, not to forget the majestic Le Morne Mountain, a World Heritage site. You will start your amazing flight tour from the south westerly coast of the island, at Le Morne Peninsula which is known for its enchanting scenery. For the Northwest tour, you will enjoy breathtaking views of Mauritius' coastal area beaches, the yachts and boats sailing on the sea and you will explore the coral islands of Mauritius surrounded by the beautiful coral reefs and crystal clear blue water.
During your entire flight trip you will enjoy the scenic diversity of this part of the island in the best way possible, where you will get to appreciate each single moment!
The seaplane is fit for only one passenger, of legal age. Minors require prior parent or guardian authorisation. The duration of the activity varies from 15 minutes to 1 hour.
Book your Seaplane Flight Tour:
Mauritius Skydive - Tandem Skydiving
Enjoy Mauritius' most spectacular scenic flight and the most visually awesome Tandem Skydive you can ever imagine.
The flight before the jump offers a complete 360º bird's eye view of Mauritius's awesome coastal, inland and mountain scenery. When reaching 10,000 feet, the aircraft door will open, and you will get to tandem skydive by an experienced qualified Instructor.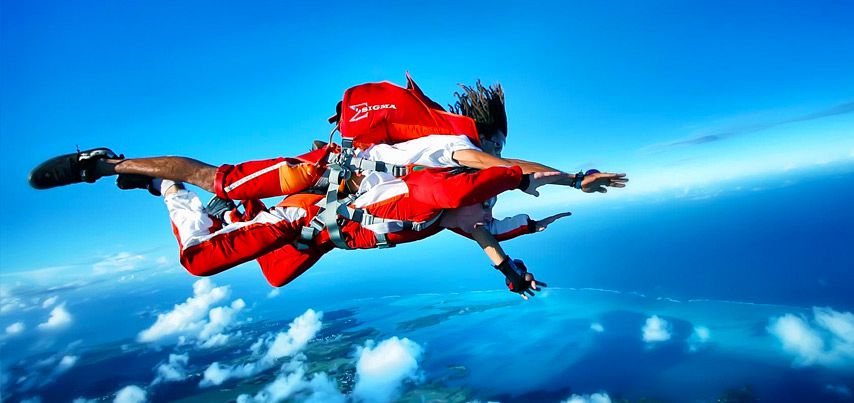 Then, in the open air you will experience flying – free falling for about half a minute reaching a speed of 200 Km/hour, before the instructor will open the canopy and you will get to glide down in air for about 5 minutes, seeing the beautiful surroundings on your way down until the safe landing.
The take off is done from the magnificent Sugar Fields of Mon Loisir, with views of Mauritius's stunning lagoons and reefs stretching far into the Indian Ocean. This is your once in a lifetime chance to fly over the top of one of the most spectacular island paradise's in the World.
The total duration of the skydive excursion is about 1 hour, with a 5-10 minute brief, a 25 minute flight to 10,000 feet, a 30- second free fall and 3-5 minute parachute flight.
After the jump you will receive a tandem skydive certificate, so you can remember this great experience for many years to come. Also, for a small additional cost you will receive a pendrive with the recording of your skydive.
Tandem skydiving is a very popular training method for first time skydivers. It exposes first-time jumpers with minimal training and experience to skydiving.
Book the Mauritius Skydive - Tandem Skydiving
Parasailing Aerial Excursion
Parasailing is the ideal excursion for those looking for a special sea-air activity.
Parasailing offers you a breathtaking bird's eye view of the beautiful lagoon and beaches of Mauritius, making it one of the best things to do during your vacation in Mauritius.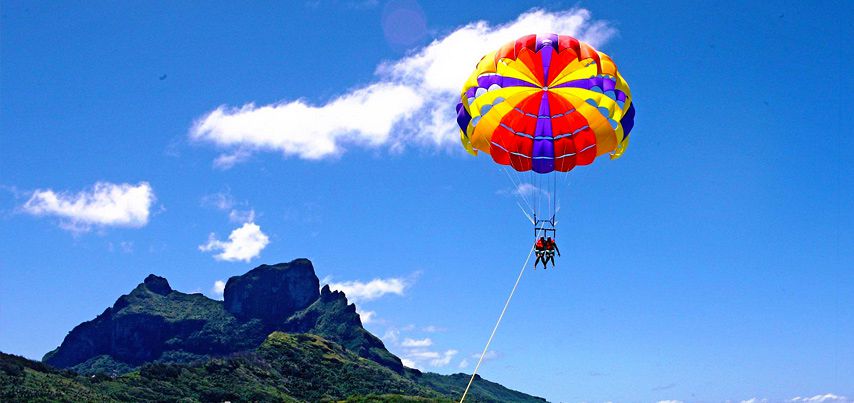 You can choose to experience parasailing in any of the following locations
Grand Baie (Mauritius North West)
Belle Mare (Mauritius East Coast)
Trou D'eau Douce / Ile aux Cerfs (Mauritius central East coast)
The parasailing begins with a short safety briefing. Then you will be taken by boat to the launch pod where you will later take off and start the parasailing.
Upon arrival to the launch pod, you will be connected with a secured certified harness to the parasail. Only after the ground assistants will check the rig and the flight harness they will signal the boat driver to start the engine and gradually accelerate the boat. You will slowly take off from the launch pod for a flight above the beautiful lagoon. No steering is actually necessary as the sail follows the course of the boat.
It is also optional to do a "touch and go", which means that on the way down, instead of just reeling back onto the boat, you will fly for a while above the ocean and then be lower down for a dip in the sea before going up again while enjoying a very refreshing plunge.
Parasailing is an activity offered part of full day trips, there are several packages inclusive of this activity and few include Budget Day Package at Ile Aux Cerfs, ir, Sea and Land Day Package on the East Coast and Water & Sea Activities On The East Coast – 1 Day Package
Book your Parasailing Aerial Excursion:
Paragliding
Paragliding in Mauritius will allow you to spread your wings and take over the clear sky by enjoying the majestic views of the island with a bird's eye view.
Mauritius is blessed with mesmerising beaches which also gives tourists an advantage of having multiple locations for paragliding.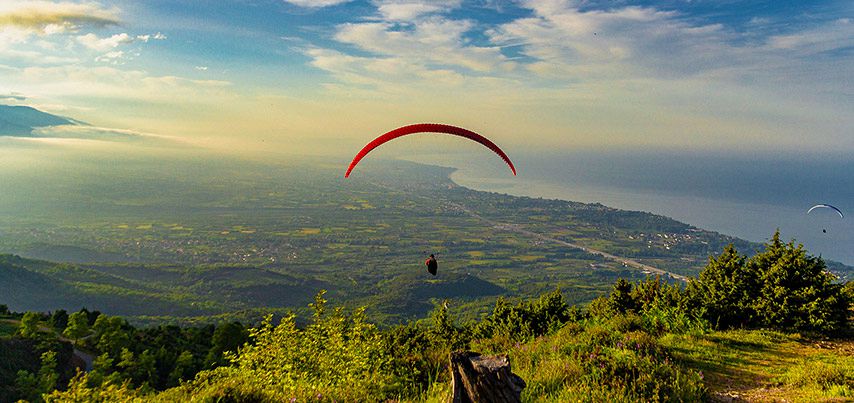 Some of the famous paragliding spots on the island are Pieter Both, le Pouce, Tourelle de Tamarin, Trou d'eau Douce, Grand Bay, Belle Mare and Mahebourg.
These spots offer the facility for Tandem Paragliding which will give you the luxury of enjoying the best panoramic views of the island. The flight duration is not fixed and hence, can be changed as per the participant's requests.
The fun-packed adventure usually is of 5-15 minutes duration; however, the period can be customised as per the participant's requests.
Note: If you are an experienced paragliding pilot and do not require supervision, the operators will lead you to the best take-off sites on the island. Here, you can choose the level of difficulty for your paragliding adventure.
Mauritius offers several amazing and adventurous ways to have unique aerial experiences. By taking one of those, you are sure to enjoy mesmerizing sights of perfect postcard turquoise lagoons, pristine coastline, sugar cane fields, gorgeous mountain ranges and other breathtaking views.
So don't miss the opportunity of discovering the remarkable views and beauty of Mauritius as unveiled from high above, having a true once in a lifetime experience to cherish forever.