Best Things to do in the North of Mauritius
The North of Mauritius is the most touristic place on the island, with a line of powder-white beaches and more sunshine days than anywhere else. It's divided into two districts, Pamplemousses in the west and Rivière du Rempart in the east.
The main action is on the island's northwest coast, centered on the vibrant resort of Grand Baie, a sheltered bay shaped like a brandy glass with an emerald lagoon and the finest nightlife on the island. Around fifty restaurants now line the 2km coastal road leading north to Pereybère, a once-quiet fishing town, while the villages of Trou aux Biches and Mont Choisy to the south have also seen significant development.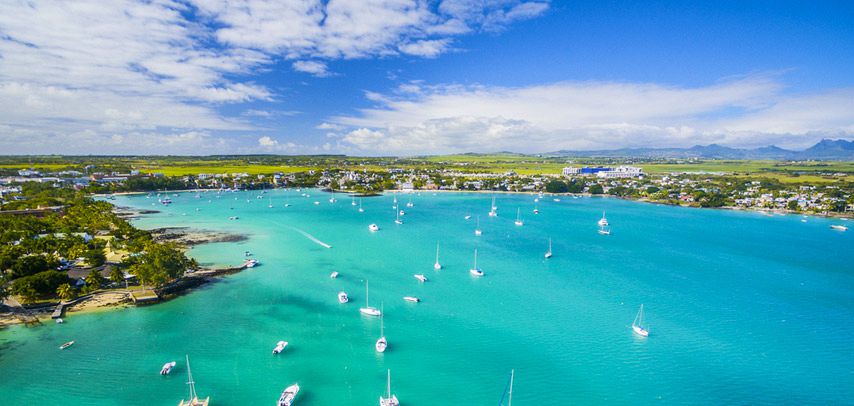 Away from the coast, the north holds other treasures such as its ancient sights and history which will entice you.
From dipping your toes in the Ocean, enjoying the panoramic views of the fine sand beaches to immersing yourself in a tropical botanical garden, North Mauritius is a mixed bag of a perfect landscape, laidback villages, and friendly people.
Best Things to do in the North of Mauritius
Visit Grand Bay Village
Grand-Baie is a popular tourist destination for shopping. You'll find everything you're searching for in the shops along the coastal route, the region's shopping malls, or the bazaar, including clothes, shoes, handcrafts, and food, among other things.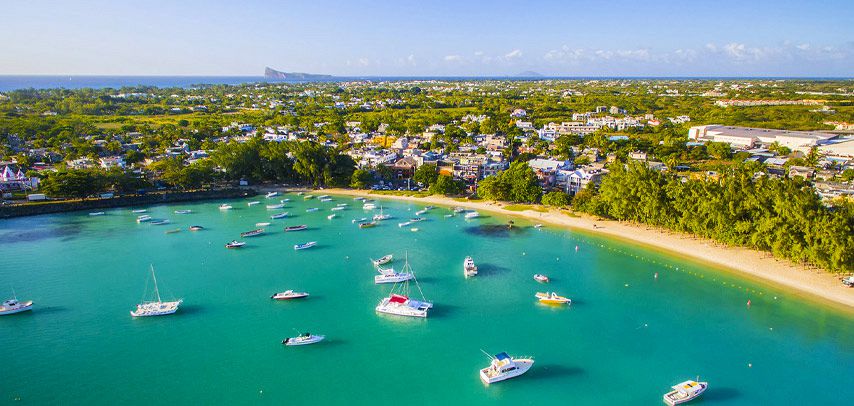 Sea activities are the focus here, with an array of water sports and experiences to suit just about everyone, from the underwater sea walk, a wonderful alternative to scuba diving to deep-sea fishing. Grand Baie is also the meeting point for exploring the islands that lie to the north of the coast on day trips by catamaran or boat.
Grand Bay village can be visited by booking the Mauritius North & Shopping Tour (Private Tour)
Red church in Cap Malheureux
Cap Malheureux is also a tourist beach thanks to the Notre-Dame Auxiliatrice Church, also known as the red-roofed church and is one of Mauritius' most iconic postcards. With the sea and the northern islands as a backdrop, it's one of the most famous locations to catch memorable moments from your vacation or honeymoon. You will see fishermen returning with their catch of the day, which will be sold right next to the church.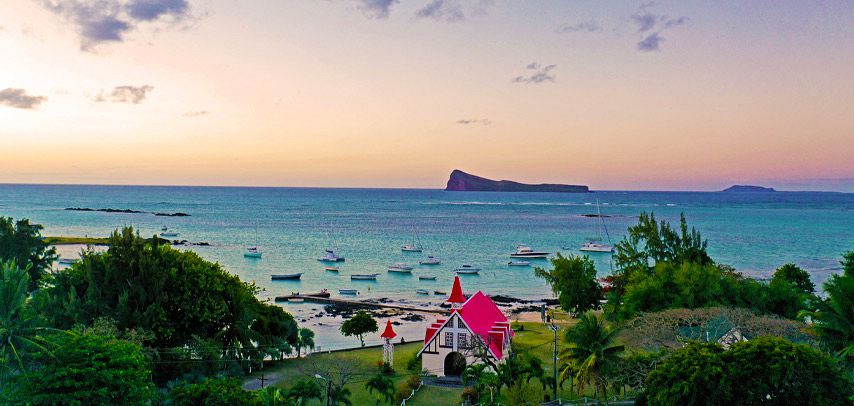 Without a question, the beach of Cap Malheureux is well-known for its beautiful climate and idyllic appearance. It has maintained a freshness that is both calming and subtle. Visitors can relax on the few rocks on the white sand beach while soaking their feet in the water.
Cap Malheureux can be visited by booking the Mauritius North & Shopping Tour.
Pamplemousses Botanical Garden
Pamplemousses Botanical Garden, also known as the Sir Seewoosagur Ramgoolam Garden, is a must-see for those traveling to the north. In the 18th century, the king's steward, Pierre Poivre, worked under Mahé de Labourdonnais' administration to construct this magnificent park.Take a walk around the garden and notice the unusual flora, snap some photos at the giant water lily ponds, and if you're lucky, you'll come across a Talipot in bloom, a tree that blooms every 30-80 years. A variety of birds, deer, and tortoises also live in the garden.
Book the Mauritius National Botanical Garden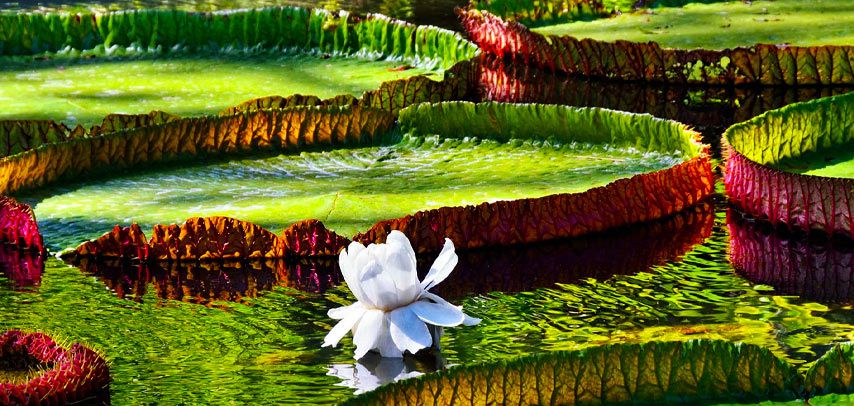 Maheshwarnath Hindu Temple
Maheshwarnath Hindu Temple is a symbol of Mauritius' rich cultural heritage located in the village of Triolet. It is one of the island's most ancient and tallest temples and it will astonish you with its ancient architecture and majestic setting.
Maheshwarnath Hindu Temple, which was built more than a century ago, is the ideal place to learn about some of the most important aspects of Mauritian culture while still visiting the site where it all started.
The temple can be visited by booking our Private Cultural Sightseeing Tour in the North of Mauritius.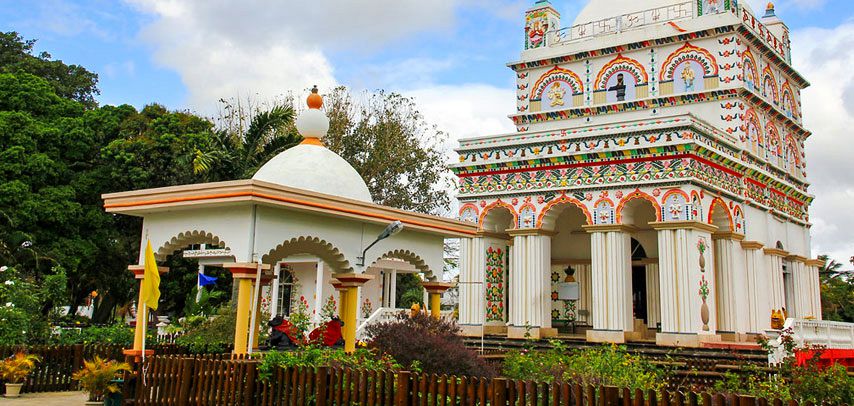 Chateau De Labourdonnais
Built in 1859, this wonderfully restored Chateau De Labourdonnais will take you back in time into a colonial-era of the 19th century. This old sugar plantation is centered on the Château Labourdonnais, a large 150-year-old colonial house that has been turned into a tourist attraction.
You will not only be able to see the renovated mansion in all of its beauty and learn all there is to know about its renovation, but you will also be able to try some delicious local cuisine in the restaurant and explore an orchard that includes not only endemic plants, but also many varieties of mango trees, spice trees, and tropical fruit trees that are now rare in Mauritius.
The Château Labourdonnais also produces a variety of fruit jellies, fruit juices, jams, ice creams and sorbets. All those products can be tasted and bought at the nearby tasting bar.
Book your visit to the Château de Labourdonnais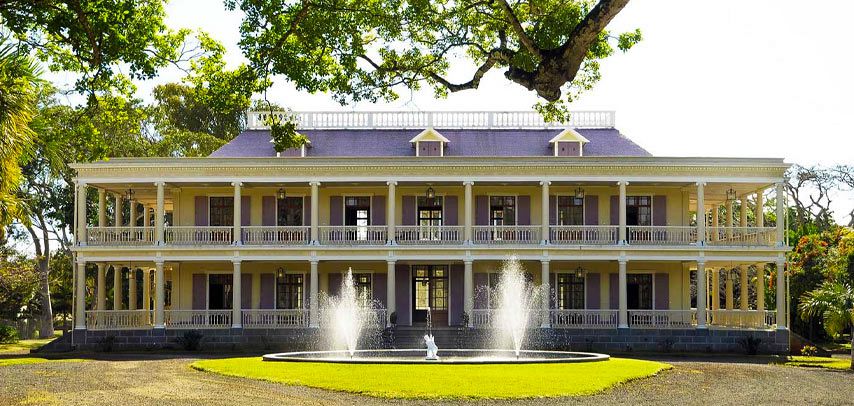 L'Aventure du Sucre
The museum known as L'Aventure du Sucre is a wonderful place to explore which is located in the north in the district of Pamplemousses. Moreover, L'aventure du Sucre is a museum devoted to the origins of the sugarcane culture and sugar production in Mauritius. Most of the original equipment has been stored in the museum, which is located in a former sugar factory. All can learn more from an immersive and instructional pathway, which includes videos, reconstructions, artifacts, toys, and kid areas.
Don't forget the charming village market, which sells artisanal goods and allows you to taste up to 12 different types of sugar, as well as rum for the more mature. The restaurant, located in the heart of the estate, extends a gourmet invitation with a delicate cuisine that combines the island's flavors.
Book your Visit to the Sugar Museum and Factory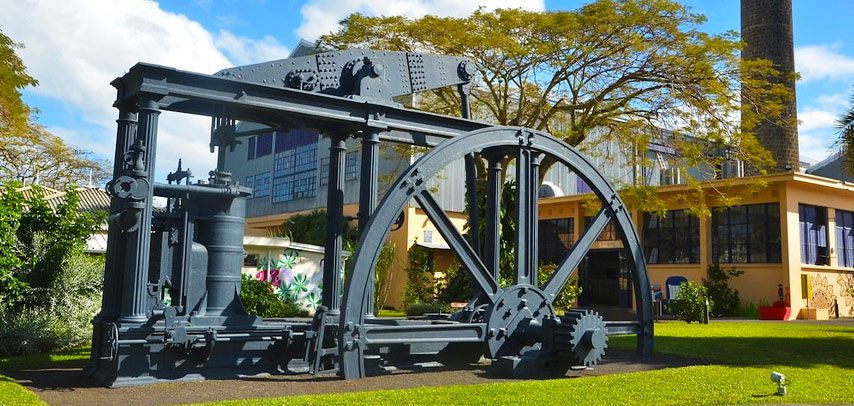 Discover the North Beaches
The north coast of Mauritius has the most beaches, ranging from powder-white sandy bathing beaches to rugged, rocky coasts. On weekends, public beaches can get crowded and busy with boat traffic, but throughout the week, you can easily find a nice stretch of beach to lay out your picnic blanket.
Pereybere,Cap Malheureux, La Cuvette, Pointe aux Canonniers, Mont Choisy, Trou-aux-Biches, and Bain Boeuf are only a few of the beaches. They're perfect places to unwind and enjoy coastal Mauritian life, and they're a welcome break from the secluded lifestyle of Mauritius' hotels.
Trou aux Biches is one of the island's most stunning white sand beaches, a paradise with turquoise seas in a picturesque setting. Many activities, such as parasailing and jet skiing, are available, and Trou aux Biches offers a rare diving experience for divers.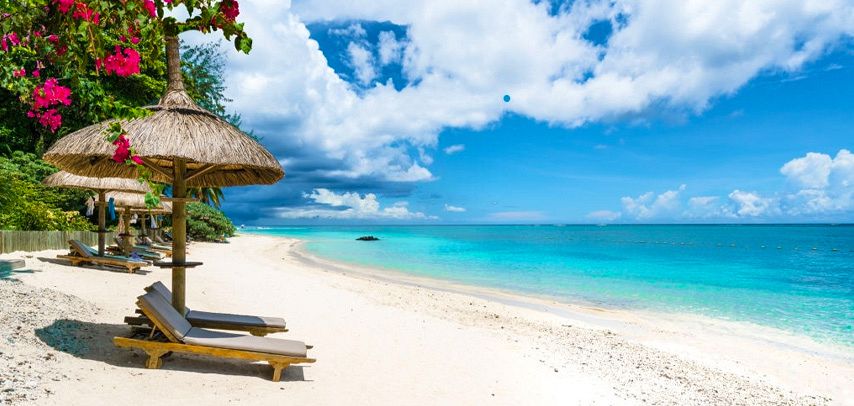 Pereybere is a small beach in the north of the island that is popular with locals and visitors who come to this small cove on a regular basis. It is a true paradise for swimmers due to its always-calm sea and beautiful atmosphere. Pereybere is a little paradise with turquoise waters and white sand beaches that can seduce you. A word of advice before going to the beach: go early in the morning and throughout the week, as the beach is still crowded on weekends and afternoons.
Some claim that in the past, neighbors brought their cows and oxen here to be washed at Bain Boeuf beach. There are no cattle on the beach nowadays, and the remaining pasture fields are being rapidly "eaten up" by lavish villas, bungalows, and comfortable colonial homes. The beach Bain Boeuf near Pereybere is a lovely spot to relax and enjoy the water, sand, and sea.
Mont Choisy is one of the island's most scenic and longest beaches, stretching about 3 kilometers from Trou aux Biches to Pointe aux Canonniers. Locals love spending their weekends in the shade of casuarina trees, relaxing in the sun, and taking in the view of the sea while having a picnic.
La Cuvette beach is near to Grand Baie, a popular tourist destination, and many visitors who stay in Grand Baie visit La Cuvette beach for a relaxing day in the sun. Locals from the area are often seen gathering on the beach, usually for picnics or to enjoy some time by the sea. The lack of coral reefs, combined with the clear waters, lends a pleasing aesthetic to the region.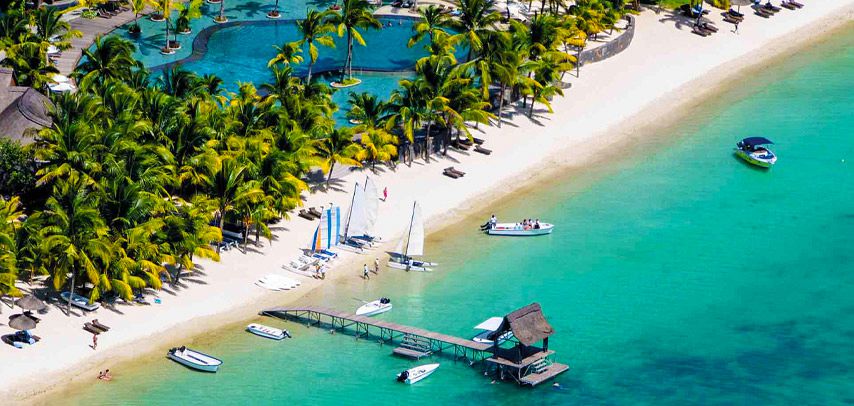 Cap Malheureux is a location with a stunning view of the tiny islands off the coast. The Flat Island, Round Island, and Coin de Mire are all breathtakingly beautiful. Many fishermen and old colonial properties can be found in this lovely village, which has been preserved and is still traditional.
The beach of Pointe aux Canonniers, which stretches for nearly 6 kilometers and is characterized by fine white sand broken by ancient volcanic rock at different points, is characterized by a fine white sand. Just a few hotels along the coast, such as Le Canonnier, have carefully adapted the ruins of an ancient fort into the building, reinforcing the colonial look.The sea here is great for swimming and water sports, and it's also a great place to start scuba diving.
Trip to Northern islets
Four of the six uninhabited islands off Mauritius' northern coast can be visited. Two or three are typically visited on a day-long catamaran cruise, with stops for snorkeling and a BBQ or picnic meal. You can also opt to visit those islands by speedboat.
The wedge-shaped Coin de Mire (Gunners Quoin), just 4 kilometers inland, is the closest and most distinctive island. It's a nature reserve home to the graceful white-tailed pailles-en-queue, which is named for the "quoin" or wedge used under a cannon and is also a popular site for diving.
Îlot Gabriel (Gabriel Island) is the most popular northern island playground, located 1 hour 30 minutes north of Cap Malheureux. A small, flat sand cay with plants, the island's crystal-clear water and pristine coral garden are suitable for snorkeling, while unspoiled white sand beaches and a diverse birdlife can be enjoyed on a well-marked 45-minute trail across the island.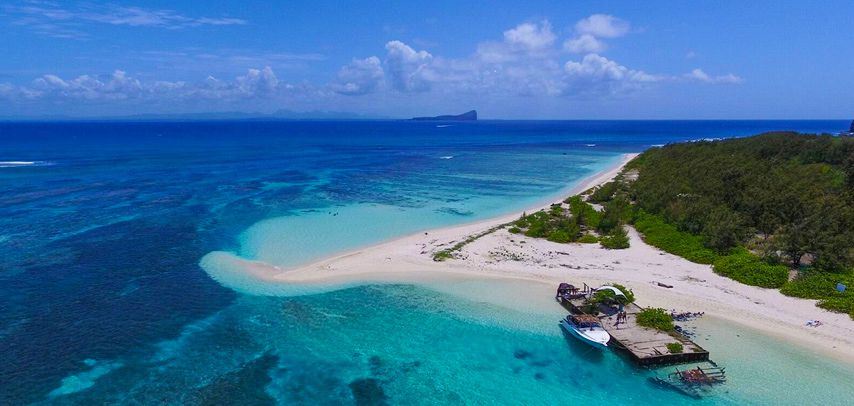 Neighbouring Île Plate (Flat Island) is the largest of the northern islands with spectacular beaches. A 1hr 30min return walk will take you to the nineteenth-century operating lighthouse.
To the northeast, the mangrove-fringed Île d'Ambre (Amber Island) can be reached on exclusive kayak or trekking excursions. Named after the ambergris once found there, it is where Le Saint Géran was shipwrecked in 1744, giving birth to the legend of Paul and Virginie.
You may the following trips to trip to Northern islets:
Sea activities and sports
The north abounds in activities, mostly water activities such as waterski, parasailing, tube rides, snorkeling trips, glass bottom boat trip.
Water skiing is one of the most popular water sports in the north.Water skiing is practiced either in water or bi monoski skiing.Mauritius offers you the opportunity to water ski in most of our lagoons.
Book the Water Ski - Initiation Course
Parasailing is for sea lovers who are not afraid to take the fly to admire the breathtaking view of the lagoon with its turquoise waters, coral and beaches along the coast.
Book your Parasailing activity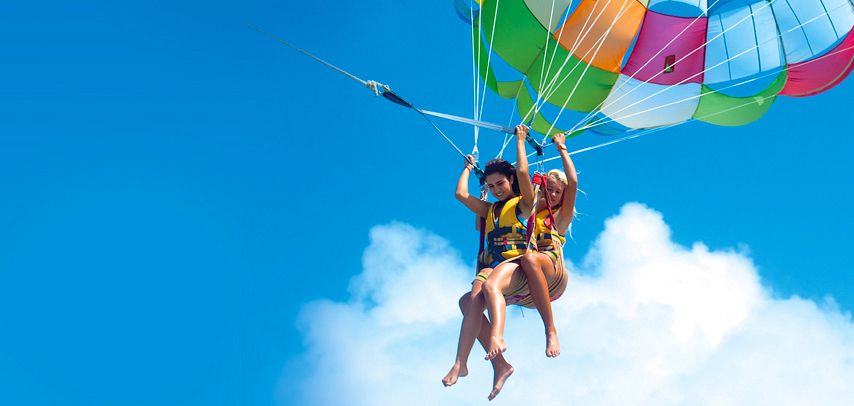 Tube rides are for adrenaline junkies and for those who are able to withstand a bumpy,water-splashing ride. Whether you just want to rest and relax or fool around and enjoy something extreme, for sure you will have an amazing time.
Glass Bottom Boat- If wearing a plastic mask and breathing through a tube isn't your thing, take a ride in one of the glass-bottom boats to see the underwater world. You'll have awe-inspiring views of the incredible marine life thanks to the boat's glass bottom.
Underwater activities
Snorkeling and diving are excellent ways to learn about Mauritius' marine flora and fauna. These activities will allow you to spend more time admiring the coral parks and brightly colored fish that the island's marine environment has to offer.
You want to explore the underwater panorama but don't like snorkeling or diving so much. Don't worry, there are plenty of other aquatic activities to enjoy such as:
Submarine: As the name suggests, this activity involves an underwater adventure in a fully immersed marine vessel. The submarine goes down to 35 metres under, so it gives you the possibility to see rarer and more exotic interactions of the fauna and flora.
Semi Submarine: The Nessee is a semi-submersible with a length of 15 meters and a width of 3.40 meters which provides trips in the lagoon of Grand Baie for approximately 1 hour and 45 minutes, allowing you to learn about Mauritius' marine fauna, including coral and aquatic life, through the wide windows in the partially submerged underwater submarine.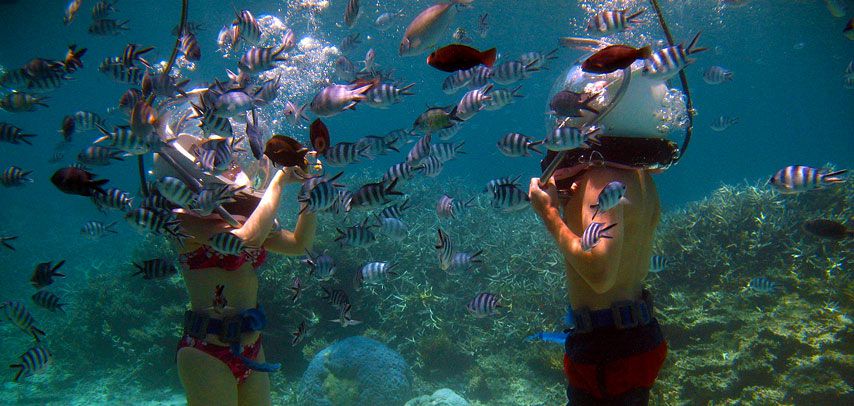 Underwater sea walk: You will stroll around the reef park for an underwater sea walk which does not need any prior experience in snorkeling or diving. You will be fitted with a mask that allows natural breathing and a glass visor which allows full visual appreciation and possible contact with aquatic life.
Underwater scooter: You can drive your own underwater scooter alone or in pairs to a depth of 3-4 meters in complete safety and enjoy a unique experience in the world. Comfortably seated one behind the other on height-adjustable seats or you can be on the scooter alone, you breathe freely and naturally in a large common, transparent and panoramic cupola. You will have an incredible view of the Mauritian reef and seabed while discovering its flora and fauna. Throughout this adventure, you will be able to communicate with your partner, exchange comments, impressions and, together, enjoy this experience.
Book the Mauritius Underwater Activities – Submarine, Sea Walk, Sub-Scooter & Snorkeling Trips
.