Pointe aux Canonniers
Pointe aux Canonniers offers proximity to Grand Baie, Cap Malheureux, or Mont Choisy, while being far enough away to keep you away from the hustle and bustle. It is no wonder that the real estate sector is rapidly developing in this welcoming village.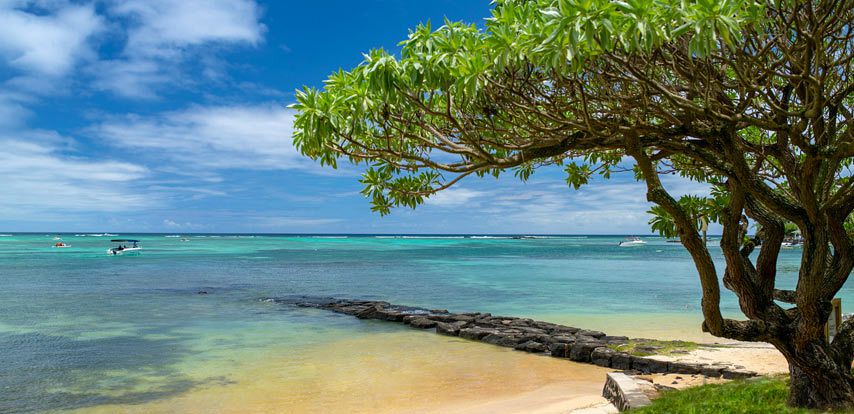 Indeed, this coastal area has only a few large hotels and is a change from the crowds of large villages. Pointe aux Canonniers is dotted with elegant seafront boutique resorts and laid-back guest houses, plus dining options from upscale French eateries to al fresco seafood shacks
Brief History of Pointe aux Canonniers
This propitious site west of Grand Baie, ideal for spotting fugitive slaves and English invaders, was a military camp for the French settlers. Now a plush residential area, the peninsula boasts several hotels with a magnificent view of the islands to the north. The Hôtel Le Canonnier has preserved a lighthouse, built in 1855 on the site of an old French fort. Its beam of light continued to sweep across the sea until 1932.
Pointe aux Canonniers Location
The small village of Pointe aux Canonniers is located in the north-west of Mauritius, in the district of Pamplemousses, only a few kilometres from the beach of Mont Choisy.
The drive is around 30mins from the capital, Port Louis and from the international airport, it takes around 1 hour and 30 mins to reach Pointe aux Canonniers.
Climate in Pointe aux Canonniers
The hot and humid summer falls between November and April with temperatures ranging from 27°C to 34°C which is the perfect time for a beach holiday in Mauritius. You can also expect summer showers in Mauritius.
The mild winter starts in May and ends in October. Temperatures range between a pleasant 17 °C and 26 °C and the climate is drier.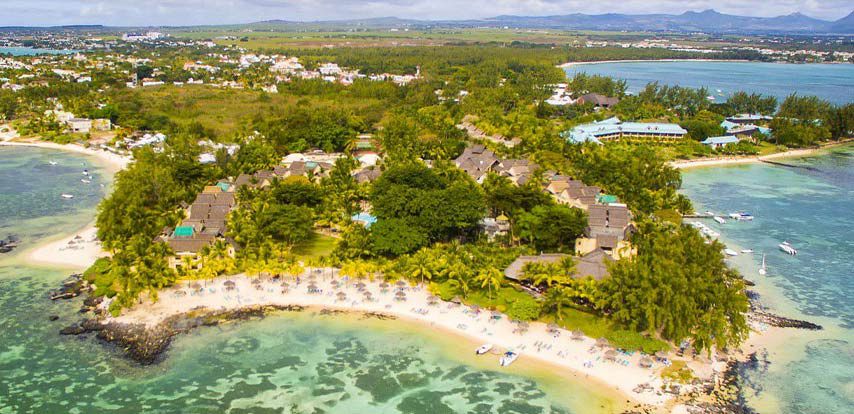 Hotels in Pointe aux Canonniers
In Pointe aux Canonniers, there are few 4 star hotels, a 5 star hotel and guest houses as well as apartments to book around the area.
Below please find the list of the main hotels in Pointe aux Canonniers :
Club Med Pointe aux Canonniers
The resort looks like a peninsula and its two idyllic beaches are protected from the wind and lined by former colonial houses with thatched roofs. Flanked by a long white beach, with another nearby, this spectacular resort provides an idyllic setting for a fabulous family holiday with a wide range of sports and activities available for all ages. Bungalows located in the heart of a vast tropical garden offer refined comfort in a contemporary décor.
Canonnier Beachcomber Golf Resort & Spa
One of the best family resorts in Mauritius and it stands proudly above the coastline on a historic peninsula. Canonnier Beachcomber enhances the authentic Mauritian atmosphere with commanding views over the northern islands and sparkling Indian Ocean, lush tropical gardens dotted with cascading pools and a string of secluded creeks.
Esprit Libre Restaurant and Guest House
This Guest House will seduce you with the quality of its services and its ideal location in the North which are far from the main road to offer you all the tranquility you need. This little corner of paradise is as close to the seaside resort of Grand Baie as to the famous beach of Mont Choisy, renowned as the destinations par excellence in Mauritius.
Seapoint Boutique Hotel
A luxury Boutique hotel which redefines the word 'magic'. Cosy and luxurious, the hotel brings along charm, intimacy and refinement which will give you a glimpse of the beauty of Mauritius.
Hibiscus Villa
Ideal for families or large groups of friends seeking unlimited fun, the spacious villa with 5 bedrooms and 3 bathrooms can comfortably accommodate up to 10 people. The villa also comes with a fully-equipped kitchen, furnished terrace with a verdant tropical garden and more.
Le Mandala Moris B&B Guesthouse
a stylish and intimate 8-bedroom luxury Guesthouse giving you the choice of B&B or self-catering. Good value for money and it's just the way what you would expect and be happy about.
20 Degrés Sud
This quirky boutique hotel is a true Safe Heaven and exclusivity. This small intimate hotel with 36 rooms and suites, is situated in an incredible place not far from "Pointe aux Canonniers", and the bay of Grand Baie. Everything is designed in elegance, in order to offer our guests an unforgettable holiday.
Baystone Boutique Hotel & Spa
A highly modern upscale and chic hotel, where the interior decoration focuses on the light and sober colors, whereby even the stylish furniture was designed and customized by the New York architect Albert Angel. The hotel provides a relaxing, intimate and elegant atmosphere and has got all the elements to make your vacation an exceptional lifetime experience.
Pointe aux Canonniers Beach
Known for its turquoise water and thick sand, the beach of Pointe aux Canonniers is home to a wide variety of shells. Whether you're a seashell lover or not, looking for shells can be a lot of fun and entertainment and you can quickly become addicted. If you prefer fishing, the village lagoon could very quickly become your new fishing spot. Moreover, with the specialised fishing equipment shops in the area, you won't run out of bait.
Famous beaches near Pointe aux Canonniers
Mont Choisy
Trou aux Biches
Grand Baie
La Cuvette
Pereybere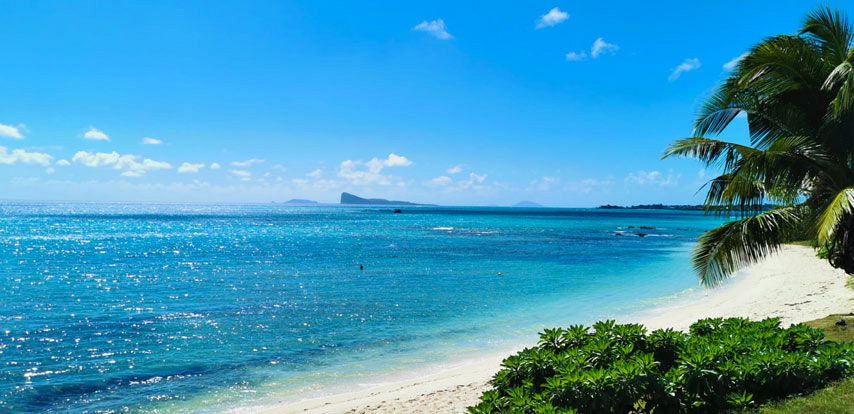 Places to visit nearby Pointe aux Canonniers
Shopping in Grand Bay
The village also has a lot to offer to shopaholics: clothes, accessories, and designer shoes, beauty products, you can find them in one of the largest and most beautiful shopping malls on the island: Grand Baie La Croisette. Find brands such as Mango, Lacoste or Inglot. You can even take the time to take a breather after your shopping marathon by sitting on the esplanade watching your children (or those of others) rollerblading or biking, which can be rented. In addition, the complex houses a hypermarket, a cinema and restaurants. There is also the Grand Baie Cœur de Ville, which is another commercial complex having a supermarket, restaurants and entertainment for children.
Galerie du Moulin Cassé - Art Gallery
Located in Pereybere and housed in a charmingly restored sugar mill, the Galerie du Moulin Cassé features the vibrant floral scenes of painter Malcolm de Chazal (1902–82) and a collection of photographs by Diane Henry. The most impressive display, however, is the collection of over 20,000 terracotta pots lining the vaulted arcs of the ceiling.
Cap Malheureux Church
One of the most famous churches in Mauritius is Cap Malheureux Church. It's official name is the Notre Dame Auxiliatrice Chapel, but it's known by tourists as the 'Red Roof Church'. The Church is arguably the most photogenic spot on the Island of Mauritius due to the way that the bright red roof of this Catholic Chapel contrasts with the turquoise waters and deep blue sky that surrounds.
L'Aventure du Sucre
A short drive to Pamplemousses, the former Beau Plan sugar factory houses one of the best museums in Mauritius. It not only tells the story of sugar in great detail but also covers the history of Mauritius, slavery, the rum trade and much more.
Sir Seewoosagur Ramgoolam Botanical Garden
The Botanic Garden is located in the proximity of Port-Louis in the district of Pamplemousses and is famous for its giant water lilies with leaves that span two metres across and also features native spices, ebony trees, sugar cane and around one hundred species of palm.
The Château de Labourdonnais
The Château de Labourdonnais is an old sugar estate located in Mapou which has been converted to a museum and restaurant with a colonial period theme.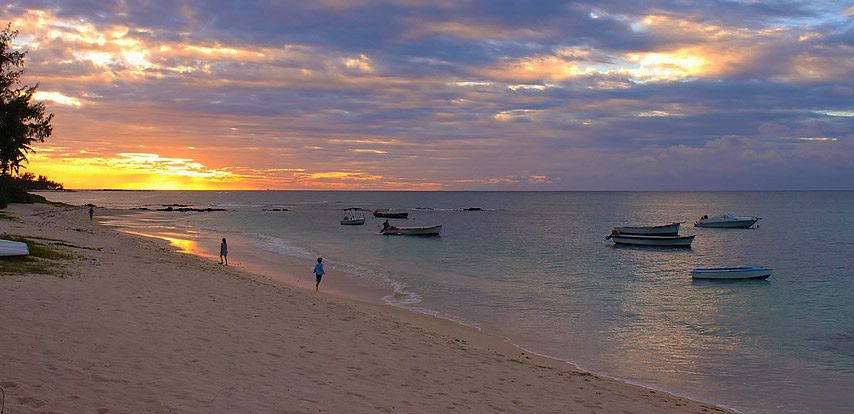 Highlights of Pointe aux Cannoniers
Catamaran cruise - Grand Baie located located next to Pointe aux Canonnier, is the departure point for deep sea fishing trips and for boat excursions or catamaran to the islands in the north of Mauritius which are:
Gunners' Quoin
Flat Island
Gabriel Island
Round Island
Serpent Island
The activities can be booked online directly on mauritiusattractions.com