Best Diving sites in Mauritius
Mauritius is considered an evergreen scuba diving destination and is home to some of the world's most breathtaking coral reefs and marine life ever to be seen. Full of hundreds of bright-coloured fish, the underwater world of Mauritius can be deemed a natural wonder.
With stunning underwater sceneries highlighting rich fauna and flora, and numerous wrecks lying on the sand for hundreds of years, the island offers an extraordinary adventure to amateur and professional divers.
While diving in Mauritius is good year-round, every season has its own flavor and look. For the best visibility underwater visit Mauritius from October to March/April where summertime makes the water warm and attracts a lot of marine life. However, it is recommended to dive in Mauritius from October to December and March to April if you want to avoid the cyclonic season.
Most of the best dive sites are located along the West and Northwest sides of the island. For marine life and drift dives, the offshore islands further north are good.
In this article, you will find detailed information about amazing spots for diving in Mauritius.
1. Djabeda Wreck on Coin de Mire Island
One of the most stunning wrecks, without a doubt! Situated just off the bay at Coin de Mire Island, Djabeda is a large Japanese fishing boat sunk in 1998. The vessel is about 44m long, 10m high and 5m wide and stands upright at a maximum of 34m depth, waiting for her visitors.
Throughout its 20 years underwater, this wreck has built up a lot of life and is completely covered in beautiful pink soft coral, the wreck attracts perhaps the largest concentration of fish life on the north side of the island.
This diving site is full of marvelous soft corals, schooling fish, kingfish, moray eels, triggerfish, stonefish, lionfish, parrotfish, leaf fish and sea slugs. Sometimes barracuda, stingrays and dolphins also visit the wreck.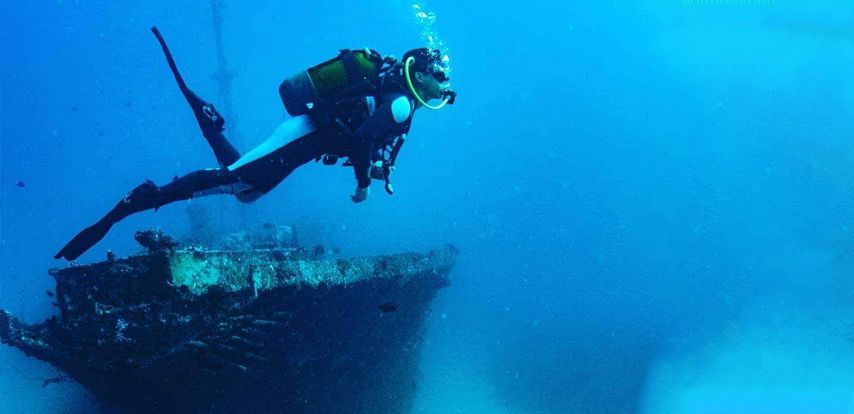 2. St. Jacques - Le Morne
A fantastic drift dive and arguably the best dive site in the South of Mauritius. The average depth is from 5m/16ft to a maximum of 30m/98ft. It is a drift dive so there is always current, whether it be mild current or pumping current, thus it is marked for the use of advanced divers only.
Eventually, you reach somewhat of a cathedral where you find some rock to hang on. Wait for the grey reef sharks to make an appearance. The range in numbers is between 3-15 sharks!
On the way to this point, there is also a good chance of seeing turtles, eagle rays, stingrays and loads of big game fish. After the drift through the pass, you have a choice of either going along the left or the right wall. Both give you the chance to spot some white-tip reef sharks, morays, turtles, trevally, eagle rays, nudibranchs, lionfish, corals, and anemones gardens.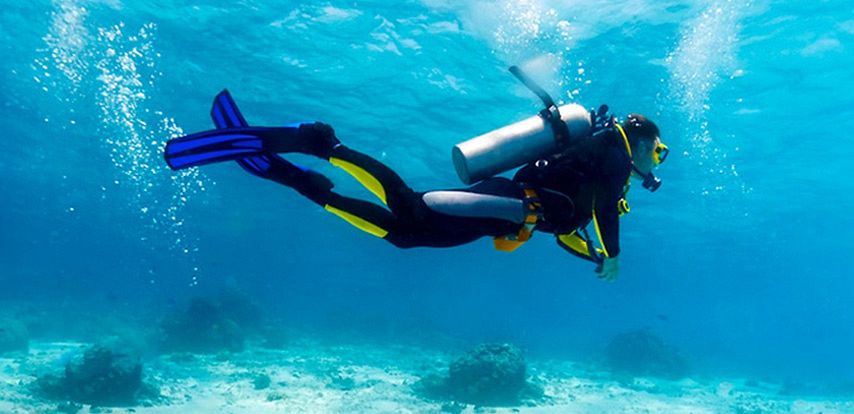 3. The Cathedral - Lanai
A perfect spot for photography enthusiasts, the Cathedral has excellent topography. With grand caverns, caves and arches, these waters give an unbelievable sight. To experience the sandy ocean floor, one has to dive to a depth of 30 metres, which is also the deepest point of the Cathedral.
Many different marine species like angelfish, wrasse, clownfish and groupers can be found in these waters. One has to keep an eye on moray eels and a few crustaceans, which often hide in the coral crevices.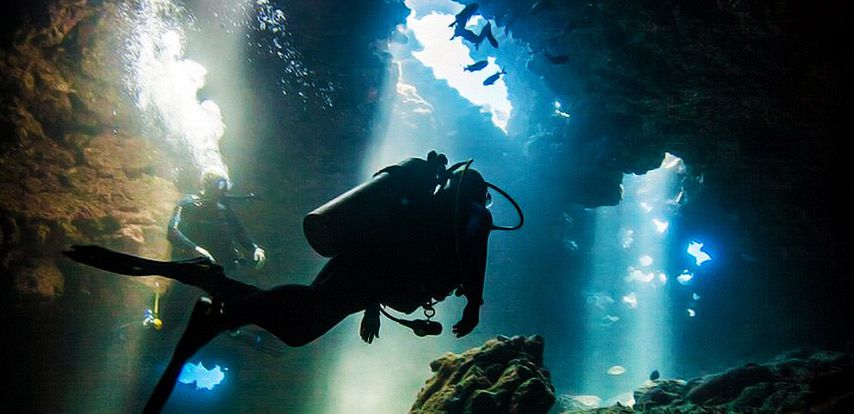 4. Stella Maru Wreck - Trou aux Biches
The waters around Mauritius are home to many easily accessible wrecks. One of the most outstanding wrecks is that of the Stella Maru, at Trou aux Biches on the North West coast.
Stella Maru is an old Japanese trawler that sank into the waters in 1987. The dive site is home to two giant moray eels, one of which lives in the chimneys of the wreck. Octopuses, barracuda, leaf scorpionfish, shellfish and domino damsels are also seen on this site. The speciality of this wreck has so much in store for visitors and is every underwater photographer's dream.
Stella Maru is a diving site to be explored constantly!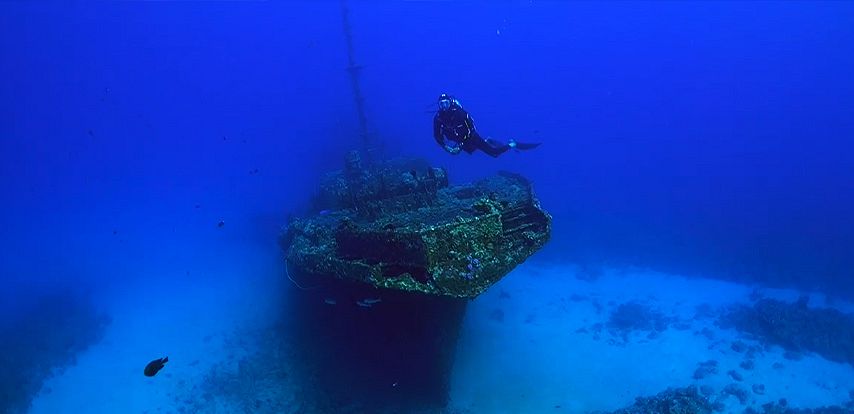 5. Water Lily and Emily Wrecks - Trou Aux Biches
Water Lily and Emily is a spot that involves two old water barges lying at an angle to each other on the sandy bottom at a depth of 26m/85ft. These two barges sank in the waters of Water Lily and Emily in 1981 and 1982 respectively. Both wrecks are close to each other and can be reached in one dive. This dive site hosts many fish and moray eels. Diving here is available for advanced divers.