Best Holiday Apartments in Mauritius
Booking a Holiday apartment in Mauritius allows you to have a comfortable and independent vacation. Self-catering properties in Mauritius can include holiday homes, holiday cottages, or even a holiday apartment, many of which are frequently available at affordable prices.
A self-catering holiday stay in Mauritius offers you cooking facilities to make food for yourself, often including braai facilities.
Below are some of the best Holiday Apartments in Mauritius:
Paradise Beach Apartments
This tropical paradise is located on the island's south east coast at Pointe d'Esny and will transport you to a postcard-perfect vacation. Enjoy one of the most beautiful white sand beaches in the Indian Ocean, with a breathtaking view of Mauritius' biggest lagoon.
Paradise Beach comprises eight three-bedroom apartments and two four-bedroom luxury penthouses, with all apartments fully serviced and all bathrooms en-suite. The self-catering "with benefits" concept combines the freedom of quality holiday accommodation with hotel-like services as well as convenient "holiday extras" such as easy access to water sports, babysitting, or in-house chefs.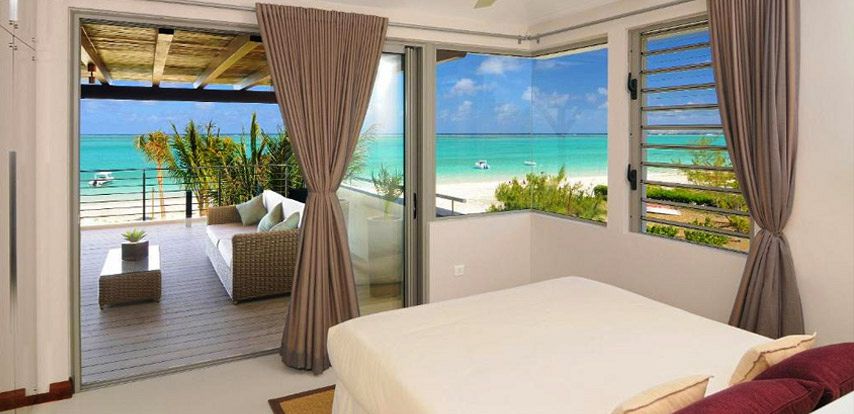 Paradise Beach also has facilities such as a nice swimming pool surrounded by umbrellas and sun loungers, as well as beach thatched kiosks and loungers on the beach. Daily housekeeping and services on demand enable clients to design the holiday they desire without restrictions, timetables, or dress codes.
Because of its unique location on one of the island's best beaches, the complex is the ultimate address for a truly unforgettable holiday experience, suited to the independent traveller or ideal for families and groups. Guests at Paradise Beach will find it hard to leave their newfound home.
Get a sneak peek of Paradise Beach Apartments
Plage Bleue Apartments
Plage Bleue is a modern vacation rental situated at the entrance of Trou aux Biches village in the north of Mauritius. The Beachfront Apartments is the ideal location for a relaxing and exciting trip away from the hustle and bustle of Grand Bay while remaining close to the vitality of the North.
The complex has apartments with both sea and garden views, as well as a shared swimming pool, all of which are luxuriously painted in bright colours for a mind-free vacation. It also features a stunning infinity pool surrounded by sun loungers and beach umbrellas. These self-catering units have 12 bedrooms, each with a fully fitted kitchen, and can accommodate up to 6 people.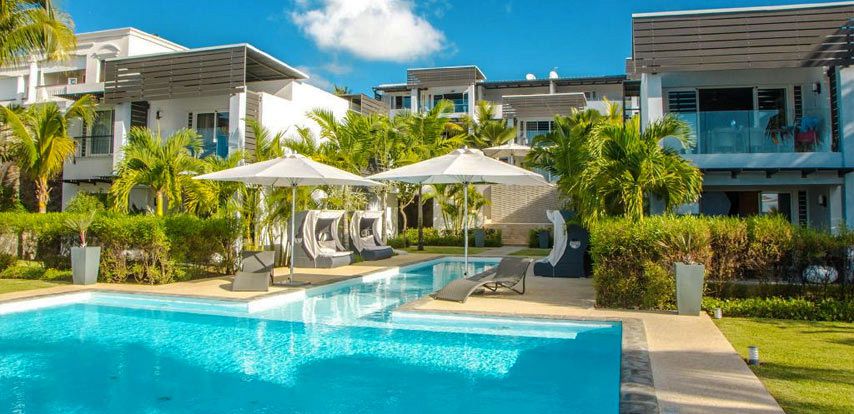 A section of the beach is more rugged, making it ideal for snorkelling, and the public beach of Trou aux Biches, only a few metres offshore, has the best swimming conditions. Plage Bleue, with its new spa, also provides much-needed relaxation when overlooking the blue lagoon.
Each apartment has a "take out menu" where guests can order food from nearby restaurants and have it delivered to them. Local meals, breakfasts, pizzas, and seasonal fresh items, such as seafood and fruits, as well as beverages can be ordered.
Trou aux Biches, Pointe aux Canonniers, and Grand Bay all have a variety of restaurants to choose from, ranging from fine dining to fast food.
A first-class service awaits you, giving you the right to choose and schedule your Mauritius exploration.
Get a sneak peek of Plage Bleue Apartments.
Leora Beach apartments
The Leora Beach apartments, which are located in Tamarin on the west coast, have front-row seats to the most stunning sunsets. Leora Beach apartments have been planned and laid out in a chic and contemporary style to ensure the most relaxing vacation possible.
This one-of-a-kind property's 14 units are all surrounded by a modern swimming pool and deck with views of the ocean. The coral reef, which is just a short swim from the beach and promises excellent snorkelling, is another reason why this property is one of Horizon apartment's favourites.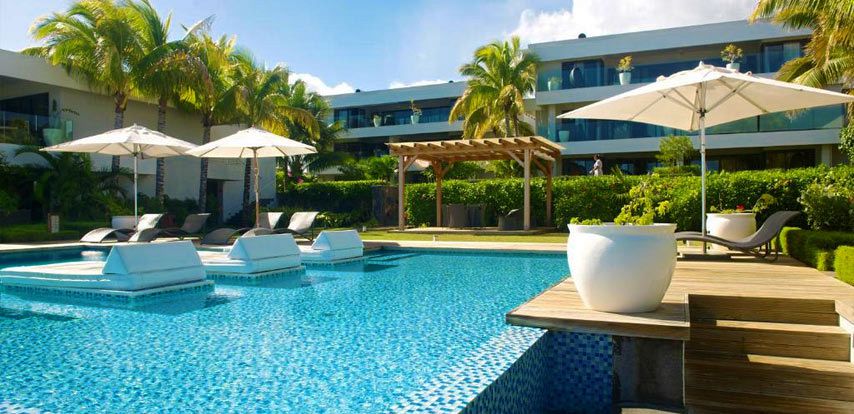 It is next to small shops and restaurants while remaining remote from major hotels, providing visitors with an upmarket local experience. Guests can prepare their own meals using the fully equipped kitchen and dine outdoors using the provided barbecue facilities.
Although the villa provides a secluded retreat from the bustling centre, you'll still be close to famous nightclubs, shopping malls, and family-friendly attractions.
Get a sneak peek of Leora Beach apartments.
Domaine Des Alizees
This hotel home is located in Grand Bay and offers holiday rentals in suites and penthouses. It is a prestigious address located in Mauritius' northern area. This cabin, which is distinguished by its architecture and excellent facilities, will undoubtedly satisfy all the most discerning clients. These brand new apartments welcome you to spend unforgettable vacations in Mauritius.
This resort offers a variety of apartment styles as well as a variety of facilities and offers 1 and 2-bedroom suites, as well as 3-bedroom penthouses with a plunge pool on the terrace, all set in a modern and comfortable ambiance that will make you want to return again and again.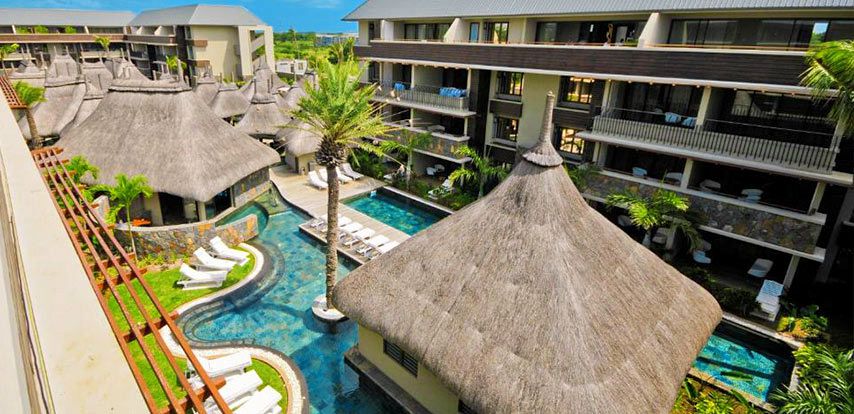 These new luxury apartments have excellent amenities in a stylish setting with a tropical stylish framework. A lounge, fully furnished kitchen and terrace are included with both apartments and penthouses. There's also a spa where you can relax, as well as a gym onsite.
A concierge service is available to assist you in arranging your Mauritius excursions and activities, such as a catamaran cruise to discover the northern islets, swimming with dolphins, perfecting your swing on one of Mauritius' many golf courses, or exploring the dive sites.
Domaine des Alizees is the place to be if you want to enjoy a romantic stay in complete privacy or a family holiday.
Les Estivales Beachfront Apartments
Les Estivales is located in Trou aux Biches on the north coast of Mauritius and is known for its modern and peaceful seaside residential neighbourhood. Imagine sipping your coffee on the terrace while admiring the breathtaking view of the blue sky meeting the sea…
Les Estivales is made up of two blocks of a very distinctive and modern architectural theme. The interior design features comfortable seating areas and a professionally fitted kitchen. All of the units are set in a tropical garden with a common pool and the ocean as a backdrop. The elegant seafront suites and penthouses at Les Estivales beachfront apartments will leave you spellbound.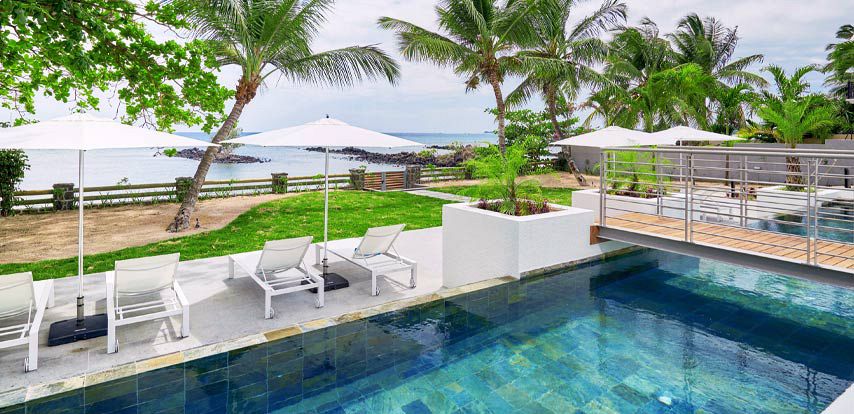 The suites are on the ground and first floors, with the penthouse on the top floor with its own private plunge pool. The accommodation consists of two apartments, each with an exquisite design and high levels of comfort. These suites truly embody the term "luxury." They also provide an extra service that consists of professional and highly trained cooking experts that will bring you a delicious variety of food.
These beachfront apartments would not disappoint you if you are searching for beachfront accommodation in Mauritius for your vacation.
Cape Point Luxury suite Penthouse
These luxury holiday homes are located in the north of the island and are a modern landmark with their unique address. The architectural style, combined with a commanding view of the magnificent Coin de Mire Island, nestled in the stunningly turquoise waters of the Indian Ocean, invites even the most discerning spirit to stay.
Cape Point has four exclusive suites (two on the ground floor and two on the first floor) as well as a luxurious Exclusive Penthouse on the second floor. They have a tropical garden with a grill, an outdoor kitchen, a large deck with sun loungers, two extra-large hammocks, and spacious lounging areas overlooking the lagoon and outer northern islands.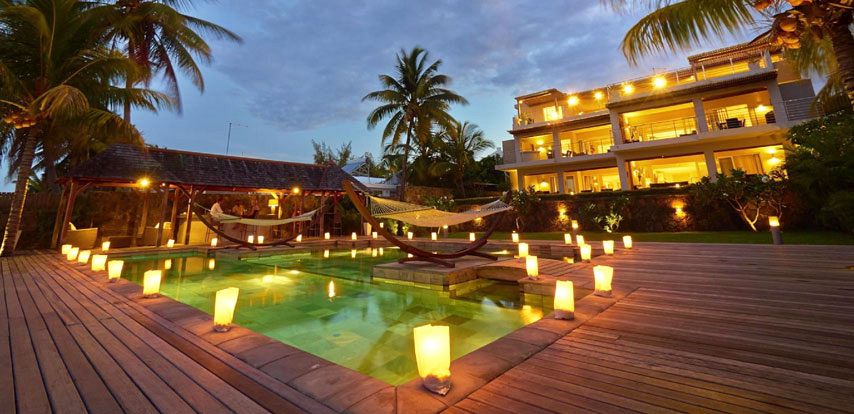 Each apartment comes with a fully-equipped kitchen giving you the choice to prepare your own food when and how you like it, whereas the property offers direct beach access and an infinity swimming pool.
Retreat to the luxury accommodation at Cape Point for an exceptional experience with an even better view.
Bon Azur Apartments
Bon Azur Apartments are located along the stunning coastline of Trou-aux-Biches and are perfect for those looking for an island getaway. This area of the island is known for its charming fishing villages, elegant seafood restaurants, sandy beaches, and serene lagoons.
Bon Azur is a contemporary vacation destination with high-end residences. The resort was built in the style of South Africa and features two main houses with gardens, and a swimming pool with a sunny terrace and perfect for those seeking luxury, self-catering accommodation with privacy while still being close to the restaurants and bars of Grand Bay.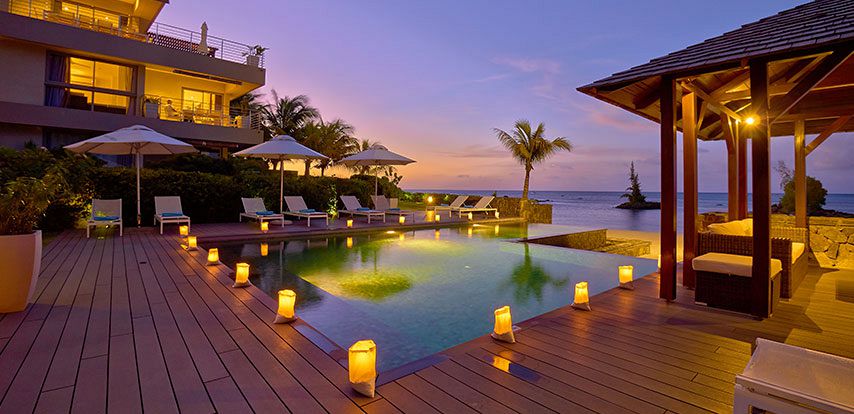 The Bon Azur Beachfront Suites & Penthouses invite you and your loved ones for a luxurious stay on the north coast of Mauritius. While the property offers you direct beach access and an infinity pool, each suite comes with a fully-equipped kitchen giving you the choice to prepare your own food when and how you like it.
On the main beach of Trou aux Biches water sports and many other activities are available. The Golf Resort is located in Trou aux Biches approximately 1.6 km away.
Choisy Les Bains
Choisy Les Bains is a one-of-a-kind holiday destination located at Mon Choisy in the north of Mauritius. It offers visitors a wonderful experience that combines a touch of resort life with self-catering freedom. The residence provides luxurious accommodations in a stunning property with a beautiful lagoon-style swimming pool for laid-back vacations.
You will have the choice between 1-3 bedroom Apartments with either a garden view or lagoon pool view, Penthouses with large terraces & a jacuzzi, and Villas with both a private garden & pool.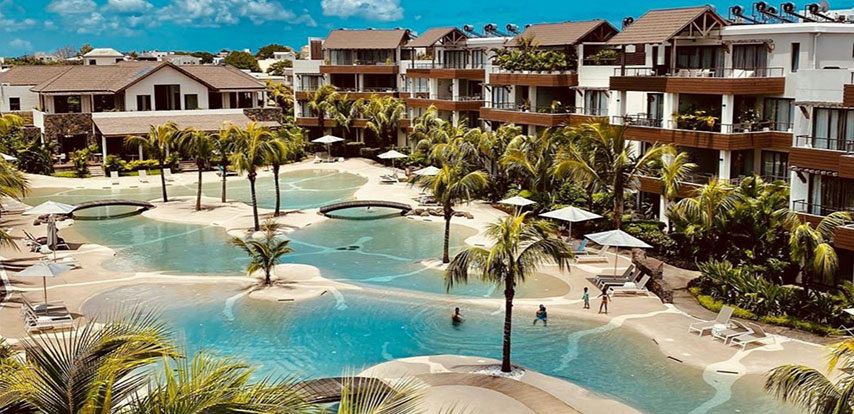 Staying at Choisy Les Bains will give you access to the unique lagoon pool; a large 2500 m2 swimming pool designed as a lagoon, which spans across the property, dotted with little "isles", bridges, sun loungers, and umbrellas. The pool is separated into different areas, suited for all kinds of vacationers; zen, sporty, and playful.
The open areas are built to accommodate the needs of all visitors. There are all of the requisite facilities for relaxing and exercise, as well as welcoming staff that can provide you with personalized service during your visit.
Residence Choisy Les Bains enjoys a privileged location as it is only a few minutes from the city centre and shopping centres, and 100 metres from Mont Choisy; one of the most beautiful white sandy beaches in Mauritius.
The Life in Blue: Azuri Residences
Located in Haute Rive, Roches Noires, on the north-eastern coast of Mauritius, this village invites you to embrace a privileged and magical beachfront lifestyle. You will live in high-end accommodations which offer all of your home's comfort and include a personalised concierge service, allowing you to focus on fully enjoying your time off.
Admire the different shades of blue as the turquoise water reflects the clear sky, and take the leap into the exclusivity of this village. The apartments and suites are filled with stylish touches and modern fittings, with some giving a splendid view of the garden and the turquoise lagoon or equipped with a private pool.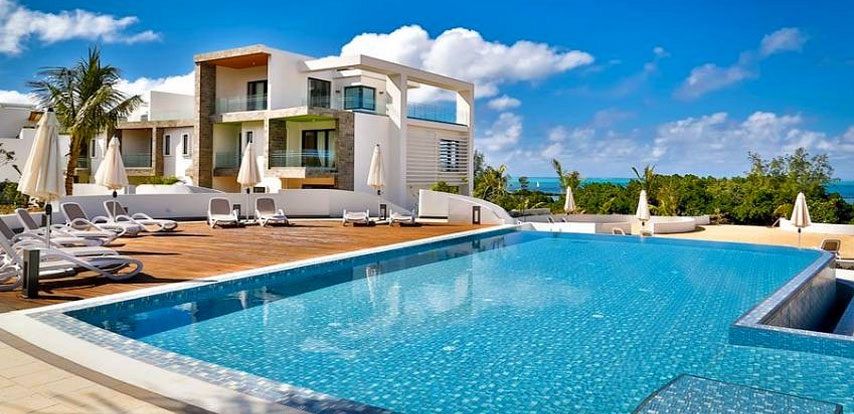 All accommodation is equipped for self-catering, but guests can make use of the services of a professional chef to provide meals for a fee. Guests can also choose to dine at the restaurants on-site, including those at Radisson Blu Azuri Resort nearby. The complex also features a spa, gym, tennis court, swimming pool, boat house, and shops.
The Life in Blue: Azuri Residences is the ideal destination for your holiday rental in Mauritius.
Manta Cove by Horizon Holidays
Manta Cove is a luxurious beachfront villa and penthouse situated at Tamarin, on the west coast of Mauritius and is suitable for your romantic and exclusive vacation. The villa and penthouse are surrounded by picturesque scenery with direct views of the breathtaking ocean as well as direct beach access.
Manta Cove by Horizon Holidays is the perfect place to be for the honeymoon couple looking to relax and unwind, for families of children looking for quality time, and for groups of friends looking to chill.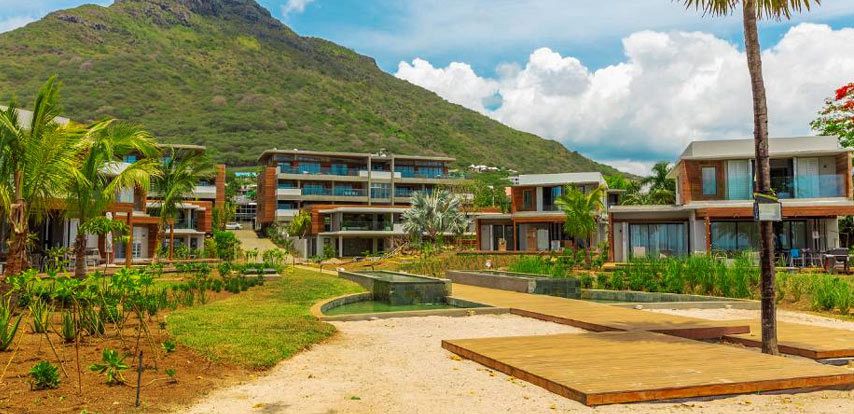 The villas offer you a breathtaking view and include 3 or 4 bedrooms, a fully-equipped kitchen, a living area, a terrace, and your very own private pool.
With its privileged location, and its modern and refined architecture, every detail of the villas has been designed to offer perfect harmony and sublimate the quintessence of the seaside.
Experience an out of the ordinary beachfront lifestyle with the Manta Cove villas offering you a peaceful and intimate setting.