Best VIP & Luxury Packages in Mauritius
Mauritius is an island well known for its unspoilt beaches, azure waters and gorgeous reefs. It is a perfect place to explore around with family or your loved ones. Adventure and comfort go hand-in-hand with the range of Luxury Packages and Luxurious VIP Activities, designed to cater for specific needs and interests to give you the very best of Mauritius.
Visit some of Mauritius most romantic islands like Iles Aux Cerfs and Ile des Deux Cocos for a real tropical luxury. For even more unique activities, you may try an overnight stay in an exclusive nature lodge, VIP Horse Racing, Helicopter Sight-Seeing and Dinner Cruise onboard Mauritius' luxurious Motor-Yacht.
We also offer a selection of Private and Exclusive trips on speed boats and catamarans for special days of adventure.
Here is a list of our most recommended VIP & Luxury Packages in Mauritius.
1. Luxury Day at Ile des Deux Cocos Island
A luxury day at Ile des Deux Cocos is an invitation for you to enjoy a day of pure indulgence with the highest standards of comfort and services provided by a dedicated and friendly staff.
Located off the South-East coast of Mauritius in the vicinity of the Blue Bay Marine Park, Ile des Deux Cocos offers an idyllic tropical island setting for utmost relaxation.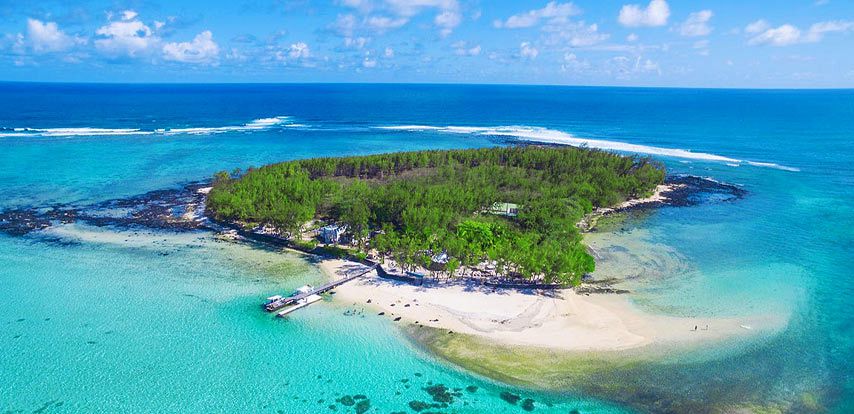 Upon arrival, you will be greeted at the Ile des Cocos jetty with refreshing towels and welcoming drinks. You will immediately feel the charm of this small paradise island and the relaxed atmosphere all around. You will have free time to enjoy the fabulous variety of underwater life during a snorkelling boat trip or on board a glass-bottom boat trip.
The buffet lunch, which is served on the island, features delicious grills and salads, cooked in the open, with tables in the open air and tents with deep settees to relax in. The lunch buffet also includes an unlimited local drinks package.
To make this day even more memorable, you can select the package that includes the private 252m² VIP villa, with a Master Bedroom for 2 people and many facilities, including the beautiful swimming pool. The royalty treatment is emphasised with the housekeeper, valet and chef for an outstanding personal service.
A day on the private paradise island of Ile des Deux Cocos has been the highlight of many visitors' stay in Mauritius and it is an unmissable experience while holidaying here.
Book your trip to Ile des Deux Cocos:
2. VIP day cruise to Governor's house
This VIP day cruise is all about enjoying a unique luxury cruise onboard a speedboat or a catamaran, which includes a delicious dining experience at a top-class restaurant located on Flat Island in a breathtaking location.
The Governor's House is a fine dining restaurant situated on a private beach of Flat Island and operated with much skill and class by one of the best hotels in Mauritius. The design of the Governor's House restaurant is very unique; it is actually an old ruin, dating from the 19th century, which was brought to life with many styles for providing all its visitors with a very unique dining experience.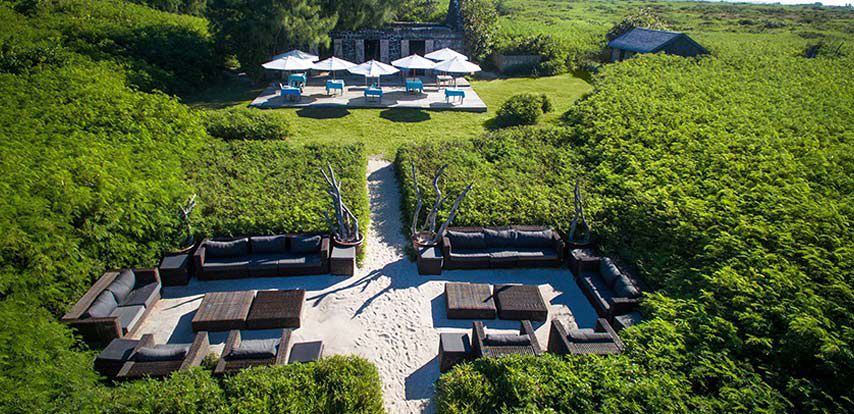 The cruise takes you along the North coast of Mauritius, sailing past Fort Malartic, Cap Malheureux and other important historical sites until reaching the high sea cliffs of Gunner's Quoin. The Gunner's Quoin Island with its high sea cliffs towering into the sky is quite a remarkable site. These cliffs serve as nesting grounds for tropic birds colonies.
For lunch, you will have your own private dining table, shaded and overlooking the sea at the Governor's House restaurant. The restaurant offers a magical setting on a private beach at the north of Flat Island overlooking Round Island and Snake Island – the most distant islands of Mauritius.
Book the luxury cruise to Flat Island
3. VIP Horse Racing in Mauritius
Enjoy a unique, full day at the Mauritius horse racing arena, Champ de Mars, which combines history, tradition, glamour and excitement. You will get to experience the electric atmosphere with the utmost comfort and luxury. The VIP suite is located on the first floor of the horse racing arena, with an open balcony offering you an unobstructed and clear view of the horses racing to the finish line and the paddock.
The Champ de Mars was founded in 1812, making it the oldest race track in the Southern Hemisphere, and one of the oldest in the world. The horse racing season usually starts in March and ends in the first weekend of December. With an average of 8 horses per race (some may even go up to a maximum of 11 horses), about 60 horses participate on each racing day.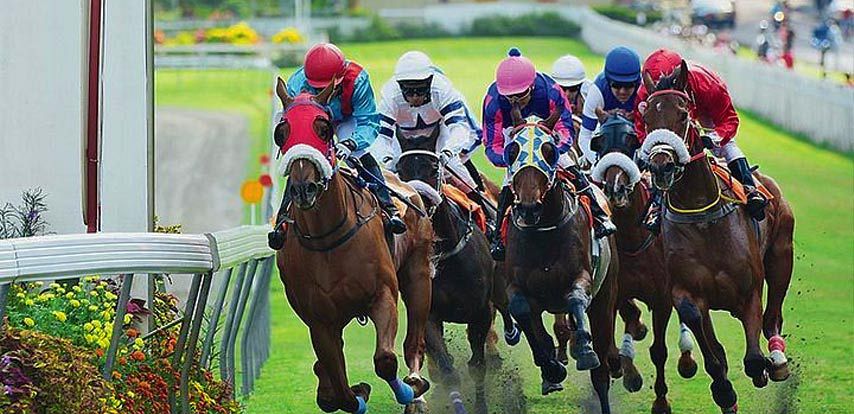 Over the years the Mauritius Turf Club has developed a high level of professionalism, allowing them to organise Classic and Semi-classic races such as the Duchess of York Cup – a race reserved for newly imported horses. Most of the horses come from South Africa, although some are also acquired from the UK, France and Australia, thereby boosting competition levels.
This is a great attraction that enables tourists and horse racing enthusiasts to enjoy horse racing events in Mauritius.
4. Bubble Lodge
The Bubble Lodge is the most romantic and private getaway on the island of Mauritius. Staying at one of the Bubble Lodges will make you feel alive with its tropical nature and rustic décor all while taking care to respect your privacy in all luxury. Buddle Lodge accommodations can be found in two different locations- Bois Cheri and Ile aux Cerfs.
Bubble Lodge Bois Cheri
Bubble Lodge in the Domaine Bois Cheri is located in the midst of an incredibly beautiful tea plantation in the south part of the island near a natural crater lake. This eco-lodge promises lovebirds matchless relaxation in all privacy and luxury. You will furthermore be delighted by enjoying the beauty of the lake through leisurely activities like the pedal boat, kayak, and tilapia fishing, among others.
To wholly contemplate this serene landscape and the crisp air, guests are also invited to go for strolls or hiking amidst the fresh tea plantations. Undeniably, while being at the Domaine, you will get to taste the freshest tea.
Book your stay Bubble Lodge - Domaine de Bois Chéri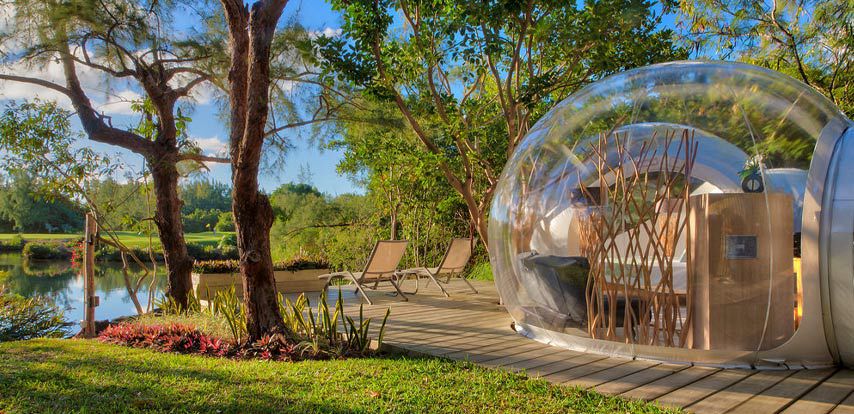 Bubble Lodge Ile aux Cerfs
Bubble Lodge Ile aux Cerfs is located just off the East side of Mauritius, boasting a private beach area and is accessible only by a speedboat.
Perfect for nature lovers, the Bubble Lodge provides the comforts of a luxury hotel room but with the added element of a spectacular natural setting and utmost privacy. It is the ideal opportunity to try something completely different aside from usual hotel stays. Since the bubble is made out of crystal-clear glass, you can fall asleep watching the stars at night and wake up in a dreamlike state the next morning, in an absolutely exotic location.
Book your stay at Bubble Lodge - Ile aux Cerfs Island
5. Mauritius Underwater Waterfall Helicopter Tour – Exclusive
Make the most while holidaying in Mauritius by taking an exclusive Underwater Waterfall Helicopter tour with your loved ones only. You will get to explore the spectacular Underwater Waterfall and landmarks in the south-western part of the island.
The beautiful underwater waterfall, an optical illusion, is located near the shores of Le Morne Brabant in the South-West of Mauritius. The illusion is the result of the movement of sand and silt sediments under the influence of powerful underwater currents. The view of the underwater waterfall is absolutely breathtaking when seen from a helicopter and by many, it is considered a true wonder not to be missed.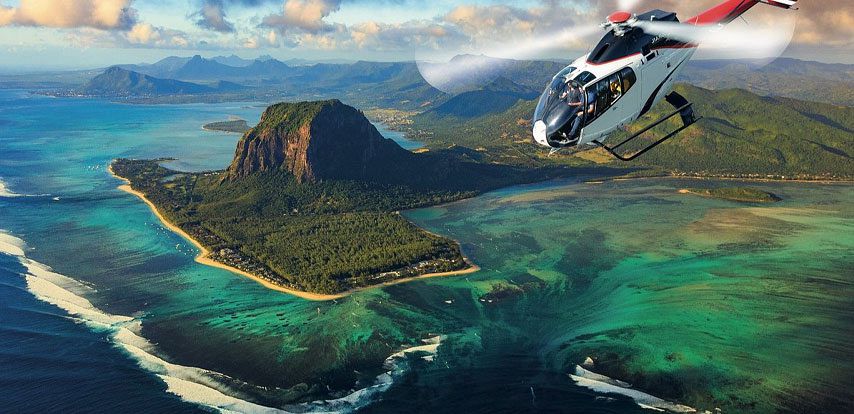 At the south-western part of the island, you will also get to see stunning panoramas of the Indian Ocean, the turquoise lagoons, and fascinating coral reefs, followed by purely white sandy beaches bordered by palm trees.
This helicopter sightseeing tour unfolds another side of Mauritius where you will feast your eyes on the enchanting sights of incredible mountain ranges, perfect postcard lagoons, white sand beaches, undulating sugar cane fields and many other spectacular views.
Flying over this picturesque Underwater Waterfall is a rewarding experience which you will cherish forever!
Book the Exclusive Mauritius Underwater Waterfall Helicopter Tour
6. Couple's Exclusive Lobster Dinner Evening Cruise
If you are looking for a romantic getaway, then this package is for you. Grab this chance to have a unique, unforgettable experience and turn the dream of sailing into the tropical sunset with your loved one into a reality. This 5-hour private catamaran cruise package is ideal for a special romantic evening or to celebrate a unique occasion.
You will be warmly welcomed aboard the private catamaran departing at 17h00 from Black River. The ship's onboard ambience is relaxed and you will get an up-close, authentic experience of the trademark Mauritian hospitality while cruising along the magnificent West Coast. Spend quality time with your partner in this wonderful setting and take the time to marvel at nature's wonders.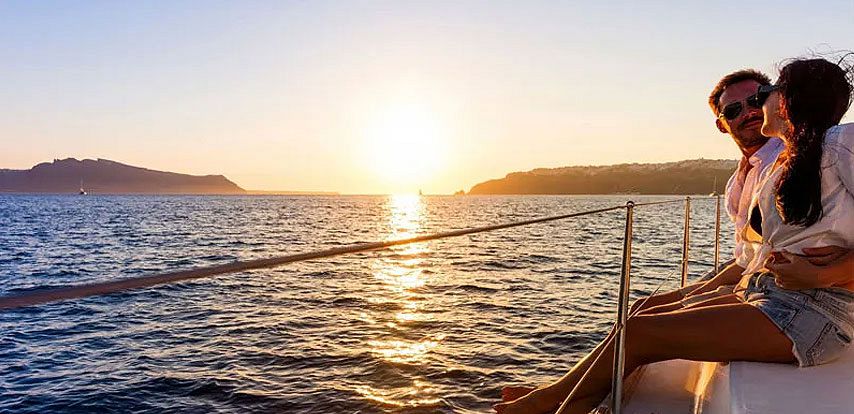 This private romantic cruise will give you the chance to admire breathtaking views of the sun dipping into the sea and lighting up the horizon in a whole spectrum of red, pink and orange shades. Share this special and unforgettable moment with your loved one and admire the magnificence of Tamarin Bay at dusk.
As part of this package, you will get to enjoy a delicious gourmet Lobster dinner aboard the luxurious private catamaran in Black River Bay. Between bites, you can gaze out at the bay to marvel at the West Coast, basking in moonlight. After having a luscious dinner with the ocean view and the gentle sea winds, you can sit on the deck of the catamaran and watch the starry night sky looking out for shooting stars. You will enjoy maximum privacy to spend some wonderful moments with your loved one on a spacious and luxurious catamaran.
Book the Couple's Exclusive Lobster Dinner Evening Cruise
7. Exclusive Whale Watching - 3 Hours
Treat yourself and your loved ones (up to 8 people) to a private whale-watching adventure in Mauritius on a unique, exclusive and private speed boat. The whale-watching trip is a unique opportunity to explore the spectacular lives of these magnificent marine mammals in their natural aquatic habitat.
Encountering whales is an incredibly moving experience. It will bring you into contact with strikingly beautiful scenery, unspoiled landscapes and wonderful animals. If the sea is rough, it will be more difficult to see the whales.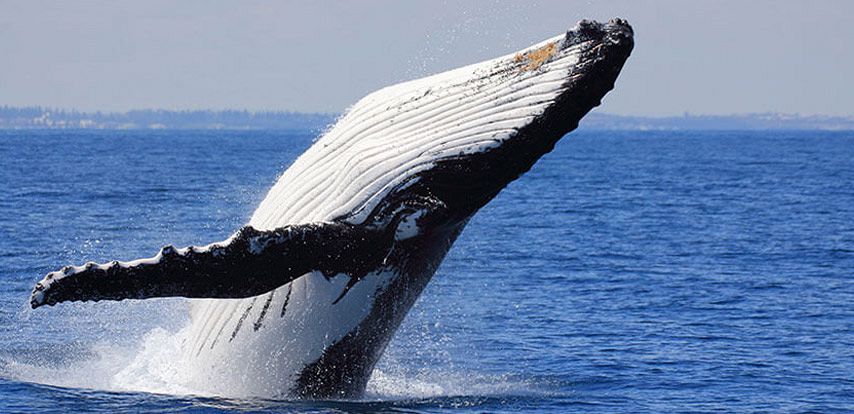 When you see the whales, the sight is unbelievable. Everyone has their own way of describing this incredible sight. Sometimes instead of the usual outbursts, it is the deafening silence of being lost for words as you hear the enormous humpback whale take one last breath before a dive.
8. Airport Transfer by Helicopter
Save time by avoiding road traffic and transfer directly to your hotel in just a few minutes while experiencing the beauty of Mauritius from the air. Transfers can be arranged from the airport to the hotel and vice versa.
The land support crew will greet you upon arrival at SSR International Airport and provide you with personalised service heading you to the helicopter. You will board one of the Bell Jet Ranger helicopters equipped with 4 passenger seats.There is another helicopter that can be arranged for up to 6 people.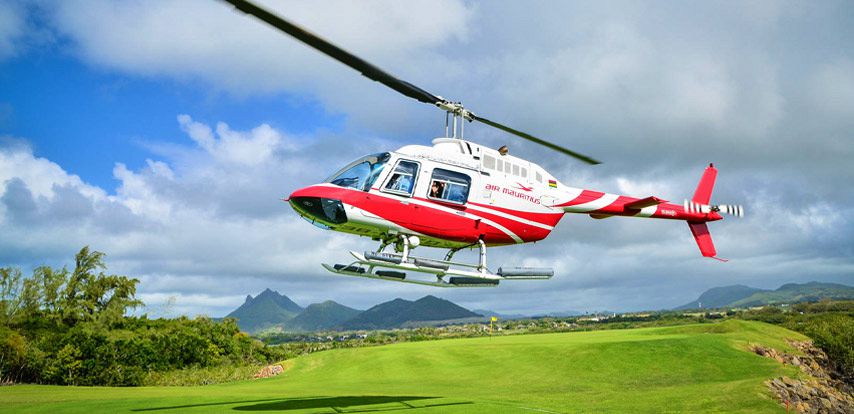 Throughout the flight, the pilots, each trained to the highest safety standards, will provide you with an overview of Mauritius as you fly over amazing landscapes and topography heading comfortably to your accommodation.
For only a small supplement, you will get to benefit from all the luxuries The Amédée Maingard Lounge at the Mauritius International Airport has to offer. This lounge has been specially designed to welcome guests and make their waiting time at the airport as relaxing as possible in a very warm and comfortable setting. Very friendly staff members will take care and cater for your needs during your time at the airport lounge.
Book your airport transfer by helicopter:
9. Private Overnight Catamaran Cruise - North Coast
Embark on the Leopard 43 and enjoy an amazing sunset, exquisite dinner and peaceful overnight experience on-board.
Contemplate the beauty of Grand Bay from the sea during a breathtaking overnight venture in the North lagoon. This will be the ideal cruise choice for those looking for an intimate and romantic cruising experience in their own private-exclusive catamaran.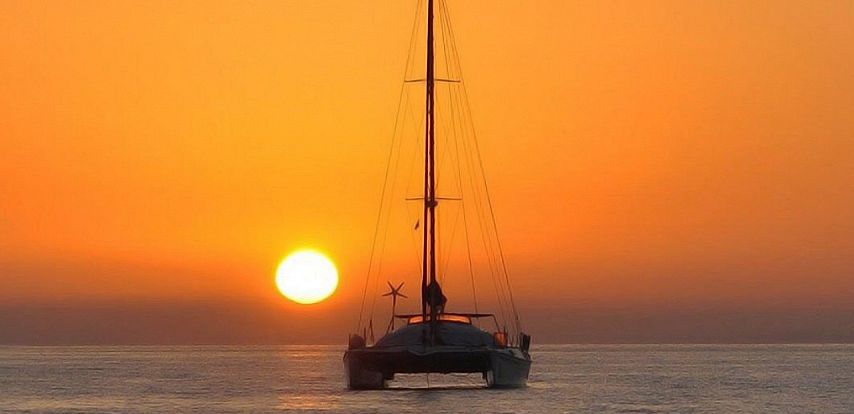 Share some cheerful moments with your loved ones; family and friends during this all-inclusive package. Sail through the calm water of the North Coast and enjoy the spirit of the ocean as you glide over the waves. You will enjoy a beautiful sunset and watch the sky change in colour, in turn creating a memorable paradise setting!
This exclusive overnight catamaran cruise is all about intimacy, romance and VIP treatments. For a more pampering time, a professional team will accompany you during your trip to ensure that you spend real special moments on the water. They will attend to each and every need of yours.
Book the Private Overnight Catamaran Cruise - North Coast
10. Ile aux Cerfs Island Luxury - Exclusive Beach Experience
Treat your loved ones to a day in paradise like never before by having a luxury day experience on the secluded and stunning Ile aux Cerfs islet, located on the eastern coast of Mauritius. Right next to the Ile aux Cerfs golf course, you will find the amazing Flibustier exclusive beach where a quiet and peaceful atmosphere prevails.
Experience this blissful haven of pure relaxation, and get mesmerised by the azure sea water, and white sandy beach fringed by beautiful Casuarina trees in an absolutely intimate location for a well deserving privilege access.
You will spend your day sunbathing or relaxing on one of the picture-postcard beaches. Let yourself go for a perfect moment of bliss and take advantage of the crystal clear lagoon where you can enjoy swimming.
While on the island, you may take a couple's parasailing activity which will give you a breathtaking bird's eye view of Ile aux Cerfs Island, its beautiful beaches and the beautiful east coast lagoon, making it a truly memorable and worthwhile experience.
Book an Exclusive Day on Ile aux Cerfs Beach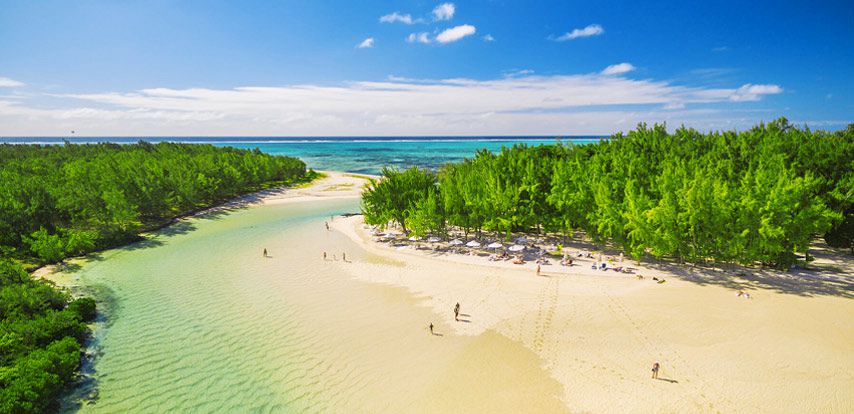 Mauritius is a postcard-perfect holiday destination; It has earned a reputation for being THE destination for adventure outings, romantic getaways and some lazy lounging, but it also has its fair share of luxury experiences that go beyond gorgeous hotels and extraordinary resorts.