Holi - Festival of Colors in Mauritius
Holi, also known as the festival of colors, is a major Hindu festival celebrated all over the world. It occurs every year during the full moon in the month of Phalguna, and revolves around the vernal equinox. In Mauritius, the vast Indian majority celebrates Holi with great zeal, as they do many other major Hindu festivals.
The festival is held for two days in March, starting with a bonfire or Holika Dahan in the evening and ending with the main festivities the next morning.
All local markets in Mauritius begin selling materials for the ceremonies, as well as a wide range of organic colors, a few days before the festival. People prepare for Holika Dahan on the first day of the festivities, which includes a bonfire, folk music, dance performances, and the consumption of local delicacies.
Despite the fact that the day after Holi is not a public holiday, locals hold a variety of activities in parks, hotels, and beaches.
Significance of Holi
The festival honors the coming of spring and the victory of good over evil, but it also has religious significance, as symbolized by the Holika legend. Holika, the wicked sister of the demon king Hiranyakashipu, is said to have died in a fire while attempting to send off her own nephew, Prahlada. Now, the traditional burning of bonfires on the eve of Holi itself is known as Holika Dahan, featuring straw-and-bamboo effigies of Holika on top of the pyre.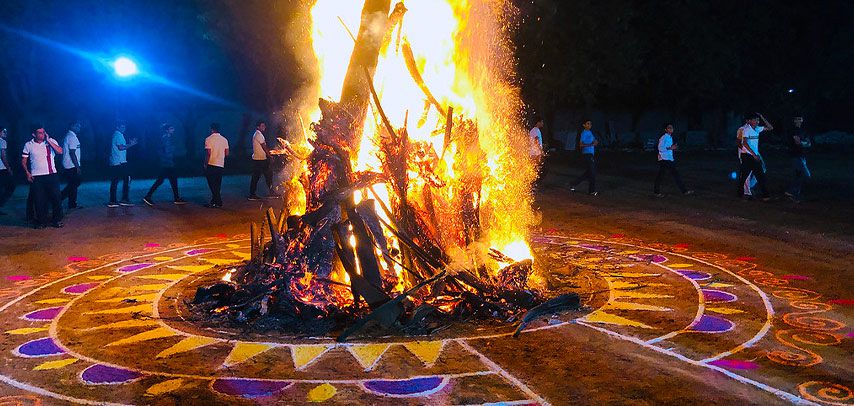 Colours of Holi
In Mauritius, Holi is celebrated by nearly everyone, regardless of religion. Anyone out in an open area is fair game, but only dry colours are used inside buildings or in doorways. Traditionally, slightly more muted colours derived from plants were used but the vibrant pinks and neon yellows we're used to seeing today are water-based commercial pigments.
Markets and shops are painted in every color of the rainbow in the week leading up to the festival, setting the tone for the exuberance to come.People throw handfuls of gulal (brightly colored powders) and soak each other with water jets known as pichkaris, made of local Mauritian bamboo stalks, on Holi morning.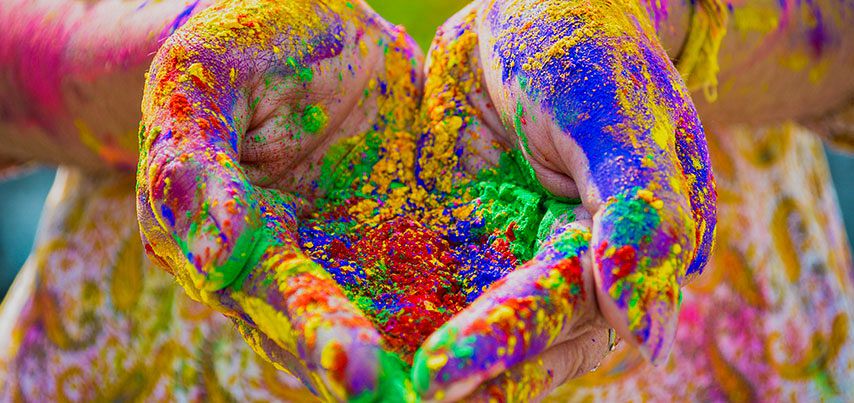 Holi Delicacies
A particular treat at Holi is the sweet and moreish 'gujiya' - a type of dumpling made with semolina flour which is roasted in Ghee and stuffed with a combination of nuts, roasted dried fruits, coconut and khoya, a dairy product similar to ricotta cheese. Sweets are taken while sipping on Bhang, a mixture of cold milk, almonds and spices.
Another common feature of the celebration is the spirited singing by large crowds of people to the accompaniment of drums and cymbals, followed in the evening by a thorough wash and scrub, and the uninhibited expression of love and brotherhood between friends and family.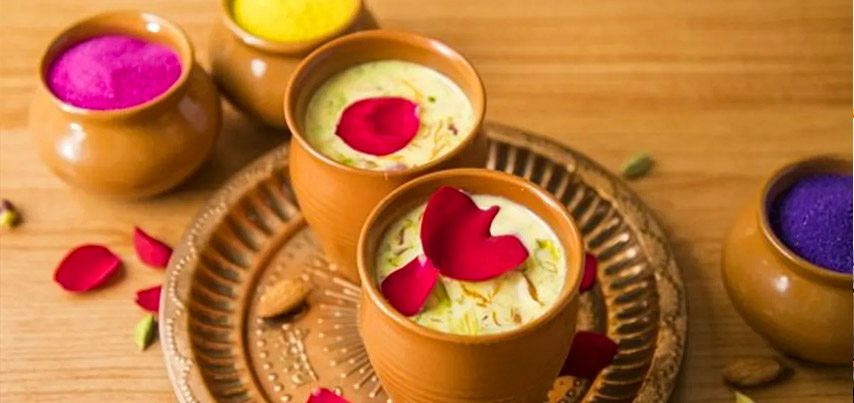 It's without a doubt one of Mauritius' most thrilling and enjoyable events, and it's well worth seeing for yourself. It is strongly recommended that you schedule your dream vacation in Mauritius to coincide with Holi; there is no better way to learn about Mauritius' cultural diversity and the "Festival of Colors" than to spend time in paradise with the locals