Political - Districts Map of Mauritius
Mauritius Political (Districts) Map
Mauritius Political Map - In the political map of Mauritius, the various provinces of the island are highlights by either different colors or by clear borders marking the territory of each of Mauritius districts.
As clearly visible from the Mauritius Political Map, the Island of Mauritius is divided into nine districts.
Mauritius Districts:
Black River
Flacq
Grand Port
Moka
Pamplemousses
Plaines Wilhems
Port Louis (Capital of Mauritius)
Rivière du Rempart
Savanne
Click on the map image to see a larger image of each of these Mauritius Political Maps.
Districts of Mauritius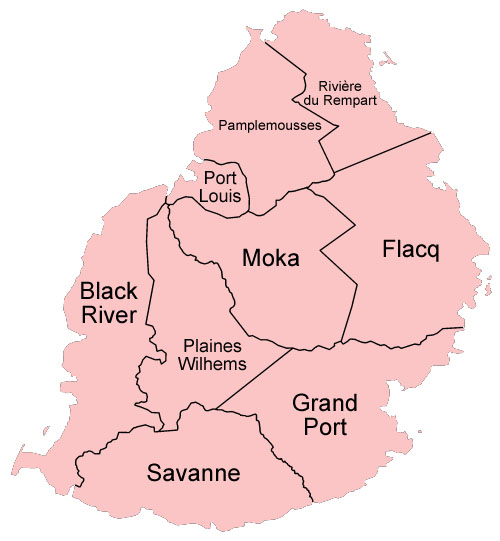 In the political map here below the national capital Port Louis is indicated by a red square box with a white outline. Also, the Political map also includes some of the important cities of the Mauritius, each highlighted in Black font.
The provincial boundaries of each of Mauritius districts are marked with broken lines and the capital of each district is denoted with a white square.
The Mauritius provinces are distinctly colored on the Political Mauritius Map so that they are differentiated from each other.