Most Romantic Things To Do In Mauritius
Discover the Most Romantic Things To Do In Mauritius
Mauritius with its telltale white beaches, beautiful nature reserves and luxury hotels, has always been well known as a world famous destination for romantic getaways.
There are a variety of activities that you can do as a couple that will simply allow you to spend quality time with your better half. You may enjoy a romantic hike in a well preserved park, to a very fun-thrilling parasailing activity or a relaxing couple massage in one of the best spas. We have also tailored several packages around the island that will allow you to spend quality time with each other in different settings without taking romance away.
A must try for couples while on the island, is an exclusive beach dinner experience where you will be treated like royalty for a complete VIP service by a personal waiter and butler. They will see to it that your romantic culinary experience meets a successful and highly satisfactory end! From secret places, romantic sunsets to delicious culinary voyages, Mauritius caters for every kind of romance with a very exotic touch!
Mauritius has a variety of pleasant choices for the perfect 'US' moment to cherish, so here are some must-do activities for your next island escape with your significant other.
1. Sunset Cruise
The sunsets in Mauritius are legendary, and the best way to experience one is from the ocean. You will see a symphony of colours in the sky, a mixture of red, purple, blues, pinks and mesmerising yellow.
A sunset catamaran trip is the ideal activity for a romantic evening with your loved one. Holding hands while enjoying a lovely sundowner moment with the love of your life, can you picture yourself yet?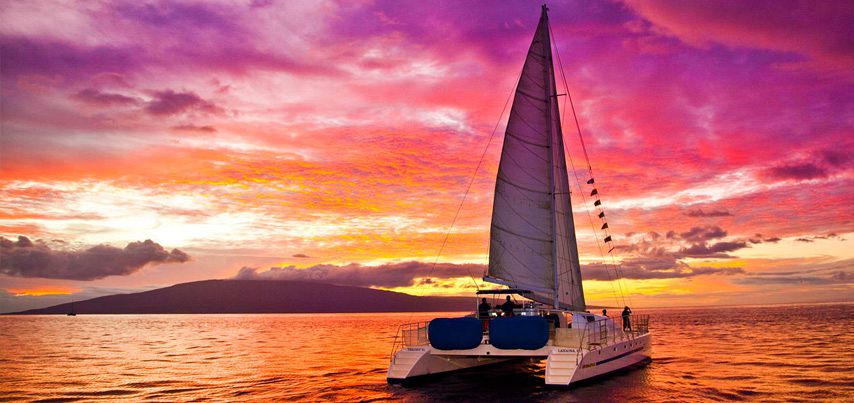 There are different packages carried out at different parts of the island and the cruise can either be on a shared or a private basis. Locations for the cruises are Grand Bay (North Coast), Blue Bay (South-East Coast) and Black River passing by Flic En Flac (in the South West).
You will embark onboard a beautiful catamaran and experience an unforgettable moment with this unique sunset cruise while enjoying a variety of local snacks served onboard the catamaran. The expected departure time for the cruise is 17:00 and arrival time around 19:00.
The setting of the cruises are ideal, sailing in a beautiful catamaran with clear blue water of the largest lagoon in Mauritius all around, a beautiful sunset, Sega music in the background and snacks and a home-made punch (made of fruit juice and Rhum) served to you by the boat staff, who are there to attend your every need and desire.
Sunset cruises are all about having a romantic and relaxed evening on board of a catamaran, while enjoying the company of your partner.
2. Romantic Sunset Horseback Ride on the Beach
You can enjoy riding a horse down the beach at sunset with your companion to experience an incredible sense of freedom in a tranquil and beautiful romantic setting. Few things can match the sheer magnificence of a tropical sunset, so do not miss this opportunity to witness the mesmerising shades of orange and yellow blending in the blue sky while the sun sinks below the horizon. Additionally, as the sun goes down, you can indulge yourself with some wine and cheese, offered against a supplement.
Experience the magic of horse riding on Riambel Beach, famed for its 2.5km stretch of white sand with no hotels or crowds- ideal for a wonderful and intimate riding experience. This beach offers a true taste of paradise, where you will also have the privilege of enjoying breath-taking views of the resplendent tropical sunset over the Mauritian lagoon.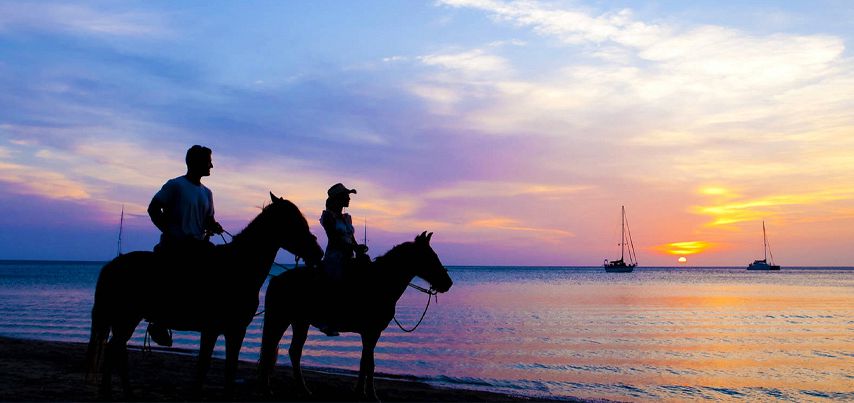 You can select either the 1 hour or the 2 hours sunset beach ride and benefit from the memorable opportunity of a horseback swim into the turquoise waters of the Indian Ocean. The swimming with your horse adventure is an incredibly fun experience.
This sunset horseback ride package is perfect for horse lovers looking for a truly unique and unforgettable experience. Saddle up and head to the deserted beach of Riambel for an exhilarating sunset ride where you can view the stunning surroundings of the southern coast.
Do not forget your camera to capture beautiful memories in this picturesque backdrop. Riding on the beach at sunset on the exquisite island of Mauritius is a once in a lifetime opportunity.
Book the Romantic Sunset Horseback Ride on the Beach
3. Couple Massage
As you are on holiday, you and your partner deserve some 'Us' time together in a serene atmosphere. There are a variety of packages available which are a unique invitation and an ideal choice for honeymooners and couples who want to add some magic in their relationship. The sweet scented smell of the essential oils, attractive decoration of the location with flowers and the amenities specially set for you altogether make up for a highly pampering experience.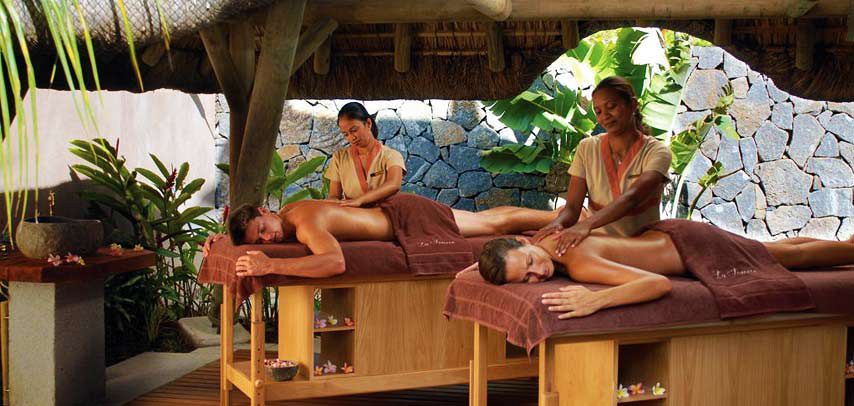 For a more memorable experience you have the option to combine your couple massage with a 4.5 hours of sunset cruise along the North Coast of Mauritius or you can also opt for the option of ending your massage package with a 3 course romantic dinner.
While in Mauritius, a must try is a relaxing couple massage on a private floating dock in the northern lagoon. Situated in the crystal-clear, turquoise waters of the island, the secure floating dock offers a breathtaking setting for you to enjoy a romantic couple's spa treatment and spend quality time together.
4. Ebony Forest Discovery Tour
Along with your partner hand in hand, you can spend a day hiking and strolling along the trails & tracks or view the splendor of the Ebony Forest while cruising in a jeep.
While making your way through the native forest, you will get to admire the native fauna of Mauritius, such as fruit bats, swiftlets and tropicbirds soaring high along the mountains' ridgeline. The two mid-canopy walkways through the ebony forest will give you the surreal sensation of floating through one of the best-preserved forests. You can have a guided tour with one of the experienced staff members or if you prefer, wander along the walkways on your own where you will encounter informative signs to guide the way. You may also view the splendor of the Ebony Forest while cruising in a jeep.
The Sublime Point offers a breathtaking view of Le Morne Brabant and the surrounding bays where you can also see a lot of tropical birds, including the white-tailed tropicbird. While on top be sure to have some kodak-moments with your better half in order to make this trip memorable forever.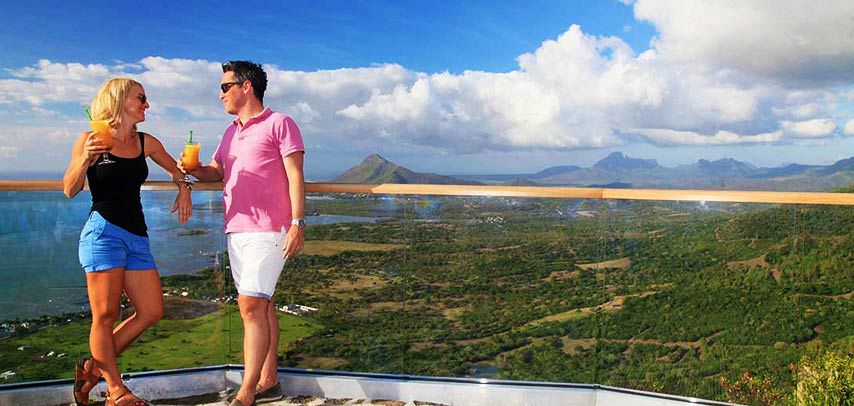 An elevated footbridge leads you to the heart of the habitat with geckos, birds and other endemic species. At the end of the bridge, you will reach a platform that allows you to contemplate an excellent panoramic view of the island, including the southwestern, western and central plateau regions.
If you are an avid bird watcher who loves seeing various species of birds or enjoys their sweet chirping in their natural habitats then the bird watching trip including a hike through the Ebony Forest, is something you should not miss. Watching the endemic birds of Mauritius and immortalizing the beautiful moments in candid pictures is certainly an exquisite experience.
Book the Ebony Forest Activities
5. Ile aux Cerf Island Luxury - Exclusive Beach Experience
Treat your life partner and yourself to a day in paradise like never before by having a luxury day experience on the secluded and stunning Ile aux Cerfs islet located on the eastern coast of Mauritius. Right next to the Ile aux Cerfs golf course, you will find the amazing Flibustier exclusive beach where a quiet and peaceful atmosphere prevails.
Experience this blissful haven of pure relaxation, and get mesmerised by the azure sea water, white sandy beach fringed by beautiful Casuarina trees in an absolutely intimate location for a well deserving privilege access.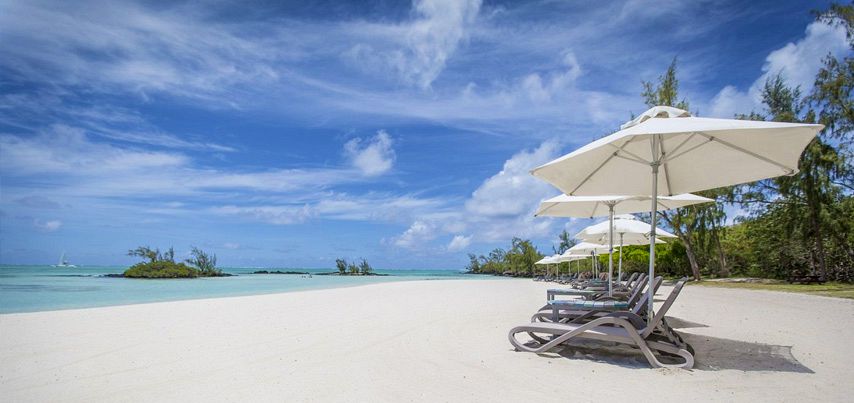 Very comfy sunbeds will be provided and you will spend your day sunbathing or relaxing on one of the picture-postcard beaches. Let yourself go for a perfect moment of bliss and do take the advantage of the crystal clear lagoon where you can enjoy swimming.
While on the island, you may take a couple's parasailing activity which will give you a breathtaking bird's eye view of Ile aux Cerfs Island, its beautiful beaches and the beautiful east coast lagoon, making it a truly memorable and worthwhile experience.
You can start and end your Ile aux Cerfs tour any time from 09.30 am till 17.30 pm
Book the Ile aux Cerf Island Luxury - Exclusive Beach Experience
6. Luxury Day at Ile Des Deux Cocos Island
Mauritius is an island surrounded by wonderful islets and one that you should not miss if you are looking for a perfect romantic espace is a Luxury Day at Ile Des Deux Cocos Island located on the south east coast. A day at this island is an invitation for you to enjoy a day of pure indulgence with the highest standards of comfort and services provided by a dedicated and friendly staff.
The day trip to Ile des Deux Cocos starts with a 5 minutes boat shuttle transfer which is done aboard a glass bottom boat for you to enjoy views of turtles and colourful fishes in the clear waters of the lagoon.
Upon arrival, you will be greeted at the Ile des Cocos jetty with refreshing towels and welcoming drinks. You will immediately feel the charm of this small paradise island and the relaxed atmosphere all around. You will have free time to enjoy the fabulous variety of underwater life which can be explored during a snorkeling boat trip or on board a glass-bottom boat trip.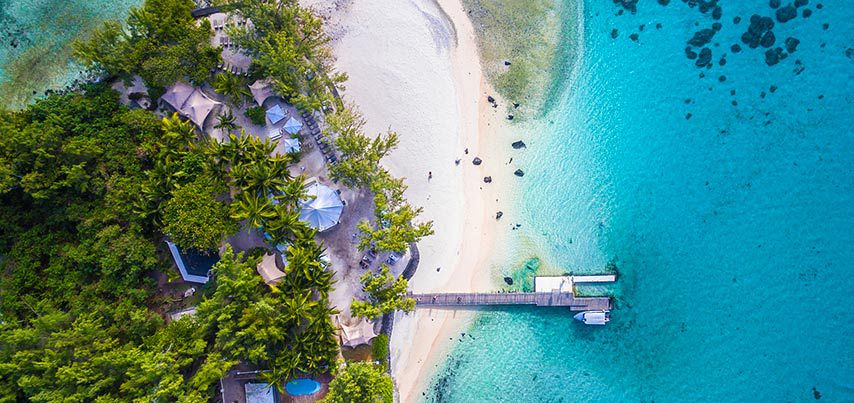 Lunch buffet is served at noon time featuring delicious grills and salads as well as unlimited alcoholic and non-alcoholic local drinks. You will enjoy the lunch with live music in the background. Before you leave the island, be sure to help yourself to some yummy pancakes at the Pancake Counter, offering special gourmet treats for the islanders.
Whether you choose to meander along the shady island paths, gently drift into the island way of life under a palm tree, or explore the outstanding underwater marine life; Ile des Deux Cocos offers an exceptional and unforgettable experience!
Book the Luxury Day at Ile Des Deux Cocos Island
7. Parasailing Aerial Excursion
For the thrill-seeking couple, parasailing is one of the ideal activities that can be done in Mauritius. Parasailing offers you a breathtaking bird's eye view of the beautiful lagoon and beaches of Mauritius, making it one of the best things to do during your vacation in Mauritius.
You can choose to experience a couple parasailing at Trou D'eau Douce, Ile aux Cerfs on the east coast.
The parasailing begins with a short safety briefing. Then you will be taken by boat to the launch pod where you will later take off and start the parasailing.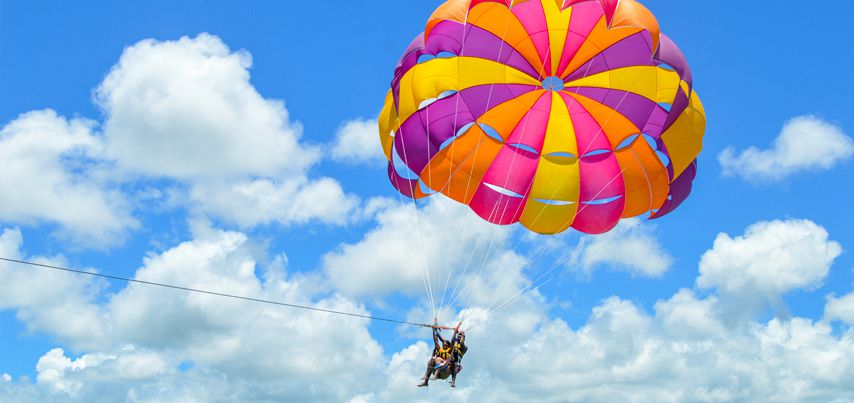 Upon arrival to the launch pod, you will be connected with a secured certified harness to the parasail. Only after the ground assistants will check the rig and the flight harness they will signal the boat driver to start the engine and gradually accelerate the boat. You will slowly take off from the launch pod for a flight above the beautiful lagoon. No steering is actually necessary as the sail follows the course of the boat.
It is also optional to do a "touch and go", which means that on the way down, instead of just reeling back onto the boat, you will fly for a while above the ocean and then be lower down for a dip in the sea before going up again while enjoying a very refreshing plunge.
While on top, you can take some couple selfies with a magnificent view of the mountains and the whole of the southeast coast.
Book your Parasailing Activity
8. Dinner by the beach
Your holiday in Mauritius will be considered as incomplete without the most amazing dinner by one of the beaches. We offer you the ideal package to enjoy a romantic beach BBQ dinner with your loved one at the Shanti Maurice 6 Star Luxury Resort. You will definitely be taken up to another world as you will be treated like royalty by a personal server, Chef and a steward who will cater for all your needs and desires.
Cozy up in your private cabana bed on the beach, secluded by flowing cotton curtains and adorned by a nearby bonfire. When you're ready to dine, your table set for two is just a few steps away. Sip champagne while a violinist serenades you. You'll work directly with your chef and butler to create the courses you prefer, making for a perfect evening on the beach.
To make your dining experience even more unique and memorable you can have a private sunset beach dinner on Benitiers Island, on the west coast of the island. Benitiers Island is the ideal place to enjoy a romantic evening with many perfect 'US' moments to cherish! It is a unique invitation for an intense moment of togetherness in the most romantic setting.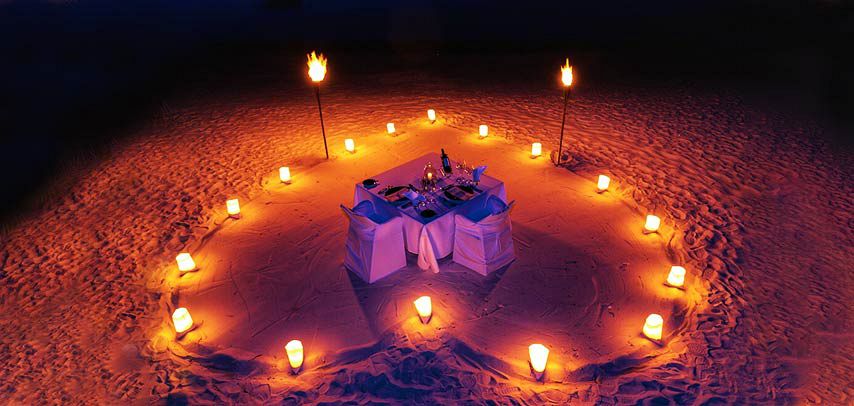 Your wonderful journey starts at 16:00 from Tamarin Beach in Black River where you will embark your private speed boat for a unique sunset cruise experience. Let your love bloom and feel the unique wilderness and tranquility of the West coast region before reaching Benitiers Island. Once you reach the island you can enjoy a royal treatment with the warm welcome by the ever-smiling team on land and admire the impressive romantic settings.
When you are ready to dine, you will be personally led by the staff. Take your seat and allow yourself to be pampered. Your private chef and staff are there to create the perfect BBQ dinner menu – delicious, personal and just as you like it. A selection of alcoholic and non-alcoholic drinks is also served.
After your dinner, you will have free time to enjoy this private island. Go on a romantic walk, hand in hand with your loved one, under the star studded sky and bask in the serene tranquility of the night. Expect arrival time back to the point of embarkation at 22:00.
Transported by the magic of an evening for two under the stars, revelling in the tranquil atmosphere and the rare pleasure of experiencing a special, timeless moment on one of the most beautiful beaches in Mauritius. This is the promise of the dinners with your feet in the sand at Trou aux Biches Resort & Spa, creating the perfect mood of romance and sophistication for lovebirds staying at the hotel.
With all the various romantic options available on the island, couples will surely be pampered. They will have the chance to live some very exclusive and intimate moments that will last for a lifetime.