10 Best Islets in Mauritius
Mauritius is not only a peaceful haven where the beaches are simply breathtaking; it is also an island surrounded by wonderful islets that you should not miss the opportunity to visit.
Each island has its own uniqueness. You will definitely enjoy unparalleled experiences and at the same time make stunning discoveries. Various activities are offered on the islands and an array of routes are proposed so that you can enjoy your journey toward the islets.
The best way to visit the island is by catamaran or speedboat with a BBQ party on board or even on some of the islets themselves where you can also enjoy different water activities.
Below you can find some of the amazing islands and islets where you can spend a memorable time with your family or friends:
1. Île des Deux Cocos
Île des Deux Cocos is located off the southern coast of Grand Port and is named after the two abandoned coconut plantations and has everything you could look for in a deserted private island.
The island can be booked overnight, with two bedrooms catering for couples or families of four. Île des Deux Cocos offers a unique opportunity to experience authentic island life on your own private piece of paradise.
Even if you don't stay overnight on the Île des Deux Cocos, you can savour all its beauty during a day trip- an experience not to be missed. Transfers can be arranged with a speed boat or glass-bottom boat shuttle on the turquoise waters.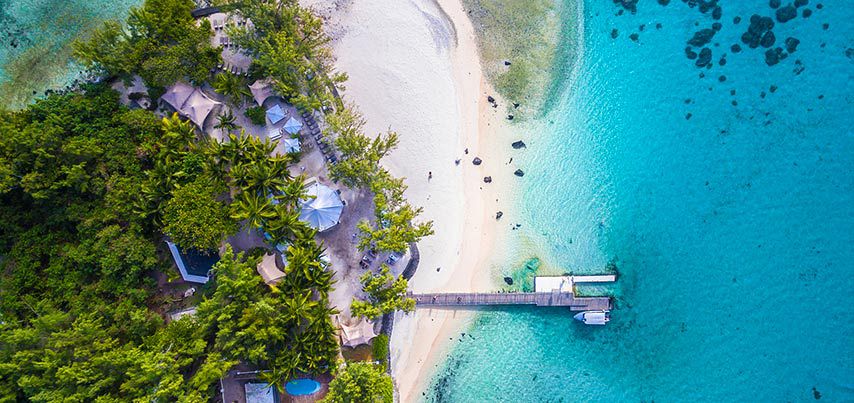 While on the Island you can swim and snorkel, go walking across and around the island or visit the underwater nature reserve, known as the Blue Bay Maritime Reserve. This is the perfect place to discover the enchanting underwater marine world with its superb corals, and wonderful array of brightly coloured tropical fish such as the Surgeonfish, Clowns, Butterfly fish and many more.
Nestled amongst the trees, lies the magical "Follies" Villa. Built over 100 years ago by Sir Hesketh Bell, one of the first British governors to Mauritius. It is a place of true magic and beauty, which has been used for glamorous and hedonistic parties. The villa's architectural style is a unique mixture of various influences and styles; a clever mix of British and Moorish architecture with a Mauritian-style interior.
Book your trip to Île des Deux Cocos:
2. Île Aux Cerfs
Île Aux Cerfs is a must-visit place in Mauritius with its superb sandy beaches, turquoise lagoons, and shallow waters.
The privately owned island is located on the east coast of Mauritius and there are several means of transport to get to Île aux Cerfs. You can choose among catamarans, yachts, speed-boats or taxi-boats from the village of Trou d'Eau Douce or even opt for a helicopter ride to enjoy the mind-blowing view.
Île aux Cerfs is autonomous because you can enjoy all the comfort without having to leave, such as restaurants, activities and watersports. It is also home to one of the most beautiful golf courses in the world, the Île aux Cerfs Golf Club, an 18-hole championship golf course designed by two-time Masters champion Bernhard Langer.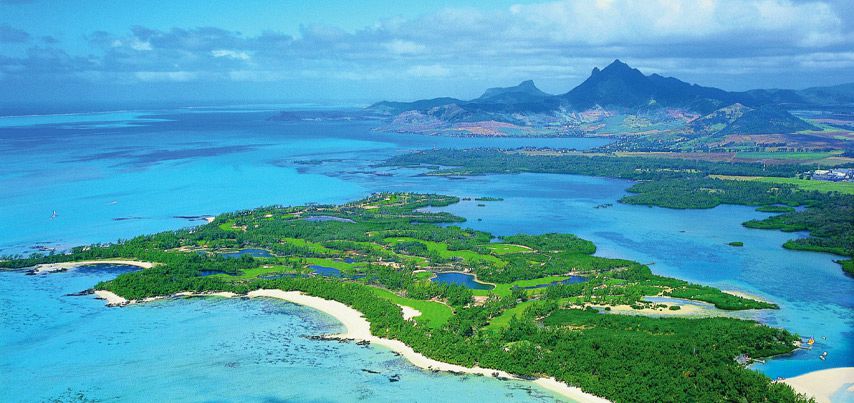 You can also have a unique, romantic and exclusive experience by staying in one of the newly introduced Bubble Lodges which are the only accommodation on the Island.
At Île aux Cerfs Bubble Lodges, a butler service is available to cater for all of your needs, making your stay even more exceptional. For a lasting memory, special occasions can be celebrated with a dinner on the beach or in the Lodge's private garden.
Book your trip to Ile aux Cerfs Tours
3. Flat island
The flat island is an uninhabited island located in the north of Mauritius about 10 kilometres from Cap Malheureux. It can be reached by a boat trip or catamaran trip from Grand Baie, which takes around one and a half hours.
Compared to the neighbouring Gabriel Island, this island is all flat and hence the name except for its hill where an automatic lighthouse stands.
Flat Island is home to an internationally renowned dive site called "The Shark Pit" where experienced divers can observe sharks around Pigeon Rock which is a spectacular bare rock stack near the island.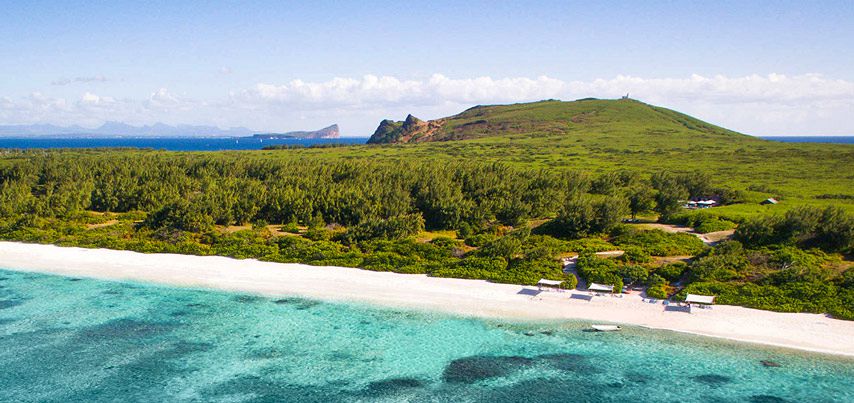 You can visit Flat island by booking any of these catamaran cruises:
4. Île aux Gabriel
Île aux Gabriel is another island located in the north of Mauritius with a mere distance of 750 metres from Flat island and can be reached by boat or catamaran trip from Grand Baie which also takes around one and a half hours.
Île aux Gabriel is a protected nature reserve renowned for its unspoiled beaches and clear, limpid lagoon.
The island is very peaceful, with landscapes of coral sand and lava basalt. Some of the most common dive sites in Mauritius can be found here.
Explore the island on foot before donning a mask and snorkel for a once-in-a-lifetime snorkelling experience. You will be able to swim among multicoloured corals and tropical fish only a few hundred metres from the beaches.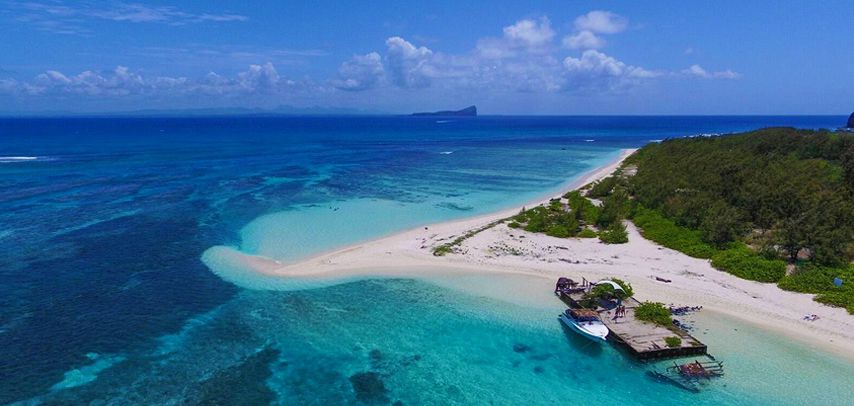 Book your trip to Île aux Gabriel:
5. Île aux Benitiers
Formed by a coral reef, Île aux Benitiers is a popular tourist attraction located in the south-western coast of Mauritius, 500 metres in front of La Gaulette.
Île aux Benitiers is a much smaller island than Île aux Cerfs, but it's just as beautiful.
The water along the long sandy beach is the most stunning turquoise you'll ever see. The so-called Crystal Rock, which juts out of the water just off the island's coast, makes for fantastic photo opportunities.
With its clear lagoon and stunning white sand beach, it provides an excellent swimming experience. Picnics, grills, fishing, and diving are all available on half-day or full-day excursions.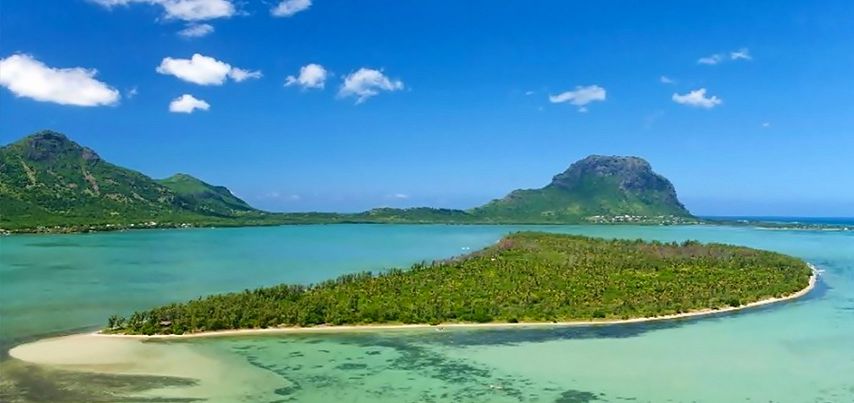 The speed boat or catamaran will stop before arriving on the island, and you will have the opportunity to snorkel and swim in the lagoon. During snorkelling, you can get up close and personal with the reef, as well as see a variety of corals and colourful fish.
You will also get a unique experience to swim with dolphins in their natural habitat which is an outstanding activity that allows you to have an unforgettable and spectacular adventure.
Book your trip to Île aux Benitiers
6. Ilot Mangénie
Ilot Mangénie is a small private island with unspoiled, paradise-like scenery owned by Shangri-La Le Touessrok Resort & Spa located on the east coast of Mauritius next to Île aux Cerfs.
This exclusive property of luxury hotel Le Touessrok offers its guests not only idyllic picture-perfect white sandy beaches, but also the comfort of a 5-star luxury hotel, including deckchairs with comfortable mattresses, bath towels, thatched umbrellas, and welcoming staff who will attend to your needs.
The lagoon's turquoise, crystal-clear warm waters beckon for a swim or snorkel, while the trade winds cool the air, making this tropical paradise the soothing and enchanting getaway you've been dreaming of.
Ilot Mangénie is just a 10-minute boat ride offshore and offers a day of absolute peace on a remarkable island paradise. Throughout the day, complimentary boat shuttles depart every 30 minutes from the resort's jetty.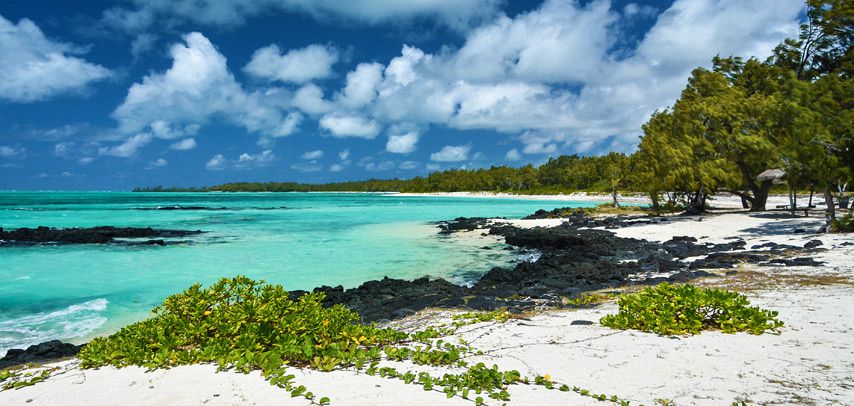 7. Île d'Ambre
Île d'Ambre is one of the best sea kayaking destinations in Mauritius which is located off the northeast coast near Grand Gaube. This islet is part of Mauritius' local national parks, which are managed by the Mauritian government to protect the island's unique ecosystem. Paddle around the island, surrounded by a maze of green mangroves, submerged between land and sea.
Or what you can do is a hiking trip de île d'Ambre. Experience this unique hiking trip in an intense and exciting way; traveling first by sea and then discovering the beautiful Island of Ambre by foot.
Throughout this hiking trip you are sure to enjoy amazing landscapes which will come across your way; just don't forget your camera – the views are breathtaking!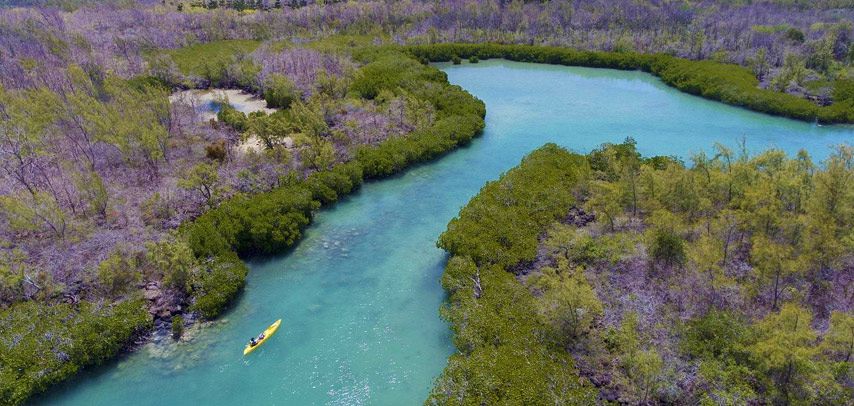 You can book your trip to Île d'Ambre via the following packages:
8. Île aux Aigrettes
Île aux Aigrettes is a unique islet in the bay of Mahebourg, about 850 metres off Mauritius' south-east coast. It was declared a nature reserve in 1965 and is protected by the Mauritius Wildlife Foundation.
Excursions to Île aux Aigrettes are organised every day from Pointe Jérôme and it takes about one hour and a half with an additional 10 minutes each way for the boat trip. A trained forest warden will introduce you to the island's endemic plants and endangered animals. Aldabra giant tortoises, ebony trees, wild orchids, the endangered pink pigeon, and other rare bird species are among the highlights.
Book your trip to Île aux Aigrettes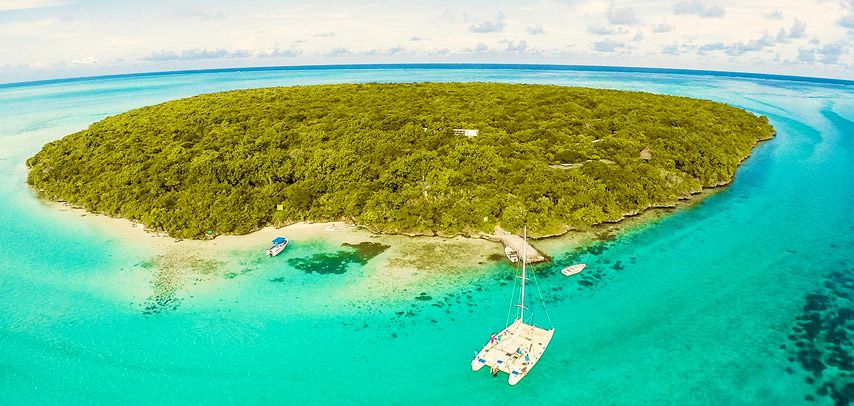 9. Coin de Mire
Coin de Mire, also known as Gunner's Quoin is located 8 kilometres in the north of Mauritius near Flat island. Gunner's Quoin is a basaltic volcanic cone that dates thousands of years. Natural boulders, regions of bare rock fringing the shore, and regular and well-preserved volcanic extrusions all point to the island's volcanic origins.
Coin de Mire can be seen from the Bain Boeuf Public Beach and the popular red church in Cap Malheureux. Some have characterised it as resembling a massive whale floating on the surface of the sea.
Visitors are not allowed on this island since it is a natural reserve. This is because it has been severely degraded over the last 500 years, mostly as a result of tortoise hunting, exotic plant and animal invasions, poaching, and deforestation.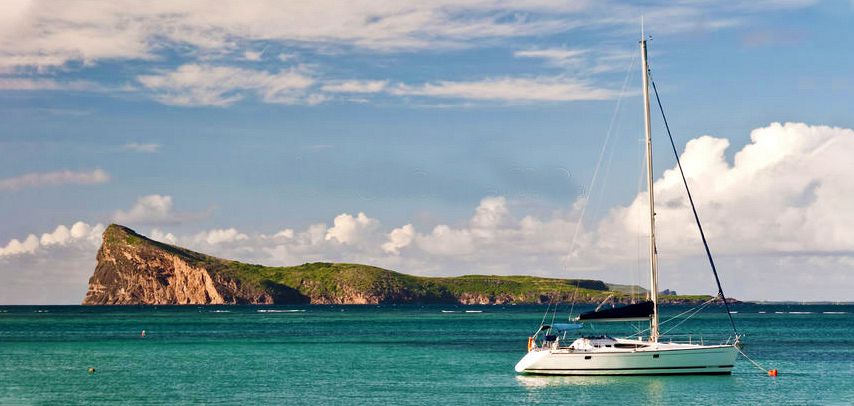 There are, however, a variety of excursions to Coin de Mire that can be booked, including speedboat, catamaran, swimming, and snorkelling trips. The reef is home to a variety of fish, including Damselfish, Surgeonfish, Butterflyfish, Pipefish, and large Trumpetfish, and is a common diving and snorkelling spot. Sometimes turtles and dolphins can also be spotted there.
A variety of native birds can be seen flying around the island or nesting in the cracks of the cliffs and it's a great spot for those who like bird watching.
Many trips combine visits to Coin de Mire with visits to other islands, such as Flat Island and Gabriel Island.
Book an Exclusive Catamaran Cruise to Coin de Mire
10. Île de la Passe
Île de la Passe is located in the lagoon of Mahebourg, a coastal village on the south east coast of Mauritius. This island, like the others in Mauritius, is historically important and full of ruins from the remarkable battle which took place in the waters of the Vieux Grand Port in 1810.
Île de la Passe is a lovely place to visit for a half-day excursion. After a 20-minute boat ride from Mahébourg, you can spend several hours exploring the buildings and taking in the views of the mainland and the sea.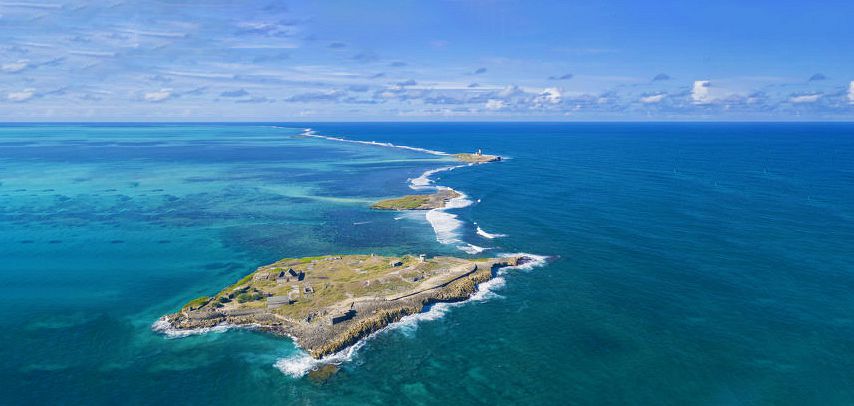 Retreat to one of the islets of Mauritius for a relaxing escapade like no other. Surrounded by the breathtaking fauna and flora, you'll recharge and reconnect with nature in ways you've never experienced before.