Best water activities to enjoy in Mauritius
Mauritius is a real paradise island for sea and water excursions, and your visit wouldn't be complete if you don't experience the wide range of water sports and activities this paradise island has to offer. The limitless array of turquoise blue water around the island doesn't just give you peace of mind but also offers numerous exciting possibilities for you to dive in.
Depending on your preferences there are both light and daring ocean adventures available. The light sea activities on offer are stand-up paddle, sea karting, kayaking, and snorkeling. The more daring ones are scuba diving, kite surfing, water skiing, surfing, and so on.
For a special sea-air activity, be sure to enjoy Parasailing in any of the following locations: Grand Baie, Belle Mare, or Ile aux Cerfs.
Below is a compiled list to help you narrow down your choice.
1. Water Ski
Does skiing in the tropics sound like you? This is an activity that would appeal to lovers of sensations and adrenaline. If you're looking for something new, then try waterskiing! For those who already have some expertise, have fun in the vast and magnificent spot of Mont Choisy. Water skiing in the tropics in the turquoise lagoon of Mont Choisy is to be discovered.
You have to have a strong heart! Beginners or confirmed, you can practice it when you leave the pontoon while your friends are in the middle of swimming watching you. Laughter guaranteed. It is the ideal activity to experience moments of escape rich in emotions, with friends, family, or even as a couple.
Seize this golden opportunity to enjoy water skiing in maximum safety with the guides, under the supervision of the most experienced water skiing team. Feel the thrill of gliding along one of the most beautiful coasts of the island, feeling the water splash around you and taking in as much Vitamin Sea as you can.
Book your Water Ski Initiation Course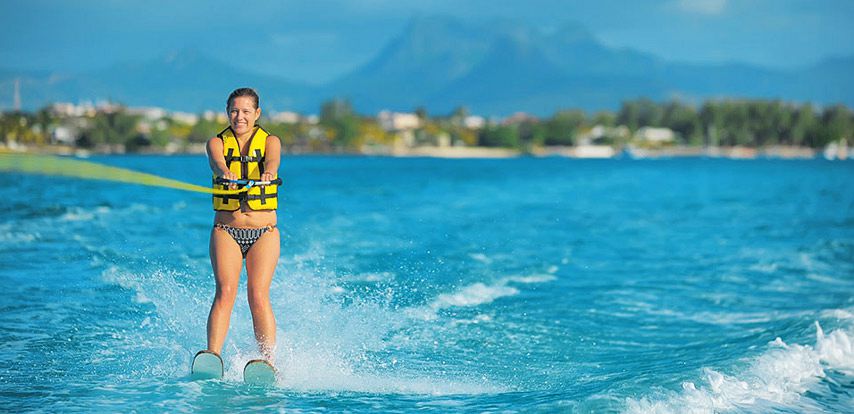 2. Wakeboard
Want to do some water sports, to have some laughs and fun at the same time, then Wakeboard is a must-do!
Fun and playful, wakeboarding offers sensations similar to those of snowboarding. The only difference is that wakeboarding is water activity. Indeed, wakeboarding is a thrilling water activity that will get your heart pumping.
As it consists in letting yourself be transported by the water, once you put on your safety equipment, you will be strapped to a board and towed behind a motorboat or by a cable. It's almost like riding an endless wave and it is suitable for a wide range of people.
Feel the adrenaline rush and treasure every second of wakeboarding in Mauritian waters as it is a unique sensation. Although it lasts only 20 minutes, you're sure to create memories that you'll cherish for life in the beautiful lagoon of Mont Choisy!
Wakeboarding is the ideal activity to burn calories and evacuate the tensions of everyday life. It is a sport that allows you to build up muscles quickly while improving your cardio-respiratory system. It can be a little scary at first, but during the initiation course, you will learn the basics which are easy and fun to learn. But be warned, once you get into wakeboarding, chances are you'll get hooked!
If you want to try wakeboarding: a 100% fun day in Mont Choisy, one of the most beautiful beaches in the north of Mauritius, click on the link:
Book your Wakeboard Initiation Course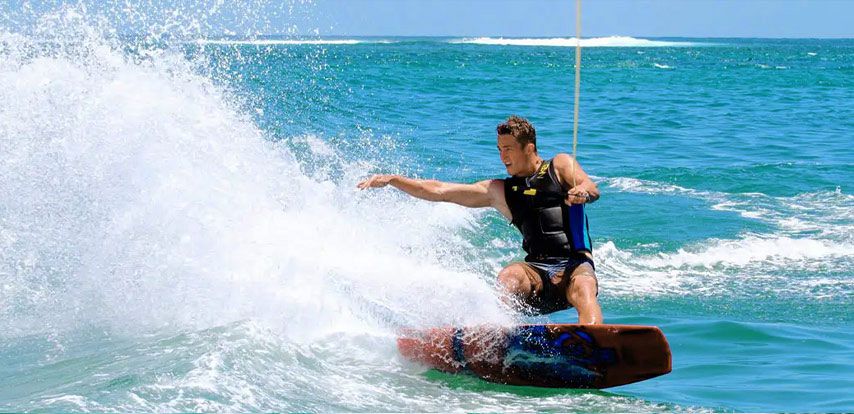 3. Hobie Cat Sailing Experience
If you love thrilling sensations, speed rides, and the touch of the wind on your skin, this activity will fit you perfectly.
This great activity brings you to Mont Choisy, one of the most beautiful beaches found on the northern coast of Mauritius. Stretching almost 3 kilometres from Trou aux Biches to Pointe aux Canonniers, this is the island's longest beach: a gently curving strand of golden sand lined with a shady grove of Filao trees on one side and by gentle, crystal-clear blue water on the other.
Sail through the turquoise sea water, and let the gust of the wind carry you over the most beautiful lagoons of our Island. It will be your ideal escape to paradise as it is one of the best places to enjoy Hobie Cat sailing all year round with perfect winds and ideal sea conditions.
So, join us for an amazing non-motorized sailing experience with a professional and experienced instructor by your side. Enjoy the peaceful surrounding of the beach from the water while sailing offshore from the beach, we never forget the pleasure of sailing!
Above all, Hobie Cat is a story of pleasure, fun, and fantasy. This is why Hobie Cat sailing was chosen as one of the best ways to experience Mauritius Island.
Book your Hobie Cat Sailing Experience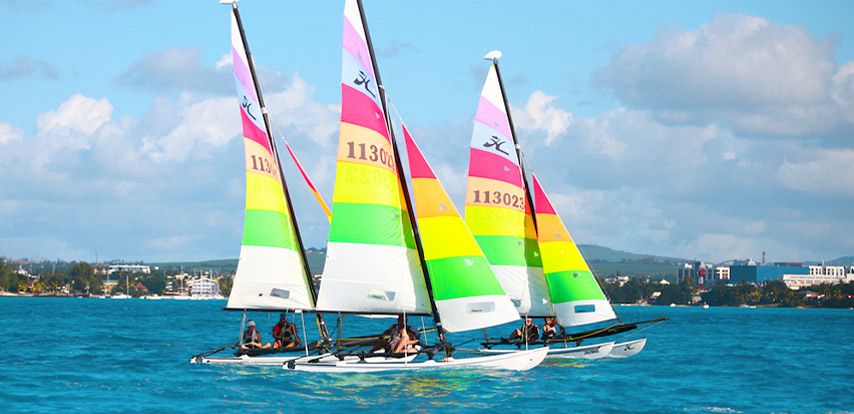 4. Snorkeling & Diving
Your underwater sports activities in Mauritius are counted as incomplete without snorkelling. You will get a chance to discover the wonderful underwater marine world, in the heart of the Indian Ocean- home to some of the world's most breathtaking coral reefs and marine life ever to be seen.
Mauritius Attractions brings you this epic excursion to Flat Island with the chance to dive and snorkel in the azure Mauritian waters. Feed your soul with this island getaway as you witness mesmerising seascapes and exotic fauna and flora, feel the salty breeze and listen to the sound of waves, or gear up and dive right in the ocean for a memorable encounter with the marine animals.
It keeps on getting better with a divine BBQ lunch served on the pristine beaches and an excursion on the island, giving you the opportunity to view the green sand beach- a marvel you must see to believe.
Want to have a marvelous time cruising the Mauritian waters, snorkelling at the reefs, bird watching, lunching on the islet, and indulging in one of the best dives of your life?
Book your Snorkeling & Diving Experience
5. Seabob Adventure
Explore the beautiful crystal-clear Mauritian lagoon through a thrilling Seabob Adventure.
The Seabob is easy to handle and provides you with incredible agility that enables you to 'swim like a dolphin'. The SEABOB is the quietest, most versatile, and most eco-friendly underwater electric vehicle on the world market today.
You can use this ultimate, high-performance watercraft to explore the underwater world and discover the amazing marine life that the Indian Ocean hosts.
As part of this package, your adventure will begin with a 15 to 20-minute boat ride followed by the Seabob activity of either 15 minutes or 30 minutes long, depending on your choice.
Headed to the activity area, the boat will cruise at a relatively moderate speed so you can marvel at the exquisite lagoon, the spectacular reefs and the sandy beach. Once you reach the designated area, you will have a quick briefing on how to manoeuvre the watercraft.
Then, you will be able to ride the waves of the splendid Mauritian Lagoon with superb agility, thanks to the Seabob.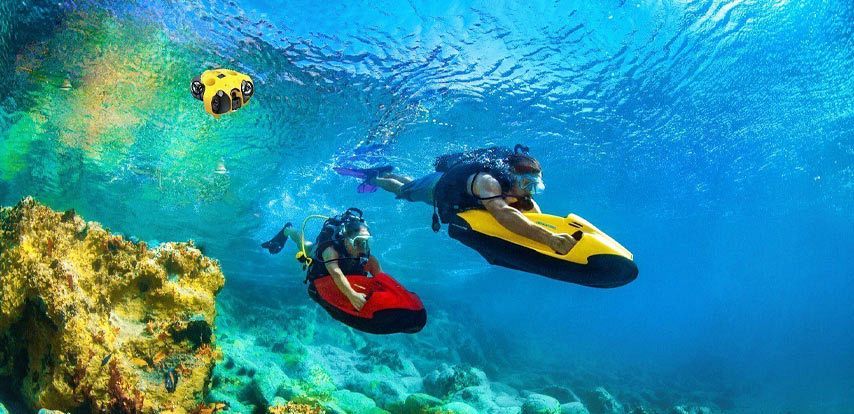 6. Parasailing Aerial Excursion
Parasailing is the ideal excursion for those looking for a special sea-air activity.
Enjoy a breathtaking bird's eye view of the beautiful lagoon and beaches of Mauritius; one of the most amazing things to do during your vacation in Mauritius.
You can choose to experience parasailing in any of the following locations
Grand Baie (Mauritius North West)
Belle Mare (Mauritius East Coast)
Trou D'eau Douce / Ile aux Cerfs (Mauritius central East coast)
The activity starts with a short safety briefing, followed by heading to the launch pod by boat, where you will later take off and start parasailing.
Upon arrival at the launch pod, you will be connected with a secured certified harness to the parasail. You will then slowly take off from the launch pod for a flight above the beautiful lagoon. No steering is actually necessary as the sail follows the course of the boat.
The "touch and go" option allows you to fly for a while above the ocean and then be lowered down for a dip in the sea before going up again while enjoying a very refreshing plunge, rather than just reeling back onto the boat.
Parasailing is an activity offered as part of full-day trips, there are several packages inclusive of this activity: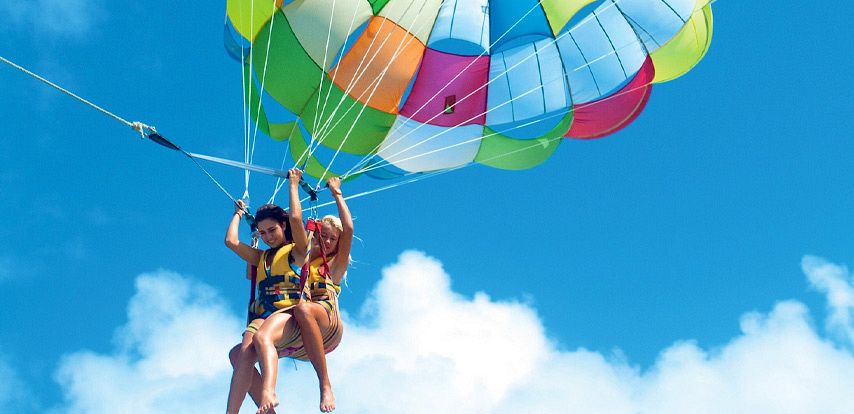 7. Kitesurfing
Surrounded by reefs that form the perfect lagoons and waves, Mauritius is a real haven for Kite surfers.
Kitesurfing is a surface water sport that emerged through the fusion of the different aspects of snowboarding, paragliding, windsurfing, surfing, wakeboarding, skateboarding, and gymnastics. Not only is kite surfing an interesting sport but it is also an adrenaline-filled activity. Kitesurfing does not actually require a lot of physical effort; however, the techniques are essential.
Consistent trade winds blow from 15 to 30 knots during the winter period from May to November, making Mauritius waters a pleasant playground for kite lovers and waves enthusiasts.There are two famous spots for kitesurfing lessons, namely Le Morne and Bel Ombre.
Le Morne is renowned as the world's most popular kitesurfing spot. This fantastic location, located on the island's southwest coast, allows kitesurfers to ride the wind and waves alongside Le Morne Brabant Mountain.
Bel Ombre is a massive flat lagoon on the southwest coast of Mauritius and is another famous spot for kite surfing. Wind conditions here are stable due to the steady trade winds that blow from the sea which makes it a superb place for beginners as well as professionals.
Book the following Kitesurfing packages: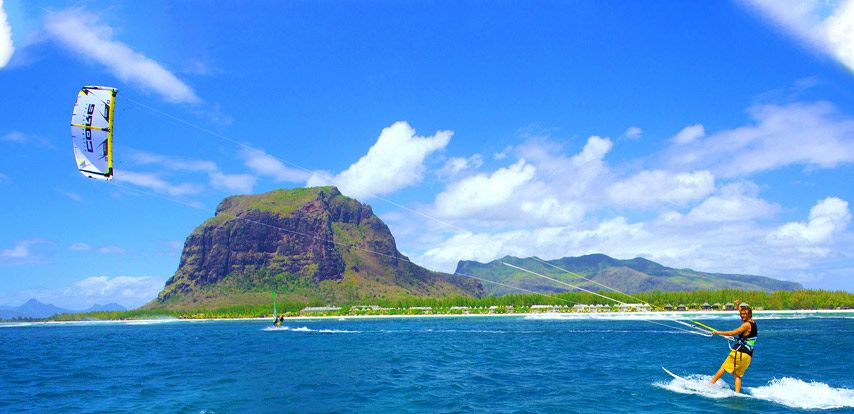 8. Stand-up paddle
The Stand-Up Paddle is an original and fun activity to explore the secrets of one of our island's most beautiful lagoons and popular beaches.
Stand Up Paddle (SUP) is a sport activity that originated in Hawaii. It is an adrenaline-pumping activity suitable for everybody – whether alone, with friends, or family, including children. The SUP is easy to control and after only a few minutes of learning you are sure to enjoy a great SUP experience riding your paddle!
The 60-min activity guarantees fun for absolutely everybody, whether alone, with friends, or family, including children. It starts with a full briefing on safety instructions and on how to control the paddling by one of our professional instructors.
Stand-up paddle boards have enough buoyancy to stand, and therefore to see the set of waves coming from far away, and to go to the peak while staying dry (or almost). The Stand-up Paddle is offered at Mont Choisy in the North, on one of the most beautiful lagoons with its crystal blue waters and ideal sea conditions all for having the best SUP experience in paradise.
Book the Stand up paddle (SUP) at Mont Choisy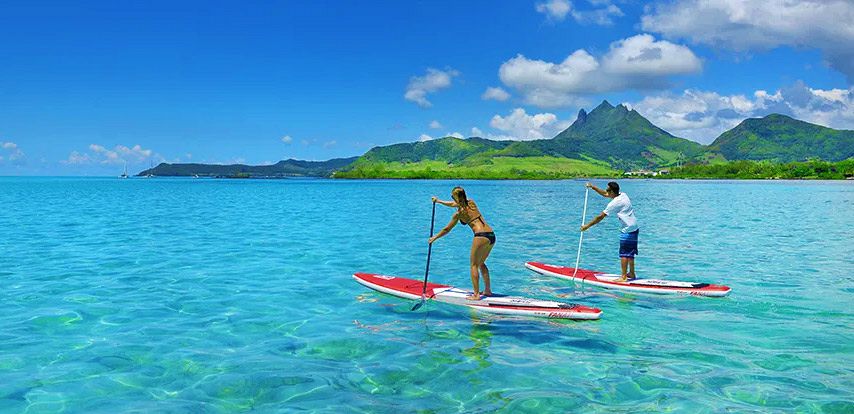 9. Sea Kayaking
Kayaking will give you the opportunity to experience the natural beauty of Mauritius from closer. Whether it includes the fine greenery of the lagoons or the magnificent open waters of the Indian Ocean, it is unlikely that you will ever see such splendour of nature anywhere else.
The sea kayaking is done at 2 different locations in Mauritius, namely Ile D'Ambre in the North and at Albion on the Westcoat. For the activity at Ile D'Ambre, you have the option to choose between a half-day or a full-day excursion.
Kayaking at Ile D'Ambre
While kayaking at Ile D'Ambre you will paddle through the mangroves and soak in the peace and quietness of the area. You will also learn about this fascinating plant and its vital role in the marine ecosystem. Visit the ruins & forest of this tranquil islet and discover its history. This is an original, ecological, and fun excursion that will let you discover the secret of Mauritius' beautiful lagoons, islands, rivers, channels, and hidden beaches.
Kayaking at Albion
Kayaking at Albion is a very special kind of adventure where you will head out to sea, feasting your eyes with the glorious landscapes. You will depart from the beach of Pointe aux Sable riding your kayak along the magnificent cliffs on the West Coast of Mauritius, first to Montagne Jako and then further south to explore the beautiful sea caves. The entire trip route is about 7 kilometres passing under the famous lighthouse of Belle Vue and ending the excursion at Albion beach.
Book your Sea Kayaking activity through the following packages: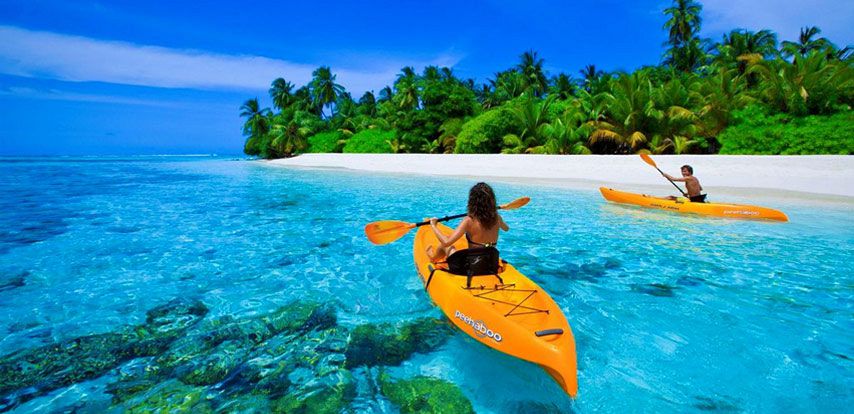 10. Windsurfing
Windsurfing is a surface water sport using a windsurf board powered by the wind pushing on a sail. The sport combines aspects of both sailing and surfing, along with certain athletic features shared with other board sports like skateboarding, snowboarding, and water skiing.
This amazing sport attracts people of all ages and abilities. With proper coaching and favourable conditions all year round in Mauritius, the basic skills of surfing, steering, and turning can be learned within a few hours.
Windsurfing beginners lesson
The windsurfing lessons give beginners an opportunity to learn the very basic windsurfing skills, and to have a "taste" of windsurfing. You will practice at Mont Choisy beach, one of the most beautiful spots in the North of Mauritius, where you are sure to benefit from the best windsurfing conditions. The calm water inside the large lagoon is ideal for practicing the basic controls and skills of windsurfing.
Windsurfing for experienced surfers
With the 60-minute Windsurfing Rental Package, experienced surfers get to enjoy the thrill of windsurfing at the beautiful lagoon. This windsurf activity guarantees an exciting and amazing time as you glide across the waves, with the gust of the wind building your power.
As part of the package, you will receive a 5 to 10- minute safety briefing instruction on land from the professional instructor, then, you will be all set on your own to venture into the sea.
Book your Windsurfing activity through the following packages: