Best Hiking Trips in Mauritius
The Best Hiking Trails in Mauritius
If you're a lover of the great outdoors, Mauritius is one of the countries you'll want to visit. It has breathtaking mountain views, beautiful rivers with spectacular waterfalls, and deep natural forests that are home to a variety of bird species. Mountains, rivers, woods, and canyons abound in the region, providing endless opportunities for hiking, trekking, and other nature excursions.
Whether you choose to go on a half-day trip to Le Pouce Mountain or a full-day trip to Tamarind Falls, you will undoubtedly be treated to stunning views of mountains and rivers.
We invite you to discover some of the best hiking trips below:
Black River Gorges National Park
The Black River Gorges National Park is a great place for adventurers looking to go trekking and hiking in Mauritius.
Hikers can choose from a variety of hiking paths with varying lengths and levels of difficulty, many of which offer breathtaking views. Going with a guide is strongly recommended to ensure that you are taking the best route for your fitness and skill level, as well as seeing the sections of the forest that you want to visit.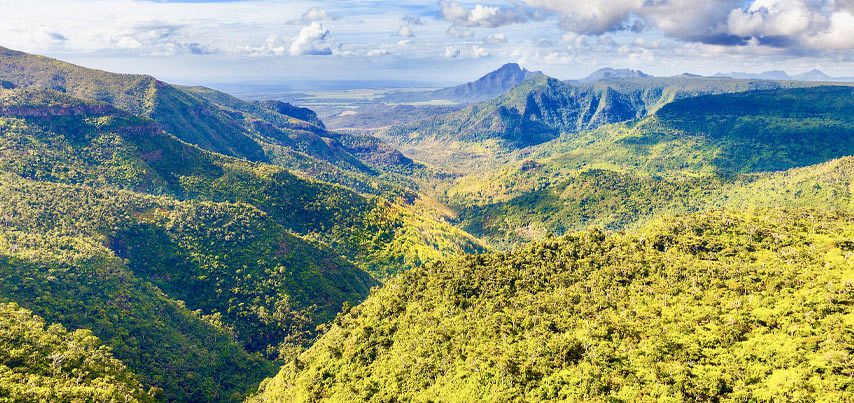 In summer it's best to choose a trail that leads to the park's magnificent river where you can also cool off with a relaxing swim.
The Maccabée Forest trail is one of the most popular trails in and around Black River Gorges National Park. This beautiful 10-kilometer hike is suitable for hikers of all abilities and takes approximately 2-3 hours depending on your walking speed.The trail begins at the Le Pétrin Information Centre and leads hikers all the way to the Black River Visitors Centre, passing through the picturesque Macchabée Viewpoint along the way.
The viewpoint makes for a stunning stop and for those who like to come prepared, it's an excellent place for a picturesque picnic. Keep your eyes open on this trail as you could spot the rare Mauritian pink pigeon in this area.
Book your Hiking Trip at Black Rover Gorges Park
Le Morne Brabant
If you are heading to Mauritius in search of its sublime and natural wonders or to better understand its past, then one breathtaking site you will absolutely have to visit is the majestic Le Morne Brabant, in Le Morne which is the iconic mountain located on the southwestern tip of the island.
Le Morne Brabant offers one of the most iconic hikes on the island and from the peak there are stunning 360 views over the hills, forests and beaches of Mauritius, and also the famous underwater waterfall.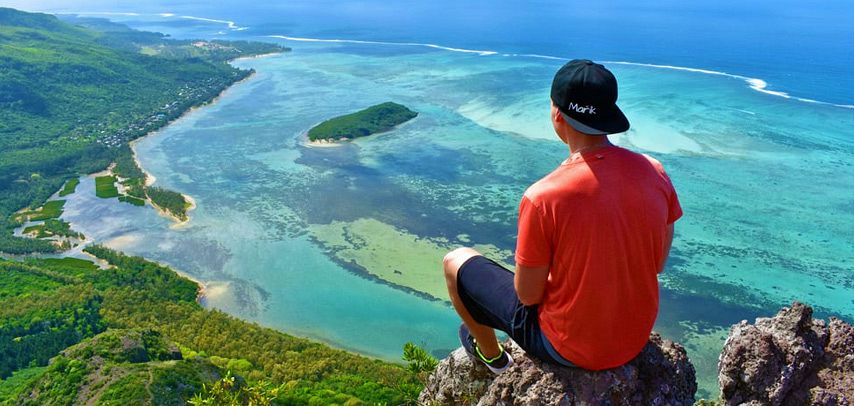 While it's only approximately 556m above sea level, the 7km hike up the mountain usually takes 3-4 hours and it's truly worth doing but it does require some degree of fitness and experience as it's quite a bit more challenging than you may think by just looking at it. If you do venture up there, be sure to take your camera with you as the views are absolutely magnificent.
Book your Hiking Trip at Le Morne Brabant
Le Pouce
With an elevation of 821 meters, Le Pouce (or "the thumb") is the third highest peak in Mauritius. Hiking Le Pouce is relatively straightforward, with the option of climbing up the 'thumbnail' at the end as a challenge.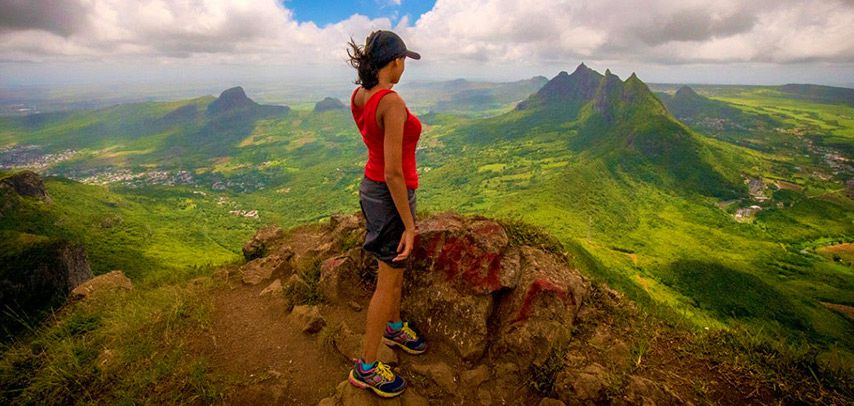 It's definitely well worth the effort once you see the unbelievable 360-degree views which showcase the Moka Range, smaller islands to the north as well as huge expanses of forests and sugarcane fields in the distance.
Book the Le Pouce Mountain Hike
Tamarind Falls
Tamarind Falls, also known as the Seven Cascades or Tamarin Falls, are located near the small village of Henrietta in south west of Mauritius It flows from the Rivière Tamarin and has at least seven waterfalls.With a difficulty level of moderate-to-hard, the trip is suitable for adventurous visitors.
Discover meandering rivers, marvel at stunning waterfalls, cool off in natural basins, and take in magnificent views of Mauritius during your full-day trek, all while learning about the area's history and flora and fauna from your friendly and informative guide.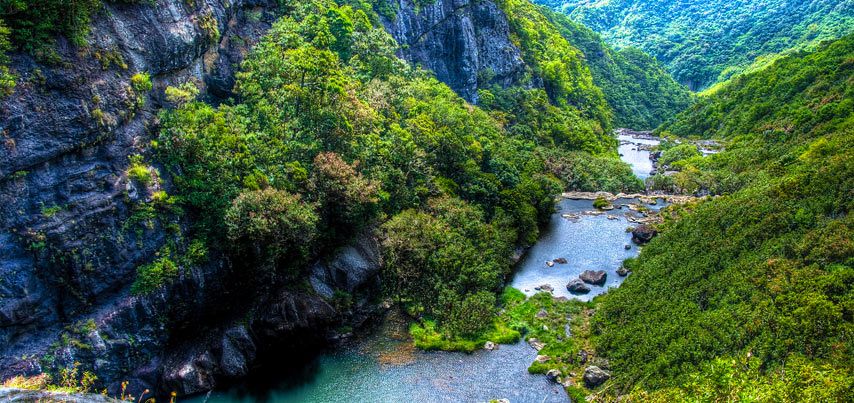 Travellers looking to experience hiking Tamarind falls can choose between a relatively easy 3-4 hour hike (half-day) or a more challenging 6-7 hour (full-day) trek.
For those seeking more excitement and thrills you can abseil down the Tamarind Falls canyon's waterfalls using natural watercourses and canyoning gear.
You can book your activities at Tamarind Falls:
The Trois Mamelles
This magnificent set of three peaks located on the west coast of Mauritius is a fantastic place to go trekking and hiking. The most popular peak to climb is the middle one with a maximum height of 500m.
The first half of the trail meanders through bush-like vegetation and the second part of the trail is much more exposed with steep drops providing an extra rush of adrenaline, especially near the summit.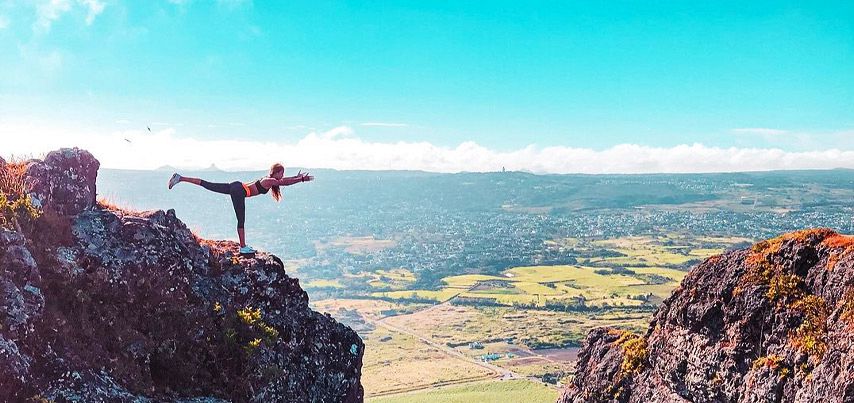 The Trois Mamelles Mountain's rugged trail is worth the extra effort because of its incredible views of the west of Mauritius at the summit. From here you will be able to see marvelous coastal views, the flourishing natural landscapes of the island as well as the other 2 peaks of the mountain.
Book the Trois Mamelles - Hiking Trip
Piton de la Petite Rivière Noire
Piton de la Petite Rivière Noire is one of Mauritius' most challenging hikes but you will be rewarded with outstanding views from the island's highest peak. This 7-kilometer hiking trail, which reaches an elevation of 828 meters, typically takes 3-4 hours to complete, but it can be challenging at times, so it's definitely for experienced hikers.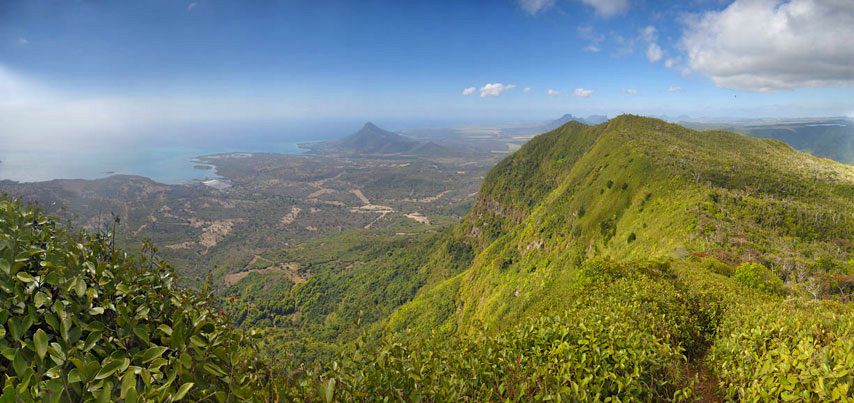 The first part of the hike takes place on a shaded path around lush vegetation.Then the second part is a little more sporty and sometimes slippery but it allows you to enjoy different panoramic views of the south coast of the island, the lagoon of Morne Brabant and the gorges of black river.
The final ascent is short but intense and takes you to the summit of Piton de la Petite Rivière Noire, offering you a breathtaking 360° panorama.
Book the Piton De La petite Riviere Noire Hiking Trip
Lion Mountain
The iconic Lion Mountain which is part of the Grand Port range, is one of most admiring mountains in Mauritius. This mountain's name comes from the fact that it resembles a sitting lion from afar. The mountain is 480 meters high and can be difficult for those who are not used to hiking. It takes around 2.5 hours each way, so hiring a guide is highly recommended.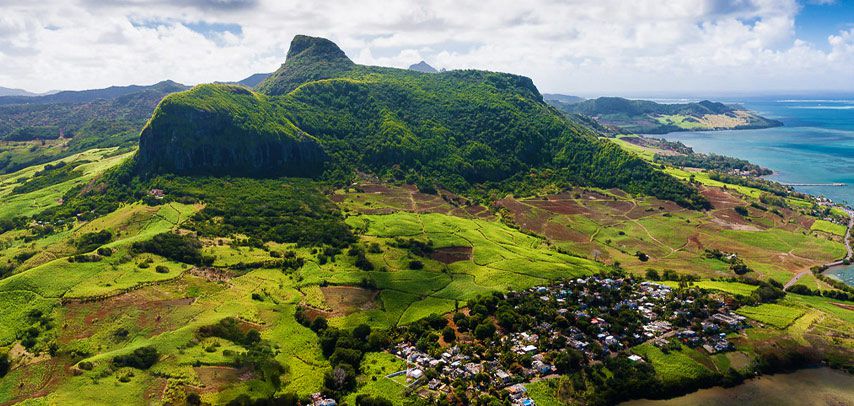 Conquering Lion Mountain is full of contrasts with its single or rocky tracks, few forks and ascents using hands, to ridges and plateaux, thus being quite technically challenging and yet so rewarding.
Discover and ponder the sweeping views around you as the trail takes you from the Lion's ridge to its mane which is a pure contrast between the thick greenery of the mountain and the bright turquoise waters of our lagoons.
Book the Lion Mountain Guided Hike
Ile d'Ambre (Amber Island)
Ile d'Ambre is a small jewel of 140 hectares of pristine nature in Mauritius' majestic lagoon, more specifically in the northeast coast. This islet is part of Mauritius' local national parks, which are managed by the Mauritian government to protect the island's unique ecosystem.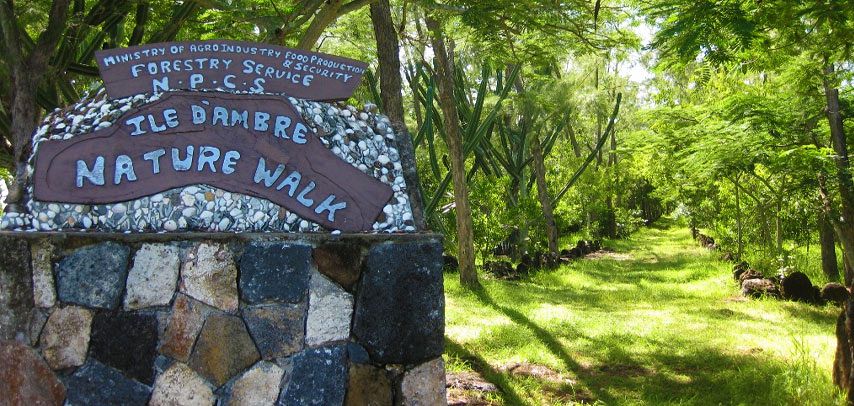 The hike on Amber Island is a once-in-a-lifetime opportunity. After a 15-minute boat ride, you'll arrive at the islet's edge, where wooden welcome signs act as starting points for a variety of trails through this floating natural park.
During the 4-hour walk, your guide will lead you through a stunning and unique landscape, while also showing you about the marine habitats and the few historical ruins that date back to 1750.
Book the Hiking Trip at Ile D'Ambre
Chamarel Waterfall
Undoubtedly the tallest single-drop waterfall in Mauritius at about 100m high, the Chamarel Waterfall is a striking piece of nature standing amid dense vegetation. It is situated within the close proximity of the famous Seven Colored Earth of Chamarel.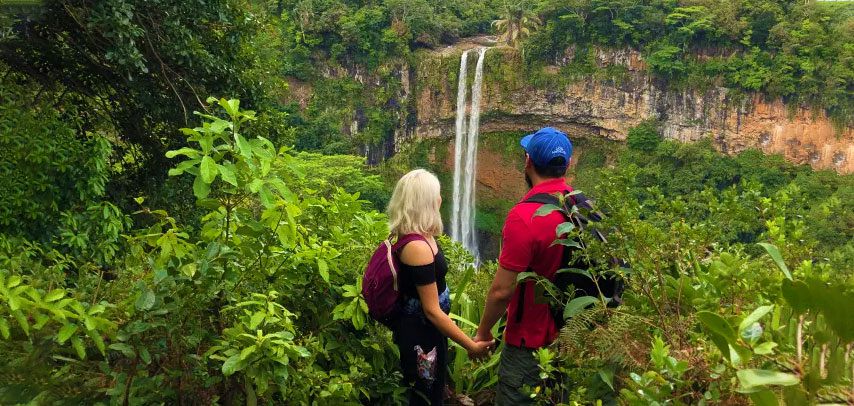 A simple hiking trail that takes you through the lush tropical forest will lead you to the base of the waterfall and you'll come across volcanic rocks dating back between 8 and 10 million years. There you can swim at the waterfall and enjoy the soothing benefits of this serene place. The hike is not long, but it is one of the most remarkable hikes you will ever experience.
Book the Chamarel Waterfall - Hiking Trip
Vallée de Ferney
Vallée de Ferney will enthrall nature lovers. The forest and wildlife reserve is made up of 490 acres of partly rehabilitated rainforest and native plants including Ebony trees and Ravenala.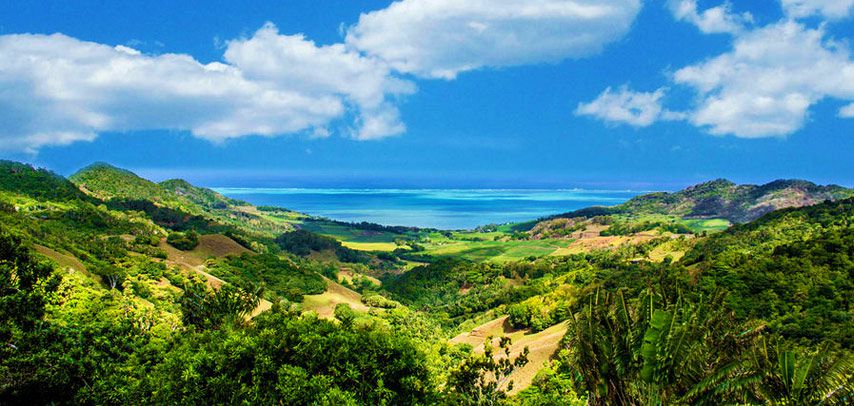 The 3 km self-guided hike runs through the forest and offers spectacular views. Mauritius Kestrel bird can be spotted as well as other endangered species. There is a waterfall as well, but it is best to visit after a rainy day to see it in all its glory.
Book the Visit of Vallée de Ferney
Ebony Forest
Ebony Forest is located in Chamarel, a village renowned for its breathtaking views and winding roads. Ebony trees and endangered native birds including the Echo parakeet and Pink Pigeon can be found in the reserve.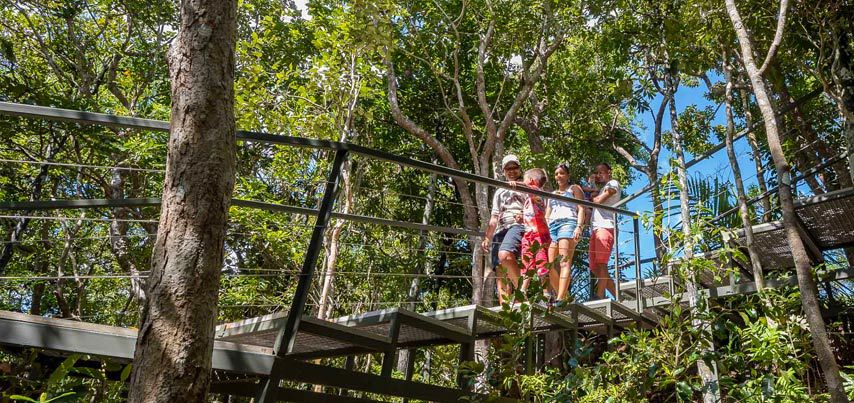 Ebony Forest is located in the village of Chamarel, well known for its incredible views and windy roads. The reserve features the Ebony trees and rare endemic birds such as the Echo Parakeet and Pink Pigeon. You can spend the day hiking the 1-kilometer Ridgeline trail or the more difficult Piton Canot trail. The latter provides a 360-degree view of Le Morne Mountain. A 30-minute guided tour along the Flycatcher raised walkway is also available.
Book the Ebony Forest Discovery Tour
Domaine de L'étoile
Domaine de L'étoile is a private nature reserve in the southeast of Mauritius and has some incredible trails that lead to the Bamboo mountain range and provide spectacular views of Mauritius' magnificent volcanic oasis. Other activities available at this reserve include adventure games and sports, as well as ziplining. There is also a restaurant on the premises.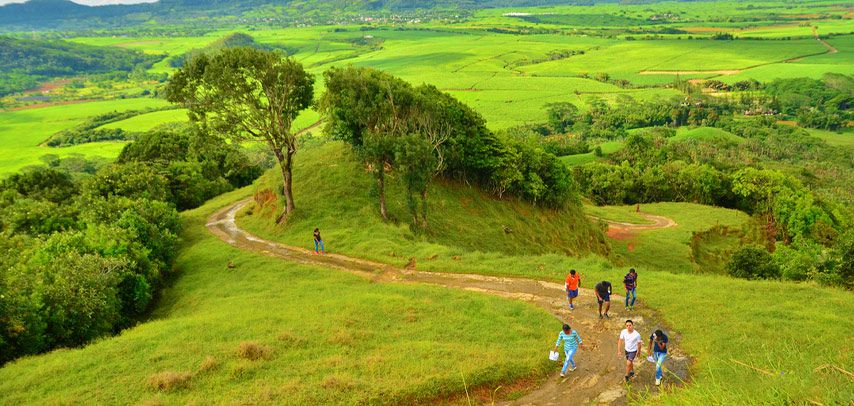 The hike is an easy walk and is perfect for those wanting to experience the tranquility of nature without the crowds.